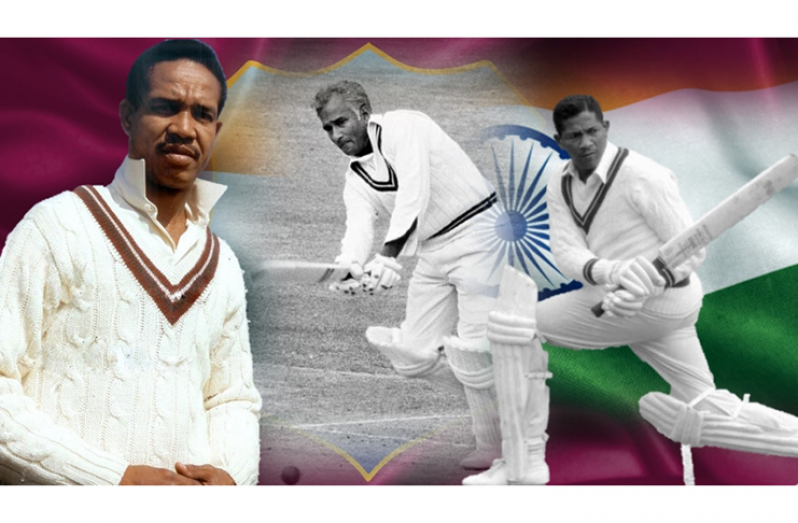 I have always been very passionate about cricket, especially West Indies cricket, from the tender age of about six years old. Both my father and mother were ardent supporters of the West Indies and due to their love and deep interest for the sport
I became drawn to it at a very early age.
The family often crowded around my father's transistor
radio to listen to ball by ball commentary of each Test
match which involved the West Indies. The late Tony
Cozier was our favourite commentator. His knowledge
of the game and the clarity with which he described the
action on the field of play may it seem as if you were
actually seeing the cricket live.
The very first Test series I followed was the West Indies
at home against Australia in 1965. West Indies won that
series 2-1. It was during that Series that some certain
West Indies cricketers became heroes of mine. I would
hurry home from school or rush quickly to complete my
chores on weekends to sit and listen to them perform.
By David Jackson
My favourites back then were Conrad Hunte, Gary Sobers,
Basil Butcher, Rohan Kanhai, Seymour Nurse, Wes Hall and
Lance Gibbs. As I grew older my love for cricket intensified. By
the early1970s, when I myself began representing my primary
school in cricket tournaments, the West Indies were beginning
to establish themselves as a promising cricketing region.
In 1971 and 1972 respectively, the West Indies was host
to the visiting Indian and New Zealand cricket teams. India
won the 1971 Test Series 1-0. I remember that Series vividly
if only because of an Indian batsman by the name of Sunil
Gavaskar who gave both me and also the entire West Indies
team nightmares. The gentleman seemed impossible to get
dismissed and a Trinidadian Calypsonian penned and sang a
calypso detailing that series.
The chorus of that calypso still often rings in my ears to
this very day;
"It was Gavaskar, the real Master. Just like a wall we couldn't
out Gavaskar at all, not at all. You know the West Indies
couldn't out Gavaskar at all".
The following year the West Indies had another hard
fought Home Test Series where all five Tests were drawn.
Another batsman from the opposing team, Glenn Turner,
was a thorn in the flesh of the West Indies. It was during
that Series that I actually, finally witnessed, live and in
person, my very first Test match. It was the Barbados 3rd
Test, during which my fellow Vincentian and "Home Boy
Hero" Michael Findlay, top scored for the West Indies with
44 as they were bundled out for 133 in their first innings.
Though New Zealand made 422 in their own first turn at
bat the West Indies were able to draw the match thanks to
Charlie Davis' thrilling 183 and a Gary Sobers' magnificent
142. Their 254 run 6th wicket partnership enabled the
West Indies to finish reach a total of 564/8 in their second
innings.
In my early teen years I remember running across to the
Arnos Vale Playing Field which was only a short distance
from where I grew up to watch our local Vincentian
cricketers practice on the pitch that was just outside of the
Oval. Those practice sessions were in preparation for the
Windward Islands and Regional Shell Shield tournaments.
The latter subsequently became known as the Red Stripe
Tournament.
I vividly remember that one occasion after my regular
habit of fetching the cricket ball from the nearby river I was
given an opportunity to bat. The pads could barely fit me
but I survived four deliveries from (if my memory serves
me right) the late Sparrow Duncan who was then one of the top all-rounders of the
National team. Although he had reduced his speed considerably I remember the
ball cannoning into the side of my leg and I praised my lucky stars that the pad
was on my left foot to partly cushion the blow. My mom applied a bag of ice
when I returned home to take down the swelling. I did cherish that little injury
though and it gave me courage to go on to represent my school in cricket.
From then on, I became more and more interested in listening to cricket
and when television coverage started it interested me even more. The radio
series which disappointed me greatly but at the same time stirred my interest
to see live coverage of cricket on television was the West Indies dreadful tour of
Australia in 1975.
West Indies were completely outplayed on that tour though they had a squad
of very talented players including Gordon Greenidge, Roy Fredericks,
Viv Richards, Alvin Kallicharran, Lawrence Rowe, Lance Gibbs Clive
Lloyd, Andy Roberts and Michael Holding. It pained me to listen to the sound thrashing our team received at the hands of the Australians
but nothing could still prevent me from staying awake to listen to
every ball bowled.
The 2nd Test of that 1975-76 Series was the only joyous
time for me in that entire tour. It was great to listen to the
commentary when Roy Fredericks demolished the bowling
attack of the Australians in that famous 169 knock in
that 2nd test which was played at Perth. It was even
more pleasing to me that he did it against a bowling
attack which included the fearsome duo of Dennis
Lillie and Jeff Thompson. I jumped and shouted so loudly that night that my parents were forced to reprimand me as some
of my siblings were preparing for exams the following day.
West Indies went on to win that Test by an innings and 42 runs and Roy Fredericks became an instant hero of mine. It was
however, the only victory for the West Indies on that entire tour.
Following that disastrous series which Australia won 5-1, the English probably felt that they would soundly defeat the
West Indies on the West Indies tour to England in 1976, as evidenced by Tony Grieg's ill-fated 'grovel' comment, just prior
to the tour's commencement. This apparently energized the West Indies and they comprehensively defeated England 3-0
in the Test Series.
By the late 1970s, by which time I'd already graduated from Secondary School, the West Indies were virtually recognised
as the unofficial world champions. They had a super talented and destructive batting unit led by the 'master blaster' Viv
Richards, magnificent fielders and a fearsome pace bowling attack, consisting of four world renowned fast bowlers Andy
Roberts, Michael Holding, Joel Garner and Colin Croft.
The 1980s were wonderful times for us as West Indian fans. We watched our team win 27 Tests without defeat, as well
as humiliating England by winning two 5-0 test series against them. We also saw the emergence of other great cricketers
such as Brian Lara and Malcolm Marshall, Courtney Walsh and Shivnarine Chanderpaul.
It must also not be forgotten too that the West Indies were winners of the ODI World Cup in
1975 and 1979 respectively, and they became the T20 World Champions in 2012 and 2016
. These were great achievements but sadly our cricket has deteriorated considerably.
Our batsmen are struggling with poor technique and the inability to occupy the
crease for extended periods of time. They are generally lacking in temperament.
Inconsistency is now the hallmark of our modern batsmen, a far cry from those
batsmen who once made the West Indies such a dominating force in the past.
Our bowlers in recent times are showing great promise and one hopes that
their effort and determination will instill help to motivate our batsmen
to produce. So as die-hard fans we hope to see great improvement and
successes for the West Indies going forward. Is it too late to believe that
the West Indies can again rise to the top of world cricket? I believe!
St Vincent born David Jackson is a retired schoolteacher who now
still serves as an Adult Educator. He is also well known within St
Vincent as one of the island's most popular playwrights!