Born April 16 1999 in Toronto, Ontario, Canada's Arslan Sher Khan has made an impressive rise up the batting rankings in both Canadian Youth Cricket and the ICC U19 World Cup levels within the past 5 years. Until he turned 20 in April of this year, he was ranked as one of Canada's top U19 players. In fact, with 427 runs in 12 innings with an average of 47.23, Arslan Khan still holds the record as Canada's highest ever run scorer in U19 World Cup history.
That outstanding achievement occurred as result of Arslan's outstanding performances in successive ICC U19 World Cups; the 2016 Bangladesh hosted Championships along with the 2018 Tournament that was held in New Zealand. Arslan was actually captain of the Canadian U19 Team at the New Zealand hosted ICC 2018 U19 World Cup. Canada secured victories over Namibia and Papua New Guinea before eventually falling to the West Indies in the Plate 2 semi-final. Prior to the World Cup the Arlsan led Canadian U19's had also toured Australia for a training camp and warm up matches.
Arslan Khan started playing cricket at the age of 11. His obvious talents quickly led to his selection as a national player to represent Canada in the Bermuda hosted 2014 ICC Americas U17 Tournament. Arlslan's highest score during the Tournament was a belligerent 81 against Bermuda. His aggressive batting during that innings earned him the title of "Little Dominator" as was bestowed by Bermuda's national newspaper.
Later that year ArsIan was also selected as 1 of the 5 Canadian players that represented ICC Americas for the 2014 Caribbean Premier League try-outs. In 2015, he was selected to represent Canada once again in the ICC Americas U19 Cricket World Cup Qualifier, which was held in Bermuda.
Arslan's highest score of 94 against Bermuda, earned him Player of the Match honours and contributed to his impressive 47.00 Tournament average, earning him further Bermuda media accolades as "Canada's brick wall!" Canada remained undefeated and thereby qualified for the 2016 ICC U19 Cricket World Cup. With an aggregate of 181 runs and an impressive 45.25 average, Arslan again emerged as Canada's the highest run scorer during the Bangladesh hosted ICC 2016 U19 World Cup.
Arslan was also a member of the Canadian squad, which participated in the West Indies U19 Regional Championship. His highest score was 43 against Barbados. He also earned the praise of the former West Indies fast bowling legend Courtney Walsh, who complemented him on his batting technique.
Prior to the West Indies Regional Championship, Arslan had captained the Ontario U16 Team in National U17 (Canada Cup) Tournament in Winnipeg. Under his astute leadership Ontario swept the tournament and easily won the championship. Arslan led from the front, His highest score was 155* and he was awarded the Man of the Tournament trophy.
In 2016 Arslan was Captain of the Canada Cup winning U17 Ontario team. He scored a century in Ontario's match against the Rest of the Provinces (ROP). He also captained the Canadian U-17 Team in Houston where they emerged undefeated by winning all four of their matches played. Arslan was yet again Canada's leading run scorer with a century against Bermuda, and a fifty against USA.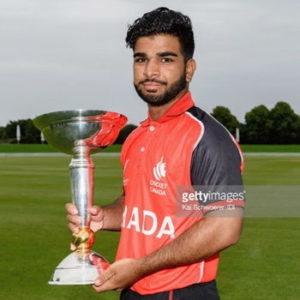 During 2017 the Canadian U19 team played in ICC Americas World Cup Qualifier in Toronto. Canada Won and Arslan was named both Man of the Match of the final of ICC as well as Man of the Tournament. Later that year the Canadian U19 team participated in the West Indies U19 Regional Championships that were held in St. Kitts. Arslan was Canada's second highest run scorer with his high score being 52 against Barbados.
As previously mentioned Arslan was Captain of the Canadian U19 team for a pre-tour to Australia, and continued on to skipper Canada's 2018 ICC U19 World Cup team in New Zealand. Arslan was Canada's 2nd highest run scorer in the 2018 ICC U19 World Cup with an aggregate of 246 and an average of 49.2. Canada finished as the number 1 Associate team and in front of a full member of ICC (Ireland).
Arslan Khan's development as an outstanding Canadian cricketer has continued on its meteoric rise this past year. He recently completed a very useful stint in Australia with the Stoneyford Colac Heralds. As a 19-year-old Canadian import Arslan took the Colac District Cricket Association by storm since joining Stoneyford, following advice from good mate and former Maroon Caps cricketer Farhan Malik to spend a summer in Australia.
Khan played a key role in Stoneyford's season dominance. His performance in the Maroon Caps' final-round win over Birregurra lifted him to the top of the standings to win the Colac Herald's KFC CricketStar competition, based on individual statistics from the 2018-19 season.
The all-rounder finished the home-and-away season with 429 runs at an average of 35.8, 26 wickets and seven catches to total 789 CricketStar points, finishing ahead of Warrion import Charlie Barriball, 774, and Stoneyford teammate and past winner Levi Dare, 745.
Based on the seemingly star bound trajectory of his cricket career to date it now shouldn't be much longer before Arlsan Khan is invited to don national colours as a Canadian senior team all-rounder.