Cricket Canada has announced its Development Team to participate in this year's Cricket West Indies Colonial Medical Insurance Super50 Tournament. The Canadians will play in the Tournament's St Kitts hosted Zone A matches against teams representing the Barbados, the Combined Campuses and Colleges, Jamaica and the Leeward Islands.
The Canadian Developmental team will be captained by. Before immigrating to Canada Tathgur represented the Indian State of Punjab at the U16 and U19 national levels. He also represented Punjabi University for 3 years in North zone Inter university Championship and played in the U-16 Vijay Merchant Trophy (State of Punjab), U-19 Cooch Behar Trophy (Indian Railways), U-23 CK Nayudu Trophy (Indian Railways). Tathgur has also represented Patiala District six Times in Senior Katoch shield Trophy and has played for them an equal number of times in the senior one day ML Malkham Trophy.
Thathgur's involvement in Punjab State cricket has allowed him the privilege of having shared dressing rooms with the likes of Sandeep Sharma ( India Senior, IPL) Anmolpreet Singh( Indian Junior, IPL) Sarabjeet Ladda( India First Class), IPL) Manpreet Gony( India, IPL) Reetinder Singh Sodhi( India, IPL), Pankaj Dharmani(India, IPL) Mandeep Singh( India, IPL),
Shubman Gill (India), Rahul Sharma ( India), Sidharth Kaul (India), Gurkeerat Mann (India) and Barinder Sran (India)
In Canada, Tathgur has now played two full Seasons in the Toronto & District Cricket League, He has already scored 2 Centuries and a few Half centuries, with 158 as his highest score to date.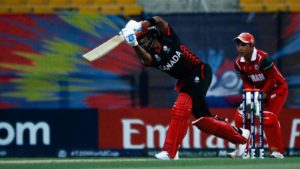 The Canadian Squad also includes Senior Team member Nitish Kumar as a Player Mentor. Kumar was a member of the Team Canada Squad, which participated in the ICC T20 World Cup Qualification Tournament in Dubai. Kumar had an outstanding Tournament scoring three fifties in his six completed innings to top the Canadian batting averages.
Amrinder Bhinder will be Team Canada's Super50 Coach. Bhinder moved over from South Africa a year ago and is one of the few coaches from South Africa who passed CSA Level 3 coaching certificate (2015) on the 1st attempt. In addition, Temba Bavuma, the first Black African Test batsman to represent South Africa was his personal trainee.
Bhinder has coached a number of professional and international cricketers in South Africa. Five of his personal trainees Temba Bavuma (Proteas), Dominic Hendricks (Proteas A) Chad Classen (Proteas U19), Jacob Miltz (Proteas U19) and Jared Jardine (Proteas U19) have recently represented South Africa at various levels in the past five years.
As a Coach Bhinder's mantra is: Passion = energy = hard work = results. He believes in the Five C's of Cricket Coaching : 1- Clarity 2- Communication 3- Collaboration 4- Commitment 5- Culture
Amtinder Bhinder holds two degrees, a Bachelor of Arts and Bachelor of Physical Education. He also has experience as a PE teacher and a Professional cricket Coach of 15 years. Cricket is his passion, as is evidenced by his two Level 3 Cricket coaching certificates from Gauteng Cricket Board (2007)and Cricket South Africa in (2015). He has also worked as a Video Analyst for various sports.
Bhinder says that he is always mindful of the fact that each person is unique, each has a different personality and comes from a unique background.  When dealing with a team, this needs to be taken into consideration.  Each person within a team needs to be treated as an individual.  This means that man-management is a critical aspect of constructing a successful team. This fits in perfectly with the fact that cricket is an individual sport, within a team sport.  There is a much greater scope for individuality within cricket, as opposed to any other team sport.
The aim of Bhinder's coaching development team is to find new talent.
| | | | | | | |
| --- | --- | --- | --- | --- | --- | --- |
| S.N | Role | TYPE | Name 1 | PROVINCE | | COMMENT |
| 1 | Bat Opener | RH | KANWARPAL TATHGUR | ON | | CAPTAIN |
| 2 | Bat Opener | LH | JEET MEHTA | ON | | |
| 3 | Bat Opener | RH | HARROBINDEEP SEKHON | AB | | |
| 4 | Bat Middle Order | RH | HARSH THAKER | ON | | |
| 5 | Bat Middle Order | LH | KANWAR MANN | AB | | |
| 6 | Bat Middle Order | RH | SHREYAS MOVVA | QC | | VICE CAPTAIN |
| 7 | Bat all-rounder spin | RH | ARSALAN KHAN | ON | | |
| 8 | Bat all-rounder spin | RH/LH | YAX PATEL | AB | | |
| 9 | Bat all rounder | RH/LH | NITISH KUMAR | ON | | PLAYER MENTOR |
| 10 | Bat Middle Order | RH | RAYYAN PATHAN | ON | | |
| 11 | SPINNER/ALL ROUNDER | LH | SHAHID AHMEDZAI | ON | | |
| 12 | Fast Bowler | RH | HARMANDEEP SINGH | BC | | |
| 13 | Fast Bowler | RH | NAUMAN ZAFAR | ON | | |
| 14 | Fast Bowler | LH | SANA – UR- REHMAN | BC | | |
| | | | | | | |
| 15 | ASSITANT COACH | | DAULAT KHAN ZARZAI | ON | | |
| 16 | COACH/MANAGER | | AMRINDER BHINDER | ON | | |
| 17 | PHYSIO | | TO BE NAMED | | | Local from St Kitts |
©