Canada's very high hopes of regaining ICC Official One Day International (ODI) status were dashed by the national Men's team disappointing performances in the Namibia hosted Division Two Qualification Tournament. Canada eventually finished fifth, failing by just four runs, on aggregate run rate to secure a fourth place finish that would have secured the coveted ODI status.
Wickets Publisher Tony McWatt recently caught up with Canada's Red Army Team Captain Davy Jacobs (DJ) to ask him about his overall views on the Namibia experience;
 What was your assessment of the selected Squad? 
 DJ: The Squad looked good throughout the preparation tours, and going into the tournament. The guys put in solid performances in Sri Lanka and South Africa, and the coach worked out a solid blueprint for the team.
Did you think that all the required departments: Seam, spin, openers, batters, all-rounders were adequately covered?
DJ: Going into the tournament, yes. In terms of spin – two left arm spinners, off spinner, and a mystery spinner. Fast bowlers – three of them, of which one was a lefty. All rounders – all the spinners can bat, Dhaliwal does both, and a guy like Heyliger can hit it as well.
 Some fans had suggested that the batting was imbalanced with too many, eight, natural openers having been selected to fulfill middle order roles! How do you respond to that? 
 DJ: I definitely welcome the interest and questions from fans, it shows the support and following we have in Canada, and it is appreciated. 
 In terms of your question.. Thomas, Dhaliwal and Gunasekera were picked as our three openers, or the top 3, for that matter, which is sometimes the same thing. A number 3 can at times walk in second ball of the game. Thomas missed the first two games through injury, so we had to make other plans.
 Other players were for some reason viewed as openers as well, but that is inaccurate. Hiral, for example, opened the batting 8 years ago, so people assumed he was picked as an opener, whereas he was in fact brought into the team as a spinner.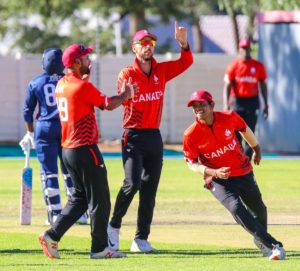 The Coach was also looking for a left-hander in the middle order, and Bhavindu scored heavily batting at number 5 in Sri Lanka, including a hundred off 90 balls. So that cemented his position there.
 Another one I heard was that I am an opener. I opened in the Champion's League and IPL, and that was T20 cricket. Besides that, I opened in first class cricket when I wasn't keeping wicket. I have always been a finisher, batting in the middle order in white ball cricket (50 over and T20). 
 So, I do understand people's thoughts and opinions on this particular subject, because it is hard to understand things without all the information. 
What was your assessment of the pre-competition Camps in Sri Lanka and South Africa? Comments have been made that they were too rigorous and as result players were tired and jaded going into Canada's first three matches!
DJ: It was tough for sure, but very thorough. The Institute of Sport (IOS) team took over when we landed in Sri Lanka, and they did a wonderful job.
Sri Lanka was good, we had the opportunity to train every day, and played 7 or 8 games. In South Africa, we had world-class facilities in Potchefstroom, and we played twice against their first class team (North West Dragons), and one game against Afghanistan. 
What went wrong was n the initial three matches particularly in the opener against Hong Kong?
DJ: In Game 1 against Hong Kong, we put up 222/8 after batting first. Slow pitch, slow outfield, and it was an above par score for those conditions on that day.
Unfortunately we got off to a slow start with the ball. We struggled to get breakthroughs, so they got off to a flyer, kept the momentum, and we couldn't defend a good score.
 The biggest problem during this game, and the tournament for that matter – our fitness and fielding, especially our catching. These areas contributed to most of our struggles in the first three games.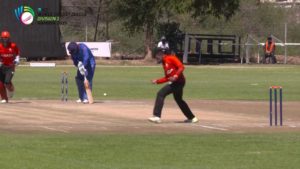 In the final round robin match against the US was there any pre March team discussion about needing to get the overall run rate up as much as possible in the event that PNG might win against Oman?
 DJ:Yes, for sure. Even without a win, with a steady NRR, and other results going our way, we could still make the top 4. So we were aware of that, but we wanted to win the game, and try ensure it's still in our hands. 
We wanted to bowl first, to also give us an opportunity to have a go at the target, within a certain number of overs, if needed, depending on what was going on in the other two games. 
 We lost the toss and batted first, and were soon 4/2. We recovered brilliantly, and got to a winning total, 254.
 Namibia was smashing Hong Kong, so everything looked fine there. But then some strange things started happening in the other game, and PNG rolled Oman for about 70. In order to have a higher NRR than PNG, it then meant that we needed to restrict USA to 212.
We received this information when USA were about 145/3. We knew we were going to win the game, but this new scenario was almost impossible. We were up for the challenge though, barely put a foot wrong, and managed to get them 9 down, one over to go, and two runs to play with. They hit a ball past backward point, got to 215, and that was it.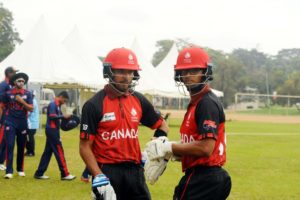 Was there any stage of the Canadian innings against the US where you felt more runs could have been scored per over. 
 DJ: In any game, you'll always take more runs, if it was possible. We were 4/2, and came back to beat USA by 40 runs. That's a big win, so it's unrealistic trying to break down this particular game for answers and/or solutions. 
I still look back at the first three games, especially the first one against Hong Kong. It should never have come to NRR, even with Oman's 70 all out against PNG. We let ourselves down with our fitness and fielding, earlier in the tournament, simple as that. 
Have you second-guessed any of the bowling change decisions you made in the match against the US?
DJ:Nothing that I can think of, to be honest. We should've scored more runs in those first three games, taken more wickets, and held onto our catches. But in this game against USA, no, there's nothing there. They were about 145/3, and ended with 215/9 in 50 overs, Canada winning by 40 runs. That's an incredible performance, under massive pressure.
 Is there anything you might have done differently in hindsight? 
 DJ: Hindsight is a beautiful thing. Looking back, after everything I have seen, and all the data and information gathered…fitness and fielding. That's what I would look to improve.
What you need to understand is that, if you are fit, it means you are disciplined, because you have to be disciplined to go to the gym and train consistently. If you are disciplined, it means that you have a strong mindset, and that you understand and can control your emotions, because there are plenty of days when you don't feel like training, but your discipline, self motivation and mindset can get you through those tough days/sessions.
 If you have that mindset and you can control your emotions, it means you can deal with pressure. And if you can deal with pressure, it means that you can perform under pressure, when it matters. So you see, it all comes back to fitness. 
What were the overall fundamental reasons for Canada's failure to secure ODI Qualification. 
DJ: In my opinion.. 1) Fitness and fielding (especially catching), and 2) The teams who did well, got multiple breakthroughs early on. We struggled in this department. But in saying that, again, loose fielding and bad catching contributed to this problem.
What needs to be changed going forward to ensure better success? 
DJ: In terms of putting in the work, and I am referring to skills… that is there. The guys work very hard, they put in the hours, the hunger is there. Thing is, we need to focus on our fitness and fielding. That's where the big difference comes in. 
 Having had the Namibia experience how do you now feel about the future of Canadian cricket and the road ahead? 
DJ: We have the T20 qualifiers coming up, so that is massive. It's a different format, so a different approach is needed.
I am very optimistic about Canadian Cricket. Two years go by very quickly, so we will therefore have another chance to challenge for ODI status, and the next World Cup.
What would you like to see happen most within the next 6 months to a year?
 DJ: We need to learn from our mistakes, and show improvements, faster. The biggest issue is fitness and fielding. If we sort out those two departments, our cricket can go to the next level very quickly.
I have also come to learn that people tend to turn around and point fingers at the organization, at "the system". This baffles me.
This "system" that people and players blame for Canada's challenges and struggles, it does not bat, bowl or field for you. You are the one with the ball in your hand. You are the one walking out to bat. Not the President, not the Board Members or Treasurer, not the Manager, or the cold Canadian winters. It's all on you, the player. So if you have a career average of 13, how can you blame "the system"?
It's very strange, and an amateurish mindset. Don't just sit with your hands open, wanting something for nothing. Focus on your game. Talk less, work hard, train more, get fit, work on your fielding, be the best version of yourself, try to be the best you can be, every single day. Contribute to society, lend a hand, make a difference. That is what professional cricketers do, consistently, day in and day out, week after week, year after year. That's what it takes to perform under pressure, and at a high level. It's not easy. It takes a lot of guts, discipline and sacrifice, and that is why everyone does not make it to the pro level. But it is worth it, that's for sure.
There will come a time when our hard work will pay off, our stars will align, and we will get back up where we belong. In the meantime, we can only put in the work, keep things simple, and keep our focus.