The Canadian Team's hopes of progressing to the Playoff stage of the 2020 ICC U19 World Cup were irretrievably squashed by its massive 150 loss to hosts South Africa in the two teams' January 22 Preliminary Round encounter. The loss was the Canadians second successive substantive defeat, having also succumbed to the United Arab Emirates (UAE) by 8 wickets in their January 18 first match of the Tournament. Winless and pointless after two matches, the Canadians were left placed at the very bottom of the four team Group D standings with only one remaining first round match to play on January 24 against top of the table Afghanistan, who head the Group on four points following wins against both South Africa and the UAE.
Having won the toss and sent their opponents into bat, Canada's bowling again proved itself to be toothless in the face of some powerful hitting by South Africa's batsmen. Having lost an early wicket in just the seventh over and with the score on 21, South Africa recovered fully to post a mammoth 349/8 by the completion of its 50 overs. An imposing total that was always going to be too steep a challenge for the Canadians to conquer.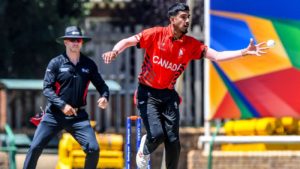 There were 40 fours and 6 massive sixes in South Africa's total, which was built on the back of an enterprising 91 ball, lead from the front, century (121) by Bryce Parsons their captain. Parsons struck 15 fours and 3 sixes in his innings while featuring in two successive 50 run partnerships. The first with Jonathan Bird (54) added 54 for the second wicket. That was immediately followed by an even bigger 97 run stand with Luke Beaufort (60) for the third wicket. For the Canadians, Akhil Kumar captured 4/56 from his 10 0vers. Rishiv Joshi 2-59 (10) and Ayush Verma 2/69 (9) were the only other wicket-takers, as all of the other bowlers proved to be wholly ineffective against the rampant South African batsmen.
Chasing a formidable 359 run victory target, at an imposing required run rate of seven runs per over, the Canadians despite an enterprising start, which produced 39 runs off of just five overs before the first wicket fell, were never ever really in the hunt. Wickets fell far too regularly and a 49 run stand between eventual top scorer Benjamim Calitz (62) and Udaybir Walia (26) was the only partnership of note. The Canadians were eventually trundled out for 199 in 41.1 overs. 150 runs short of the required victory target and having failed to bat out their full 50 overs.
Bowling for South Africa Tiaan van Vuuren (2/24), Merrick Brett (2/32), Achille Cloete (2/36) and Jack Lees (2/39) all had two wicket hauls.
 Summarized Scores:
South Africa 349/8; B Parsons 121 (91), T Karelse 60 (51), J Bird 54 (49); A Kumar 4-56 (10), A Verma 2-69 (9)
Canada U19 199/10 ((41.1 Overs) B Calitz 62, U Walia 26. M Patel 26; T van Vuuren 2-24 (7), A Cloete 2-36 (5.1), M Brett 2-32 (7), J Lees 2-39 (10)
South Africa U19 won by 150 runs
Photos Compliments International Cricket Conference (ICC)