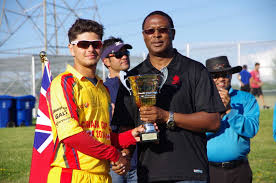 Team Canada's Interim Head Coach, the Trinidad-born Ingleton Liburd is perhaps much better known for his exploits as an actual player. Liburd (born 27 April 1961, in Trinidad) was a top-order batsman who made his name playing for St Kitts and Leeward Islands Under-19s.
Having always considered himself to be a Kittian, Liburd's Caribbean cricket career effectively ended when he moved to Canada where he established himself in the national side, playing in three ICC Trophies as well as the 1998 Commonwealth Games where he was the Canadian captain. Liburd made his début for Canada in a match against Barbados in 1987. He represented Canada at three ICC Trophy tournaments and in 13 List A matches, including the cricket tournament at the 1998 Commonwealth Games.
Off the field Ingleton Liburd has also served in a variety of administrative roles. He served as president of the St. Kitts Cricket Association and as a Territorial Development Officer for the West Indies Cricket Board before joining Cricket Canada as its Cricket Development Officer in 2008. In 2009 he was chosen by Cricket Canada to serve as its Interim Chief Executive after the surprise removal of the incumbent Atul Ahuja, a position he has held since then.
Liburd was appointed Cricket Canada's Interim Head Coach for the Team's participation in the ICC T20 World Cup America's Qualifier which was hosted by Bermuda earlier this year and has maintained his hold on the position since. After Team Canada's outstanding performance in Bermuda where the finished unbeaten to Qualify as America's Champion for the Dubai Qualifiers, Liburd was also appointed as Team Canada's Interim Head Coach for the Team's participation in the recently held ICC World Cup Qualification in Malaysia.
Prior to Team Canada's departure for Dubai, Cricket Canada Wickets caught up with Ingleton Liburd for a brief chat about his thoughts heading into the T20 World Cup Qualification Tournament.
The Dubai Tournament will be comprised of fourteen countries competing in two Groups of seven teams each. The top six teams from the Qualifier will progress to the ICC T20 World Cup in Australia next October.
According to the Tournament's format after the Preliminary Round during which each team will play six matches, the two teams which head each group will automatically qualify for Australia. The other top three teams from each Group will then be involved in various playoff matches to determine which four will join the respective Group winners in progressing to Australia.
Liburd is extremely confident of Canada's chances in Dubai.
"We've been looking at the teams that have qualified for Dubai and we think we have a really good chance," Liburd said. "Everyone will be going there wanting to finish inside the top six to qualify for the T20 World Cup, but we want to win it.
"The Canadian mentality would be to be content with finishing inside the top six where as if you asked an American they'd say straight out, 'We want to win it', so I'm saying now we want to win it, that's the goal, that's the aim. We can be the real dark horses in Dubai."
Liburd says that Team Canada has now developed an outstanding camaraderie among the players that should serve them well in Dubai. He says that the Team Sprit among all the players is extremely high with senior players readily providing their assistance and guidance to the less experienced team members. Towards that end, Liburd has also suggested that the recent GT20 experiences of all those who participated in that Tournament has proven to be a monumental contributor to Team Canada's overall sense of self-confidence.
Liburd says that Canada is also now reaping the benefits of having a fairly settled Squad. Except for three changes, one of which was indirectly related to a selected player's subsequent unavailability, the Squad for Dubai is almost identical to the Bermuda winning composition. One of the more exciting additions has been Nicholas Kirton whose international experience, from having represented Barbados in T20 matches, coupled with his outstanding fielding should prove to be of immense value to the team.
Liburd says that its fielding is definitely an area that Team Canada will have to improve upon if it is to progress to the business end playoff stages of the Dubai Tournament. Both in Bermuda and again during the recent ICC World Qualifiers in Malaysia Team Canada has been guilty of dropping far too many, often crucial, catches.
Liburd has also suggested that Canada's bowling will need to become far more reliable in pulling its own weight than it has before. He's of the view that the obvious strength of Canada's batting oftentimes lulls the bowling unit into a potentially dangerous false sense of security and belief that they themselves don't ever have to do that much for Team Canada to be victorious. Team Canada's bowling he says has far too often been guilty of not having the required killer instinct. .
Team Canada's bowlers Liburd says will have to do a much better job at sticking to the plans that have been formulated prior to each match. Too often he says the bowlers have given lip service to the formulated plans only for those not to be seemingly completely abandoned during the actual matches. In Dubai against far more internationally experienced teams, such as Ireland. Holland and Scotland, strict adherence to bowling and batting plans will be key to Canada's eventual success.
Liburd expects Canada's toughest Preliminary Round competition to come from Ireland which was recently accorded Test status and the UAE, which will of course be playing in very familiar home conditions and with anticipated significant spectator support. He also expects stiff competition from Oman, but feels that Canada should be strong enough to overcome both Jersey and Nigeria. A win against either Ireland, UAE or Oman should therefore prove sufficient to allow Canada to finish within the Group's top three teams and therefore qualify for the Playoffs.
Liburd however also feels that given the inherent talent strengths of its selected Squad members, coupled with its new found outstanding camaraderie and ever growing self confidence Team Canada does indeed have all that will be required to progress very deep into the Dubai competition. Time will of course reveal whether his optimism will indeed be justified.