Seymour Nurse took to Kensington Oval on Friday May 17 for one final innings, as family, friends and well-wishers came to pay their final respects to the deceased West Indies batting legend of the 1960s.
Only Sir Garfield Sobers and Rohan Kanhai batted better for the West Indies than Seymour Nurse in the latter half of the 1960s. This was the view expressed by former Barbados and West Indies fast bowling great Sir Wesley Hall today.
In a glowing tribute to the late Barbados and West Indies'batsman at his funeral service Sir Wes described Nurse as his dear and special friend, who was friendly and compassionate off the field with a dignity few people could conceive.
He said Nurse knew that failure on the cricket field would impede his success and worked extremely hard to develop his elegant and stylish stroke play.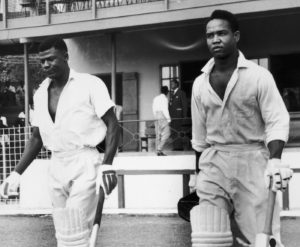 "Seymour was called Casso by all members of the team after a marathon runner he frequently spoke about. He knew that failure was not the pathway to success so he practised very hard to try to correct any flaws in his batting. In my book, only Sir Garry Sobers and Rohan Kanhai were rated above him in the late 1960s. Casso was created competitive and he adapted brilliantly to the changing conditions in world cricket and that is why he was so successful against England in 1966 and against New Zealand in his final Test series in 1968," Sir Wes said.
He spoke glowingly of Nurse's skills as a coach and posited that like Sir Everton Weekes, Sir Garry and Sir Charles Griffith, the master strokeplayer who began his coaching career with the Government Sports Department which became the National Sports Council in the early 1980s, developed the skills of the whole person and not just his cricket talent.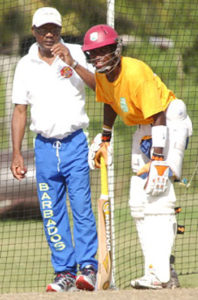 "Casso was not like some coaches of today who seem to coach like how the Pythagorean Theorem is taught in Mathematics. This Theorem has not changed in the 60 years that I have left school, but cricket has changed. The point I am making is that if a person is coaching cricket, they must understand the dynamics of the society they are coaching in. They must understand the thought patterns of their charges and develop them mentally, a coach should understand that some aspects of the game have changed. A coach should not be coaching like if he is teaching Mathematics that doesn't change," the former president of the West Indies Cricket Board said.
Sir Wes, a highly skilled raconteur, told the story of batting with Sir Garry in the second Test against India at Eden Gardens in 1968, and how the cricket maestro showed him how to pick the googly from the legspinner Bhagwat Chandrasekhar, and the role Nurse played in causing his dismissal.
"I struck six fours and went into the dressing room 35 not-out at lunch and Seymour Nurse came to me and asked: 'Wes, you picking?' I said 'I am a Combermerian, therefore I can pick' and so he was convinced. I should have left it there. I told Seymour 'the skipper is not picking'. He said 'what?' and left. On our way out after lunch, Sir Garry did not say one word to me. The very first ball Chandrasekhar bowled to me, Sir Garry did not raise his bat [the sign from Sobers to Hall to indicate the type of delivery being bowled], I thought it was a legbreak, but the ball reared, struck  my gloves and I was caught. I walked down to Sir Garry and asked him what happen. He said: 'I don't know,  I can't pick'.  As I was leaving the field, Garry said: 'come here Wes', and I went. 'You can pick rice, so go inside'.  When I went back into the pavilion, I said to the boys: 'I want to place it on record, if anyone wants to telephone something, or want to send a telegraph, don't bother. If you want somebody to know something, tell Seymour Nurse'," Sir Wes said, drawing laughter from the hundreds of mourners.
Eulogist former Chief Justice Sir David Simmons who served as the chairman of the National Sports Council from 1981 to 1985 said the outstanding performances by Nurse and Sir Garry against England in the summer of 1966, a couple of months before Independence in November, sent a strong message to Barbados' colonial masters that the island was ready to take charge of its own affairs.
He traced Nurse's life from his childhood in Jack-My-Nanny Gap to his first-class debut for Barbados. Sir David reminded those gathered at the Oval that boys of Nurse's generation learned to play cricket by observation of the best players around.
Sir David who once performed duties as 12th man for Barbados said that after Sir Everton took Nurse to Empire even though he had friends at Carlton and Spartan, his [Sir David] loyalties remained at the Bank Hall club.
Tributes were also paid by former Barbados and West Indies opening batsman Desmond Haynes, president of the Barbados Cricket Association Conde Riley and president of the Empire Club Adrian King.
The service was attended by Barbadians from all walks of life, headed by Governor General Dame Sandra Mason, Prime Minister Mia Mottley, National Hero Sir Garry Sobers and almost the entire Cabinet of the island. Among the many former West Indies cricketers paying their last respects to Nurse were Joel Garner, Robin Bynoe, Philo Wallace, Sherwin Campbell, Ryan Hinds, Wayne Daniel and Ezra Mosely.
The service was conducted by Reverend Guy Hewitt and Senator Reverend John. A Rogers. The music was provided by the Police Band under the baton of Director of Music Andrew Lynch. Nurse's coffin was draped with the flag of Cricket West Indies.
Nurse was laid to rest in the Coral Ridge Cemetery in the southern parish of Christ Church in his native Barbados following the official, May 17, Kensington Oval funeral.