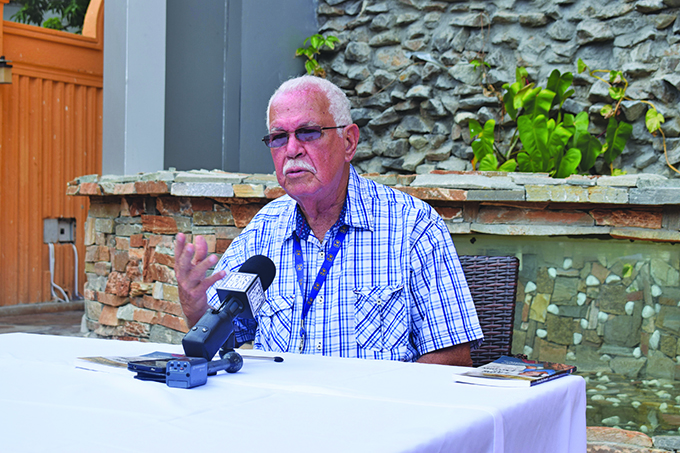 Reds At 80: Looking Back Part 1
Venerated Caribbean Cricket Radio Commentator Joseph Reds Perreira celebrated his 80th birthday this past May 20th. In hearty celebration of a well lived life, characterized as it has been by his most outstanding contribution to West Indies cricket and Caribbean sports in general, Cricket Wickets is proud to present Reds' nostalgic recollection of his broadcasting career as the first of a three part series.
Looking Back With Reds Perreira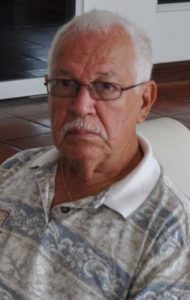 Coming from the Pomeroon to Georgetown at the age of eight, I had very little knowledge of real cricket. In the riverine area it was referred to as ball play and played at various parts of the Pomeroon River, namely Martindale, Charity, Jacklow, Petersgill and Seerickee.
The event was not just cricket but it was part of a total social activity because after it was over those who came by motorboat, launch, or by paddle stayed on to take part in the other half of the social activity. This portion was powered by gas lamp, musical instruments like a guitar, banjo, violin, mandolin etc. and a fair amount of rum drinking and dancing. The dangerous part of the day's festivities would be after we had thoroughly enjoyed ourselves and were embarking on the journey back to our respective homes under the influence of alcohol.
As you can imagine back then, there was no coaching and no cricket played at the school level. But the players from the Pomeroon who had spent some time in Georgetown or on the Essequibo Coast had picked up some basic skills of the game.
Cricket in the Pomeroon River did get a shot in the arm when a St. Stanislaus College team came down to play a number of matches and were housed at Martindale School. They demonstrated basic good cricket skills, which assisted in the batting and bowling areas.
The best pitch was at Martindale Primary School since they had a turf wicket, which was put together by the nearby farmers. With no roller available they were able to create a smooth compact surface by the use of a large Dutch bottle. This facility was financed by my grandfather, Joseph Martins. He along with some of his colleagues built that institution to provide and educational opportunity for the riverine population. I, was of the many who benefitted directly, having myself attended that school.
Petersgill and Jacklow had grounds created from basically a saw milling area, which tended to be soft and subject to fires on a very hot day. This meant buckets of water had to be placed near the boundary during the game.
After arriving in Georgetown I attended St. Mary's R.C. and got an opportunity to play some cricket in the ground across the road opposite to the Brickdam Cathedral. It was a very small playing area more suited to football, but the priest at the church had created a pitch, which allowed us to at least engage in more practice than matches.
There was, however, some opportunity to play against other schools. I remember Christ Church and Sacred Heart players were extremely good at the game. As I settled down to school life, but returning to the Pomeroon to spend my school holidays, I slowly became acquainted with the cricket grounds in Georgetown. With the help of ZFY and later Radio Demerara I picked up knowledge of the competitions being played and some of the outstanding players.
My father was a fairly strict person. And I was not allowed to go to matinee and to watch cricket on the same day. Nine out of ten times, I would choose to go watch cricket. I had, of course, to do all the chores in the house for my mother, e.g. go to LaPentience market to buy fresh greens and fruits, run errands in general and ensure the yard was tidy with all the garbage put away. It was only after completing that commitment to the home, I was given the princely sum of $2.00 and off I went with my sister's bicycle to begin my cricket education.
The competitions being played at that time were Case, Northcote, White, Raja and Frank Cups. The annual meeting of Demerara vs. Berbice for the Jones Cup was also a competition large crowds would follow. It was one way of the players attracting the selectors, with good performances over three days.
My first stop would have been at the GCC before peddling over to the DCC; making my way to the EICC (later Everest) on Camp Street, then up Thomas Lands to take in the action at the BGCC and Transport and Harbours Cricket Ground before finishing my rounds at Malteenoes.
The Case Cup competition did attract a lot of interest and the crowds were in the hundreds. Because of this interest the public Clubs were able to collect 50 cents to enter the grounds, included were the DCC, which was not fenced at the time, EICC and Transport.
If you hadn't paid your admission you would have had to stand on the road, in the hot sun, to watch the play some distance away. The majority of the Case cup teams were made up of the more experienced players and in some cases the British Guiana National representatives. The GCC's team was made up of Peter Bailey, Bruce Parideau, George Camacho, Keith Barker (Barbadian pro), Lenny Thomas and later Leslie White, with John Trim and Norman White leading their attack. The DCC was led by the outstanding Berkeley Gaskin who would go on to play two test matches against England in '48. It also included the hard-hitting Herbie Dyer, the talented all-rounder Bruiser Thomas, solid opening batsman Haniff Mohammed and a young, emerging, Philbert Blair.
The EICC, thanks to the organizing skill of Dr. Ali Shaw, who had tapped into the young Berbice talent of Kanhai and Butcher etc. and supported by the likes of Jackie Wailoo, Norman Rampat, off-spinner Norman Abdool and opening bowler Hussein, produced a competitive side. The BGCC had the British Guiana star batsman, Robert Christiani, his brother Harry, the Test wicket-keeper Clifford McWatt, Charlie Agard, Brian Patoir, while the all-rounder Lloyd Cornelius and Charlie Stayers joined later. The team was further enhanced by the talent of Clyde Walcott, while in the bowling department David Jezza Hill and Wing Gillette carried the bulk of it. A bit of trivia few cricket fans would remember is that Robert and Harry Christiani's mother and Brian Patior's father each brought a picnic basket complete with tea to the ground, whenever their sons were playing.
Transport and Harbours was well lead by Toby Rollocks who later played for the National team as a left-arm spinner. Along with the Haynes brothers, Joe Elvis and Carlton Reece, it was a side made up of not many national stars, but they had great crowd support and played well as a unit. Malteenoes, also along Thomas Lands, was skippered by Glendon Gibbs and included Pat Legall, and Ossie Gibson, a talented batsman who never got selected for British Guiana. Wicket keeper Norman Maynard rounded out the team.