If ever there was a male version of the Cinderella
fairy-tale story, Canada's Saad Bin Zafar would
certainly qualify as a most appropriate subject for
such an honour. His rise from the relative obscurity
of Canadian cricket to international prominence as
Man of the Match for the Vancouver Knights
Championship Final victory in the Toronto hosted
Inaugural Season of the Mercury Canada Global T20
Championship Final, can only best be described as
meteoric!
The 31 year old Saad Bin Zafar (born 10 November
1986) is a Pakistan-born Canadian cricketer who
plays for the Canada national cricket team. As a left
handed batsman and left-arm orthodox spin bowler,
Zafar is sufficiently competent in both as to be
regarded as a genuine all rounder.
Zafar's Cinderella story had a very early start. At the
tender age of 10 he started playing tape ball on the
streets of his hometown. Later at the age of 14 his
school's sports teacher spotted Zafar and introduced
him to leather ball cricket by selecting him for the
school's juniors cricket team.
In 2004, having immigrated from Pakistan to Canada,
he started playing club cricket for Overseas Cricket
club in the Premier Division of the Toronto &
District Cricket League. His consistently outstanding
League performances eventually caught the attention
of the Canadian national Team Selectors.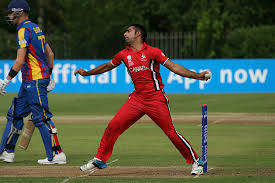 Zafar made his International debut on 4 July 2008
playing against Bermuda. He looked impressive in his
debut as he took 4 wickets, including the wicket of
Bermuda's captain Irving Romaine who was close to
scoring a century.
Zafar's Canadian cricketing career has been
punctuated by several outstanding international and
domestic performances, By far the most impressive
of these occurred when he scored 262 not out in a 50
over game in Scarborough Cricket League's Premier
Division in August 2015.
In January 2017, having been selected as one of Canada's
representatives for the ICC Americas in the 2016–17
Caribbean Regional Super50 Championships, Zafar emerged
as the team's leading wicket taker. The following year, in
January 2018, he was named in Canada's squad for the 2018
ICC World Cricket League Division Two Qualification
Tournament.
On 3 June 2018, Zafar was selected to play for the Vancouver
Knights during the Players' Draft for the Inaugural Season of
the Global T20 Canada tournament. Zafar was the second
Canadian player to be selected in the Draft after Nikhil Dutta
in round 9.
Zafar's performances in his Global T20 Canada outings were
highly commendable, In his third outing, in the Vancouver
Knights match against the Montreal Tigers his bowling
figures were 3/21 off his allocated 4 overs. In his fifth match,
played against the Toronto Nationals, he was again impressive
with the ball, taking 2/22 in 3.5 overs, He also scored an
unbeaten 12 in a 47-run match winning partnership with
Chadwick Walton.
In the final match of the 2018 Global T20 Canada
Tournament against the West Indies B cricket team he had
figures of 2 for 26 runs including a wicket
maiden over. Vancouver Knights didn't
have an ideal start to the chase as
Chadwick Walton, Chris Gayle and Ben
Dunk fell cheaply to leave them at 22 for 3.
But Zafar and Rassie van der Dussencame
up with a crucial unbeaten 126-run
partnership to get Knights back on track in
the chase. Zafar played the role of an
aggressor, dealing in regular boundaries to
bring up a 32-ball fifty. He collected eight
fours and three sixes in his unbeaten 48-
ball innings which yielded 79 runs.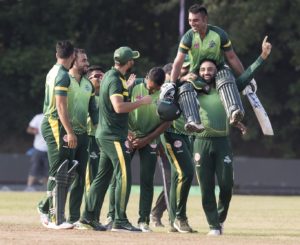 Zafar's brilliant all round performance,
w i t h b o t h b a l l a n d b a t i n t h e
Championship Final was pivotal to the
Vancouver Knights eventual emergeance
as Title winners. Hoisted on the shoulders
of his jubilant more globally prominent
international teammates he was adjudged
man of the match for his brilliant allround
performance.
A fitting conclusion to the most recent
chapter or Saad Bin Zafar's continuing
Cinderella story. With further domestic
and international match appearances
becoming readily available opportunities
will certainly exist for Saad Bin Zafar's
recently acclaimed stardom to rise even
higher!