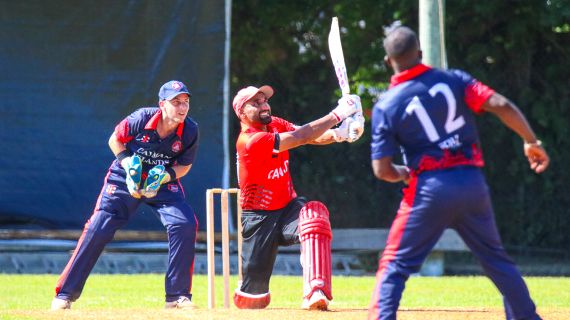 Team Canada's Ravinderpal Singh Identified As Dubai T20 ICC World Cup Qualifier "Player To Watch For!"
The T20 World Cup qualifier gets underway on October 18, and the 14 teams involved have plenty of players looking not only to win their teams games, but to make a name for themselves in the process. Canada's Ravinderpal Singh has been identified as one of the Tournaments "Players To Watch!"
Coming off the Global T20 Canada for Toronto Nationals where middle-order opportunities were limited in a lineup featuring Yuvraj Singh and Kieron Pollard, Ravinderpal became the first player to strike a T20I century on debut when he belted 101 off 48 balls - including 10 sixes - in a win over Cayman Islands at White Hill Field in Bermuda. He eliminated any doubt that he could produce against higher-class teams when he savaged USA legspinner Timil Patel on the way to striking 67 off 33 balls with eight sixes to cement Canada's undefeated tournament at the regional qualifier in Bermuda.
Singh has seemingly already adjusted to conditions in the UAE comfortably. Entering at 50 for 3 in the seventh over chasing a challenging target of 165 in Canada's October 15 Warm Up Match against Singapore , he smoked an unbeaten 79 off 38 balls that included another seven sixes as Canada managed to seal the chase with two overs to spare. In addition to his power-hitting, he's also fairly dependable as a catching fielder at long-on in the final few overs
Source: Cricinfo Peter Della Penna