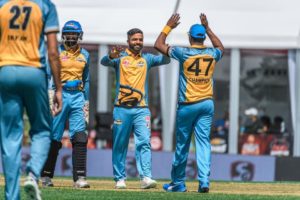 Awarded Toronto & District Cricket League's 2019 Player of the Year honors at the Association's January 18, 2020 Presentation Ceremony, Varun Sehdev started playing cricket in Canada back in 2010 at the young age of 22. Since then the right hand middle order batsman and right arm off spinner's outstanding performances, as one of the League's most consistent cricketers, has resulted in him having now twice won the prestigious Award.
From his schoolboy days as a youngster growing up in the Punjab State City of Jalandhar, cricket has always been Varun's passion so it was only natural for him to pursue it once he had migrated to Canada. He now plays his T&D League cricket with the JB Masters, having joined the Club in 2014. Before then Varun had played for the Islanders Cricket Club.
The list of 2019 outstanding achievements that allowed Varun to be selected as T&Ds Player of the Year is as exhaustive as it is impressive. He registered career best figures of 6-13 against the Mississauga Ramblers CC on one occasion and scored 50 not out against the same opponents in a 145 run chase in another. He also had another 5 wicket haul (5-31) against Victoria Park to help his team successfully defend 224. Against Centurions he scored 38 while chasing 134 to help JB Masters recover fully from being precariously perched at 20 for 3. Varun also bowled 8 overs in that game capturing 2-15. In the League's Super 9 semi finals he scored 44 against Centurions in the JB Masters' chase of a 236 run victory target. With his team faltering at 10-2, he featured in a 90 run third wicket partnership. As a fielder 2019 was also an outstanding year for Varun Sehdev, arguably his best ever, punctuated as it was by 10 catches and quite a few run outs. Indeed a very good year over all with both bat and ball, as well as in the field.
The 2019 T&D Player Of The Year Award is Varun Sehdev's second such honor. He was also awarded as the T&D T20 Player Of The Year in 2016. That year he scored well over 200 runs at an impressive average of 45. He also took the most wickets (17) in the 2016 Season ending T20 Tournament.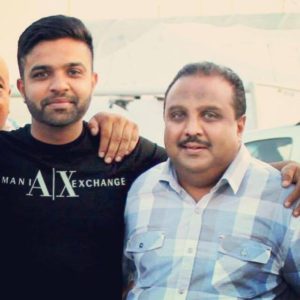 2016 was the year during which the JB Masters Club Founder, Johnny Bujan passed away. As a tribute the T20 Tournament was officially named after Bujan and was fittingly eventually won by the JB Masters. Varun's award as the League's T20 Player Of The Year was therefore very special to him. Johnny Bujan had always been very close to his heart as a personal friend and mentor.
Varun credits his wife Amanda as the person who deserves the most praise as having been the greatest influence towards his winning this year's Award. Without her he says, the Award wouldn't have been possible. Amanda has provided Varun with outstanding support and has always pushed him to be perform at his very best whenever he steps onto a cricket field. More importantly Amanda has always been brutally honest with Varun, pointing out any obvious mistakes that he has made and suggesting ways in which he can improve. The entire Canadian cricket community he says, knows fully well that she has always been the driving force behind my success.
Varun's consistent success as a T&D all-rounder has also resulted in his selection to Canadian national teams. He last played for Canada in a May 2017 encounter against Zimbabwe A, scoring an unbeaten 58. Varun also played for the Winnipeg Hawks in last year's Global T20 second Season.
As he approaches the upcoming 2020 Cricket Season, Varun Sehdev's objective will be to have an even better year than he did in 2019, as ambitious as that may sound. His ultimate objective though will be to simply enjoy playing his cricket just as much as he has always done before.
Towards that end Varun will be engaged in his regular routines of going to the gym and spending time at the practice nets, during the current January – March off season. As he has said to every young cricketer who has ever sought his advice, Varun Sehdev firmly believes that there is no short cut to success. Once you put in the hard work, the desired results will inevitably come. He says though that young aspiring cricketers should also remember to enjoy the game. "If you are not going to have fun, then there is no point in playing. Just trust the process!"
Wise words indeed from a most deserving T&DCA 2019 Player Of the Year. Rightfully featured as Cricket Canada Wickets' January 2020 Issue cover.