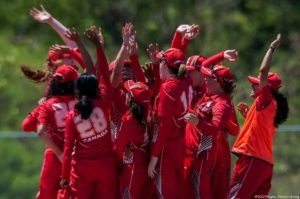 Women's Twenty20 cricket is on course to be among three additional sports featuring at the Birmingham 2022 Commonwealth Games. Organisers have also proposed including beach volleyball and Para-table tennis on the programme.
All three sports have been approved by the executive board of the Commonwealth Games Federation (CGF). Shooting and archery have missed out, having also applied to be added to the event.
Final confirmation on the three recommended sports depends on a vote by the CGF's 71 member associations, with an announcement expected in the next six weeks.
The cricket competition is the result of a joint bid by the the sport's world governing body, the International Cricket Council (ICC), and the England and Wales Cricket Board (ECB). It would be played at Edgbaston and feature eight teams.
The sport's only previous inclusion in the Commonwealth Games came in 1998, when South Africa won a men's 50-overs-a-side competition in Kuala Lumpur.
"We are absolutely delighted that women's cricket has been nominated for inclusion in Birmingham 2022 – it would be a real honour to become part of the Commonwealth Games family," said ICC chief executive Manu Sawhney said.
His predecessor, David Richardson, has previously said Birmingham was the "perfect place" for it to return as "23% of the city's residents have links to cricket-playing nations outside the United Kingdom".
If cricket's inclusion is confirmed, it would be another major boost to the sport in the UK after England won the Women's World Cup in 2017.