The identification, development and retention of talented players through the establishment of new elite domestic Leagues and competition in Canada are outlined in Cricket Canada's Strategic Plan as key fulfillment objectives under its Elite Player Development model. Towards that end this past August month witnessed the establishment of several competitions for both the Men's and Women's players.
On the male side, the August 15-17 National T20 Competition featured 60 of Canada's best players from all across the country mixed into 4 teams participating in a double round robin event. The National T20 Competition was also designed to serve as a selection tournament for World T20 Qualifiers that will be staged in the USA..
The players were split into four teams- Blue, Navy, Red and Yellow, with each team having a mix of established national team players, and players selected as potential national level players in the regional T20 competitions.
The members of the respective Teams were as follows:
 Blue:
Navneet Dhaliwal(Capt), Sudeepta Aurka, Mark, Montford, Totti Omana, Anmol Zakhmi Varun, Sehdev Davy Jacobs, Nikhil Dutta Azgar Hotak, Farhan Malik Daksh, Talwar Varun Sehdev, Jeremy Gordon Amrik, Singh Vinood Persaud and Shahid Ahmedzai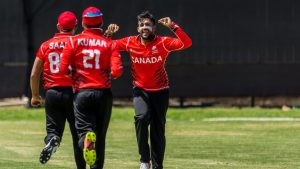 Red:
Nitish Kumar Yaseeb (Capt) Rayyan Pathan, Inderpreet Singh, Harmandeep Singh, Sarbjot Singh, Sivia Jitenderpal, Matharu Kesevan Juvarajan, Dillon Heyliger, Umair Ghani, Mahadeo Moonesar Arun, Nag Trevor Manoosingh, Harris Choudry Faisal and Jamghandi Arman Kapoor
Navy:
Srimantha Wijeyeratne (Capt), Cecil Pervez Ammar, Khalid Durand Soraine, Usman Limbada Harsh. Thaker  Vaibhav Kamat. Nicholas Kirton, Ravirajsingh Dodiya, Junaid Siddiqui , Salman, Nazar Ramesh Jean Paul Rocke, Mohammed Arib Khan, Jaganpreet Singh and Shubham Sharma.
Yellow:
Saad Bin Zafar (Capt), Satsimranjit Dhindsa, M Arsalan, Abraash Khan, Arslan Khan, Ravinder Paul Singh. Rizwan Cheema, Abdul Haseeb, Sukhdeep Brar Praveen. Manhas Amrinder, Dhillon Gurkirat Singh, Rahul Vashishtha and Deepak Pabla
Women's National Championships Scheduled
After the successful completion of Global T20 which showcased some of Canada's very promising local male talent, it was time for Canada's female cricketers to strut their stuff. Cricket Canada announcement of its first ever Women's National Championship, including a series of Cricket Matches between Women teams across Canada, was intended to provide every opportunity for them to do so. The Canada's National Women's Championship matches were scheduled to be held between teams representing a Western Canada, that would feature the best of the talent from BC and Alberta, along with two teams from Ontario.
The scheduled T20 format matches were also intended to serve as a selection tournament to pick Cricket Canada National Women's Team. This subsequently selected Women's National Team will represent Canada in all ICC organized Championships.
With all that it has been accomplishing in terms of its establishment of competitive playing opportunities through Tournaments and Competitions for the country's elite players, Cricket Canada therefore seems to be making highly commendable progress towards the fulfillment of its Player Development Objectives.