Growing up, Matthew Rohan Nandu was always at the cricket ground, it was like a second home to him. He grew up watching his dad, Arjune play. It was indeed Arjune who fashioned Matthew's introduction to cricket. Ever since then, Arjune as Matthew's dad, has always been his coach and says the youngster "that he will always be!"
Matthew has also been inspired by his brother, Marcus. He describes Marcus as a very hard worker who has never backed down from a challenge and one whom he Matthew doubts will ever back down from any challenges he may face in his lifetime. Marcus, says Matthew, is a person that if he wants to achieve something in life, he will put in the work to do so.
As such as his brother, Marcus has taught Matthew that in order to achieve success you have to put in the work. Their mom has also played a big part in the success that both brothers have had. She has supported them through thick and thin and has always been there to boost their confidence whenever they may be going through tough situations.
Ever since he was a small kid who loved the sport, Matthew's cricketing idol was and still is Shivnarine Chanderpaul. Matthew has admired Shiv's highly evident qualities of being patient, consistent and playing within the situation his team was in. Matthew's dream as a kid was always to play like Shiv Chanderpaul and to have the same qualities as him as a batsman.
Cricket Experiences
 Matthew Nandu's cricketing role has always been that of an opening batsman. Although initially he didn't have much interest in being a bowler, he has recently started to work very hard towards on both areas of his game. He now considers himself to be a genuine all rounder, who opens the batting and bowls first change.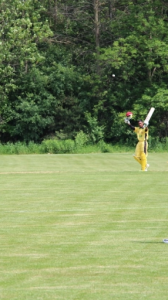 Matthew Nandu has played at the U13, U15, U17, and U19 levels for Tranzac Cricket Academy and now also plays for Tranzac's Premier and Elite teams. During the recent senior team season he played 14 Toronto District Cricket League matches, capturing 14 wickets and scoring 372 runs at an average of 32. His scores consisted of 71, 57, 49*, 45, 42, 41.
Matthew also plays for Kaieteur Cricket Club in the BEDCL, having made his debut at the age of 9, in 2014. In 2016 he scored 249 runs at average of 19 across 16 innings with his highest score being 40. In 2017, his batting performances were disappointing as he totaled only 149 runs at an average of 10. He had a reasonable season with the ball however, capturing the most First Division wickets, 30, at an average of 11.47. In the 2018 Premier Division Season, he did much better amassing 472 runs, at an average of 47.20, including his first century, 121. His other major scores were 96*, 52, 51* and 81. He also captured 28 wickets at an of average 13 across 12 games.
On July 3rd – 8th 2018, Matthew Nandu represented Ontario U17 at the Provincial Tournament which took place in British Columbia. He scored his second career hundred, 120, and finished the tour with a total of 345 runs with an average of 69. His highest scores were 120 and 83, 69, 36. His outstanding performances with the bat earned him both the Tournament MVP and Best Batsman titles.
Matthew has also represented Oakville Cricket Academy in the Sir Garfield Sobers International Schools U19 Cricket Tournament. He made his Tournament debut at the tender age of 12, and hasn't stopped playing in it ever since then. The July 9 – 24 2018, Tournament was the third that he'd actively participated in, during which he scored his third career century, 150, not out, with 20 fours and 3 sixes. He completed the 2018 Sir Garfield Sobers Tournament with a batting aggregate of 250 and an average of 38. He was also selected as a Sir Garfield Sobers International School Boys Cricket Tournament All Star.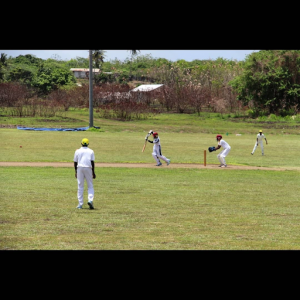 During August 2018, Matthew represented the Ontario High Performance U17 team which played against teams from across the GTA as well as one from Trinidad and Tobago. He had a pretty consistent Tournament, scoring a total of 225 runs at an average of 56.25 across 4 innings. His 225 runs consisted of a 62, 75, 7 and 81 respectively. Scores which helped the Ontario High Performance Team to win the 2018 Tournament.
Matthew says that even though he now already had his fair share of struggles in the past, he had learnt that in order to succeed you have to fail over and over again. He therefore recognizes that he will have hurdles and obstacles to overcome but the thing that matters is how fast he can get over them. He appreciates that he may have to overcome negativity along the way if he wants to succeed or do well in the future. His plan however will be to use that negativity to motivate himself to work even harder towards getting to the next level. He says that the only thing he can do is to hold his head down and keep moving forward.
Matthew Nandu's adopted cricketing mission therefore is to continue to work hard and play cricket at the best of his ability towards the achievement of any goals that he has established for himself. As he pursues his stated mission, Matthew Arjune will certainly be "One To Watch!"