Canada's Red Army cricketers gave of their competitive best in the recently concluded Cricket West Indies Regional Super50 Competition. Playing against far more experienced opponents, including several West Indies Test and One Day International players, the Canadians fashioned one victory from the five matches actually played of the seven that had been scheduled. The Canadians second round matches against the West Indies B and Trinidad & Tobago were both unfortunately abandoned due to persistent rain.
The Canadians sole victory came via their dramatic second round Match 5 defeat of the Windward Islands. Having set the Windwards a fairly modest victory target total of 206 off 50 overs, the Canadians rattled their opponents for 188 on the heals of an outstanding bowling performance by Romesh Eranga who captured 6/21 from his 10 allocated overs.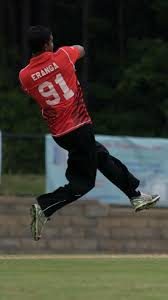 Eranga was by far the Canadians best bowler throughout the Tournament. He captured 17 wickets from 6 matches played at an ultra impressive average of 12.12 with a 4.38 economy rate. Behind him the next best performer with the ball for Canada was Salman Nazar. His 6 Tournament wickets were captured at a 41.33 average with a 5.47 economy rate.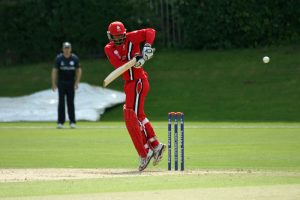 In the batting department, Canada's best performer was Navneet Dhaliwal with a 306 runs Tournament aggregate, scored at an average of 45.17 with an 88.56 strike rate. Newly appointed team captain Davy Jacobs was second in the Canadian batting averages with an aggregate of 242 runs for an average of 35 and a strike rate of 72.31.
The Caribbean Regional Super50 Cup is a Cricket West Indies annual tournament comprised of representative teams from the various Caribbean Islands. Cricket Canada has been sending their players to play in this tournament regularly as a means of presenting Canada's elite cricketers with match play opportunities players to assess and acclimatize under overseas conditions.
The Tournament started in 1972 while Canada first participated in 1996-97 season. Within recent years selected Canadian players have also participated in the tournament as members of ICC Americas team during the 2015-16 and 2016-17 Seasons.
Canada's 2018 Regional Super5o participation is the first in over a decade. In its 7 appearances to date, Canada has only managed to reach the quarterfinals once.
The Canadian Squad which participated in the 2018 Cricket West Indies Regional Super50 Tournament was as follows:David Jacobs (Captain), Nitish Kumar, Cecil Pervez, Dilon Heyliger, Navneet Dhaliwal, Nikhil Dutta, Harsh Thaker, Salman Nazar, Srimantha Wijeyeratne, Bhavindu Adhihetty, Rodrigo Thomas, Romesh Don, Sukhdeep Brar, Ruvindu Gunasekera.
Canada's 2018 Caribbean Regional Super50 Match Summaries:
 Match 1:
Canada vs West Indies B
West Indies B 302/8 (50 Overs)
M Samuels 101, Y Cariah 73; G Eranga 5/32 (8),   S Nazar 3/60 (10)
Canada 292/8 (50 Overs)
S Wijeyeratne 57, R Thomas 63; Y Cariah 2/60 (9), C Holder 2/61 (10)
West Indies B won by 1o runs
Match 2: 
Canada vs Windward Islands
Windwards 337/9 (5o Overs)
D Smith 132, K Hodge 84; G Eranga 3/59 (8), N Dutta 2/60 (10)
Canada 264 (48.1 Overs)
N Dhaliwal 80, R Thomas 55; A Athanaze 5/45 (8.1), L Edwards 2/41 (9)
Windwards won by 73 runs
Match 3: October 7, 2018 Brian Lara Stadium, Tarouba, Trinidad
Canada vs Trinidad & Tobago
Canada 207/7 (50 Overs)
D Jacobs 37, B Adhihetty 32; R Emrit 3/58 (10), K Pierre 2/30 (10)
Trinidad & Tobago 208/8
N Pooran 66, K Hope 50; S Brar 3/39 (6), S Nazar 2/47 (8.4)
Trinidad & Tobago won by 2 Wickets
Match 4: October 9, 2018 Brian Lara Stadium, Tarouba, Trinidad
Canada vs Guyana
Canada 202/9 (50 Overs)
N Dhaliwal 88, D Jacobs 44; R Lewis 2/30 (9), C Pestano 2/30 (7)
Guyana 204/3
C Barnwell 99, R Reifer 50, G Eranga 2/29
Guyana won by 7 wickets
Match 5:
Canada vs Windward Islands
Canada 206/9 (50 Overs)
S Wijeyeratne 35, N Dhaliwal 35; K Hodge 2/25 (10), T Theophile 3/33 (4)
Windwards 188 (49.2 Overs)
R Cato 50, A Athanaze 42; G Eranga 6/21 (10)
Canada won by 18 runs
Match 6:
Canada vs Guyana
Canada 205/7 (50 Overs)
N Kumar 51, D Jacobs 34; V Permaul 2/26 (10)
Guyana 208/6 (39.5 Overs)
R Reifer 61, A Bramble 44; N Dutta 3/41 (10)
Guyana won by 4 wickets
 Match 7:
Canada vs West Indies B
No Result Match Abandoned due to rain
 Match 8:
Canada vs Trinidad & Tobago
No Result Match Abandoned due to rain