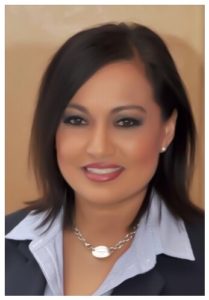 As President of Trinity Women's Cricket Canada (TWCC), her recently founded not for profit organization, Abigail Rajkumar firmly believes that sport development through cricket can serve as the motivation to continue to develop, train and expand the growth of our junior, youth and adult girls/women cricket athletes within communities. Under Abigail's presidential leadership, TWCC's objective is to provide such motivation through coaching, training, camps, tours, competitive League matches, social games as well as national and international tours.
Abigail firmly believes that many female athletes may find themselves being unable to afford to play, learn and remain involved within their communities due to family, work, school commitments and/or lack finances. An involvement in sports, such as cricket, can provide opportunities for such individuals to have the support and guidance that will allow them to stay active, become involved and excel to the level of becoming well rounded personas, both individually and as team players, by being in a positive healthy environment. Towards this end, the Trinity Women's Cricket program has been designed to provoke thought, spark connections, build capacity and teach the fundamentals that will lead its recruited members to the acquisition of high performance skills while mobilizing their commitment to pursue further beneficial, developmental, changes in the Canadian cricket.
Originally from Trinidad and Tobago, Abigail Rajkumar came to Canada on her very own when she was 17, just one month before her 18th birthday. As a child she had wanted to be a doctor, but as she got older and having graduated from high school she discovered that she also wanted to be a businesswoman.
Abigail's maternal grandparents were business owners and as the eldest granddaughter she was extremely close to both of them. She helped run their business and spent much of her time with them. They were her role models and her grand mother, "Nanny" as Abigail called her, was an empowering and mentor in her life. She says that they were the coolest grandparents ever, with whom she always consulted and would often speak to about all of her plans and life ambitions.
Abigail won a beauty pageant while training for her profession claiming all the top prizes, which included an airline ticket to Miami, cash and trophies. She then decided to use the ticket come to Canada, instead of going to the USA. Her Dad had always spoken about Canada as being a beautiful, warm-hearted country. So it was with the pageant airline ticket and prize money that she had won that Abigail migrated to Canada, where she started her new life, all on her own without help from anyone else.
Since having migrated to Canada, Abigail Rajkumar has been primarily involved in two vocational pursuits. She has been an entrepreneur operating Abigail's aesthetic spa as an esthetician and professional make-up artiste, as well as a licensed Remax Hallmark Real Estate Realtor. Abigail is still now very much involved in her two on ongoing careers, fuelled by her belief that one should never stop learning and following their dreams to fulfill their goals. All of which takes hard work, time management and balancing her personal and professional life.
Abigail is extremely dedicated to the women and girls she works with. Over the years she has seen how the collective power of women and men supporting women can make great strides in developing the sport and through education. She is a divorced single mother of a daughter who now attends Queen's University, studying global development with an objective towards becoming a corporate lawyer. Her daughter she says, has long since become her primary source of inspiration and joy. Abigail is also a competitive golfer and a dragon boater.
As evidenced by her formation of TWCC, in addition to her career pursuits Abigail Rajkumar is firmly and actively committed to establishing cricket to serve as a viable mechanism for women's further development. Abigail's love for cricket was developed at a very young age. Her fondest childhood memories are of playing on the beach or at home with her brothers. It was therefore no surprise that after establishing her career and raising her daughter, she decided it was time to get back into the world of cricket.
Her initial involvement began as a mere hobby. Her natural passion and commitment however, soon presented enthusiastically grasped opportunities for her to be a tour manager for Cricket Canada's Women's Team and to serve as an Executive Member of several Cricket Leagues. She currently serves as the Registrar/Statistician for the Scarborough Cricket Association and Mississauga Cricket League and is a valued Member of Cricket Ontario Women's & Youth Committees.  Abigail has also coordinated several men's, youths/juniors and women's tours across Canada and the United States.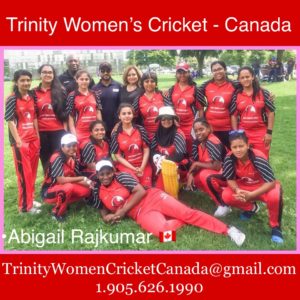 In 2017, after having successfully lead women's team under a different club for many years, Abigail decided to start her own non profit organization for cricket development through the formation of a competitive team called Trinity Women Cricket Canada. Her primary objective in doing so was to become even more directly involved in continuing to develop and promote the growth of Canadian cricket.
Since its 2017 formation TWCC has began to attract an ever-increasing number of outstanding young ladies who are cricket athletes to play on its team. TWCC's membership now consists of women/girls of all ages and backgrounds including students. Its players are from various nationalities: Canadian, Trinidad & Tobago, Jamaica, Saint Vincent, India, Pakistan, Afghanistan, Abu Dhabi, Sri Lanka, Guyana, Grenada. Says Abigail " Each one brings knowledge, beauty, talent, happiness, compassion and strength to our teams!"