The Malaysian Cricket Association is to host the first ICC Cricket World Cup Challenge League Division A tournament in September 2019. Cricket Canada General Manager Ingleton Liburd confirmed the host country in an August 16 morning discussion at Toronto's Pearson International Airport before the Canadian men's team flew to Bermuda for the ICC Americas T20 Regional Final that begins on August 18.
The Malaysian Cricket Association's website shows this first six nation Challenge League Division A as taking place from September 14 through September 27, 2019. The participating nations are Malaysia, Canada, Denmark, Qatar, Singapore and Vanuatu.
There will be two further round-robin tournaments involving these six nations drawn in Challenge League Division A in the next two years on the path to a potential place in the 2023 ICC Cricket World Cup in India. Each team in Division A will play 15 List A games during the course of these three tournaments. The top team will advance to the CWC World Cup Playoff Qualifier 2022.
The qualification structure and competing teams in each of the CWC Super League (13 teams), CWC League 2 and CWC Challenge League (two separate leagues of 6 teams; Division A and Division B) recently was confirmed by the ICC. CWC League 2 began on August 14 with Oman beating Papua New Guinea by 4 wickets. Oman followed with an 8 wicket win against Scotland on August 15 . Scotland was bowled out for 168 after 44.4 overs. Oman reached a winning 169/2 after 45.1 overs.
The top five in Scotland's batting order against Oman had played in the second Global GT20 Canada that ended on August 11 with a win for Winnipeg Hawks against inaugural champions Vancouver Knights. Matthew Cross and Kyle Coetzer played for Montreal Tigers in the Global GT20, Calum MacLeod for Toronto Nationals, Richie Berrington for Edmonton Royals and George Munsey for Brampton Wolves.
Papua New Guinea (PNG) took fourth place in the April 2019 World Cricket League Division 2 on net run rate ahead of Canada to remain in WCL Division 2. So Canada placed fifth which unfortunately, means a place in the new CWC Challenge League where there is a need to keep winning in order to come top of League A and progress to the 2022 CWC Qualifiers.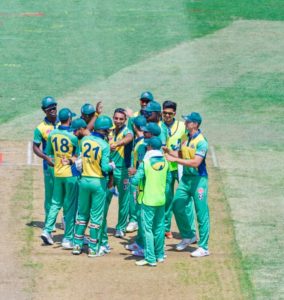 The seven countries in WCL Division 2 will each play 36 ODIs in WCL Division on the road to the 2023 CWC in India. Teams in the two Challenge League Divisions, by contrast, play just 15 List-A games. It makes a big difference in terms of competitive playing experience, potential sponsorship and income for players and for the national cricket associations. But five wins for Canada in Malaysia this September would be a good start on the 50-over trail. Five wins to follow success in Bermuda in the T20 Americas Regional Final that lead to the Global T20 World Cup Qualifier in Dubai this October and November.
"Let's have a picture when we come back with the cup," said Canadian captain Navneet Dhaliwal at Pearson Airport before boarding the flight to Bermuda. Canada begins the ICC Americas T20 Regional Final on August 18 with a game against the Cayman Islands.
Looks like a busy time for the coaches and players, as well as those who have to make the travel arrangements, the kit arrangements and pick up the kit so it makes it to the airport when each Canadian takes off for the latest overseas location. The interim collector and distributor of Canada's playing kit for the trip to Bermuda was happy not to be photographed in that role. His prime reason for being at the airport was to be in Bermuda, to take wickets, field and score some runs as necessary on the victory trail.