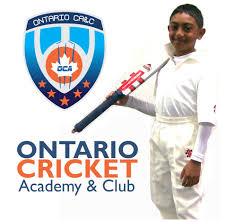 Abraash Khan is one of Canadian cricket's rising stars. His meteoric rise to the top level began as a quiet, but assured 10 year old at the Ontario Cricket Academy. In 2008, the OCA only five years established at the time, welcomed two fresh faces in younger bother Abaan and Abraash to the beginners coaching program. It would not have even been imagined that only 10 years on, that this youngster would be playing professional cricket in the GT20 and for the Canadian national team.
As a young all-rounder, Head Coach Derek Perera, worked with what he noted as "Abraash's natural flair and aggression". Abraash was encouraged to bowl as fast as he could, without the fear of bowling inaccurately and being edged for boundaries on small outfields. His bowling became noted throughout the academy and junior leagues, soon after he started. It was not only his bowling, but what truly separated the youngster apart from his peers, was his thirst for runs. At the age of 12 Abraash had struck his first hundred in the U13 league, and as is due course at OCA, he was promoted to U15.
That same year Abraash made his debut for Canada U15 and as it was, he became the tournament MVP at the ICC America's U15 Championship in Winnipeg. Abraash's name became a buzz on the local circuit. By the time Abraash was only 13 years old, he was given an opportunity to play with OCA's first side, that time in the TDCA 1st Division. He opened the batting and hit five consecutive 4's, finishing off a meagre opposition total with 23*.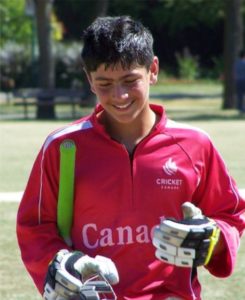 Abraash has gone on to play in two U19 World Cups, one in UAE (2014) and captaining in Bangladesh (2016). This is a feat not many players around the world can claim, especially since in his last world cup he was only 17. After a few more years of toiling in the league representing and eventually captaining OCA first side (2018), Abraash was drafted to the Edmonton Royals in the inaugural GT20. As he does, he never ceased to impress. In his first innings, Abraash batted in the top order and smashed a quickfire 30 odd. Immediately after the GT20, Abraash set King City ablaze in the Cricket Canada Summerfest, becoming the tournament's leading runscorer.
Abraash was soon part of Canada's T20 team in 2018. He had risen to the top while still a teen, but what was just as amazing, was that he accepted an offer from Birmingham University in the UK to pursue Medical Studies. A true all-rounder, literally, Abraash was selected for the GT20 in 2019, this time for the Brampton Wolves. Most recently, he was selected for Canada in the ICC World Challenge and made 42 on debut against Denmark. In his only other game before the tournament concluded, he captured 5 wickets and scored a valiant 33.
Abraash, certainly is one for the future. With his down to earth approach to the game and depth of ability, Canada has a future star in the making.