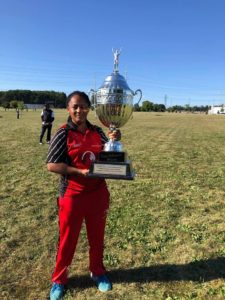 As the youngest of her parents' nine kids, Jamaica born Lorriane Kenton started playing cricket at a young age with her cousins after High School. She also was an active player for a little team call Treasure Girls that played against other teams in the area. Eventually her cricket developed to the point where she played against an older West Indies side, capturing 4 wickets to help her team win the game.
Lorraine says that her batman is Brain Lara. She admires Curtly Ambrose, Courtney Walsh and Wasim Akram the most as her favorite bowlers.
Soon after she had immigrated to her newly adopted home country, Canada, Lorraine started playing cricket locally. That was back in 2012, some seven years ago, but she hasn't stopped since.
Lorriane has since then become an active member of the Abigail Rajkumar led Trinity Women's Cricket Canada Club (TWCC). As a left arm bowler, Lorraine has 0ver the years become known for taking many outstanding five wicket hauls, including her 5-14 against the Superstars.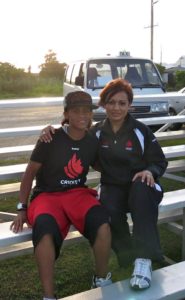 Lorraine has also gone on to represent Canada having toured the Cayman Islands, Trinidad & Tobago and Ireland as a valued member of the Canadian National Women's team. Lorraine most recently captured yet another outstanding five wicket haul, taking 5-12 against the Superstars, Her outstanding bowling and at times aggressive batting, has helped TWCC gain victories in the Scarborough Cricket Association Women's Division. With the assistance of Lorraine's performances with both ball and bat, TWCC has also risen to become the #1 ranked team for Women's cricket in Ontario. TWCC now boasts the highest stats at the top of the League.