Canadian based Guyanese-born journalist and Sports Writer Frederick Halley has been selected as the very first winner of the recently launched Alima's Roti Candid Camera Cricket photo competition. Halley's photo of the victorious Vikings Cricket Club team, as recently crowned champions of the Toronto & District League Premier Division Super9 Final, was selected as the best cricketing photo received during the Competition's September month submission eligibility period.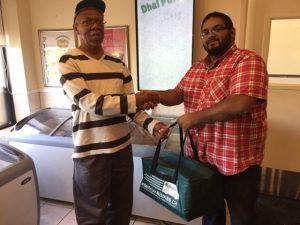 As per the Competition's publicized rules, Halley was duly presented with his Alima's Roti Prize Pack, which consisted of a branded cooler bag filled with packages of dhalpuris, paratha rotis, doubles and two containers of frozen foods. The presentation took place at Alima's Roti's, Kenview Rd Brampton Headquarters on Tuesday, October 16.
The Alima's Roti Candid Camera Photo Competition will continue with the October Month Winner to be featured in Wickets next Issue, due out by mid-November. The deadline for entries will be Friday November 3. All entry photos should be sent via email to graphiclyn@gmail.com and should include both the name and telephone number of either the Sender or Photo Owner.