West Indies are about to lose their head coach Stuart Law at the end of the year. Before that, in 2016, they lost Phil Simmons. And before that, in 2014, they lost Ottis Gibson. The captain Jason Holder praised his team-mates for keeping up with such a churn but hoped the next coach will be able to stick around longer.
"It's difficult. We have had a number of coaches in the last five years. And I must commend the guys because they have really been professional to be able to adjust to each and every coach that we've had.
"A lot of people don't understand what goes on behind the scenes. And that's pretty much an example of the things the players have had to deal with. Credit must go to the individuals in the group because despite who coaches the team, we are still judged on the cricket that we play. But all this has a part to do with the cricket that we produce.
"That's why I don't get too caught up with people saying what they say, because within, I know what really goes on within the dynamics of the team. It's not an excuse or looking for things to ease pressure, but at the end of the day you deal with reality. Anybody would say that the only way to get results as a team is by coming close together. But if the dynamics of the team changes quite a bit, it's hard to build something. Every time it seems as though you're building something, there's almost a barrier, some kind of obstacle.
"But that's life. I think Stuart has brought a different dynamic in terms of professionalism. He's obviously tried to implement certain structures and certain methods, which we needed to change, and credit really must go to Stuart Law for that. Hopefully, whoever comes in, we could just settle on a coach for a little while longer and build something positive for the next couple of years."
West Indies' performance in the first Test against India in Rajkot – they lost all 20 wickets in four sessions – drew a lot of flak, with cricket pundits and former players suggesting on social media that they weren't good enough to play Test cricket. Holder had come across some of these unflattering comments, but he brushed them aside with grace, dignity and some decent statistics too.
"We're playing the No.1 team, India, in their backyard. And history would show we haven't won a Test match here since 1994, and if you look at the players who came through West Indies cricket – I think Brian Lara and these greats have been playing all that time.
"Sure, we probably haven't won as many series as we'd like. But within the last year, I think we've won two out of four or five series we've played. So I don't understand why people would be this harsh towards us.
"But everyone is entitled to their opinion. I just focus primarily on what I have to do and what the team has to do. There's not point worrying about what people have to say because people will always have [something] to say. The only way we can silence the critics – or try to silence them, because I don't think they'll never shut up – is by playing [good] cricket."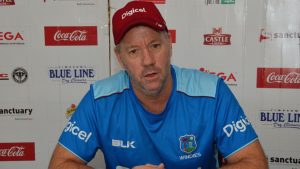 Stuart Law announced his resignation as West Indies' head coach on September 23, 2018 after less than two years in the job. The 49-year-old's tenure will end following the tours to India in October and Bangladesh in November, after which he will move to England to take charge at Middlesex.
Law was credited with improving West Indies' standing in Tests during his time in charge, as well as securing qualification for the 2019 World Cup. He was also involved with moves to bring back a number of star players, such as Chris Gayle and Kieron Pollard, after disagreements with the board.
"I have had to make the difficult decision to leave my role of head coach with CWI," Law said in a press release. "It has been very enjoyable, and I believe we have made tremendous strides forward as a team during the past two years.
"I will be taking a role with Middlesex which will keep me close to my family, whilst continuing within the cricket family. I wish the players and staff of CWI every success in the future."
Law took over from Phil Simmons, who was sacked in September 2016 on disciplinary grounds. He won six out of 15 Tests, including a famous chase of 322 at Headingley last year, and secured series wins over Zimbabwe and Bangladesh, as well as a draw with Sri Lanka.
The team's record was even more impressive in T20Is – eight wins in 19 matches including victory over a World XI team at Lord's in May. It was a different story in ODIs, though. He took over with West Indies having failed to qualify for the 2017 Champions Trophy and they had to make sure of a World Cup spot the hard way via the ICC Qualifier in Zimbabwe earlier this year.
CWI chief executive Johnny Grave said: "I am disappointed that Stuart is leaving as I believe that we have made real progress under his leadership. I know it was a difficult decision for him and that ultimately the opportunity to work in England, where his family is now based, was a major factor in his decision. We will start the process to appoint a new head coach immediately."
Law has signed a four-year contract with Middlesex and will be their head coach for all three formats. He replaces Richard Scott, who left the club midway through the season with Middlesex struggling to mount a promotion challenge from Division Two of the County Championship. Law's arrival also means the end of Daniel Vettori's two-season spell as specialist T20 coach.
A former Australia international who had a long county career with Lancashire, Essex and Derbyshire, Law said it was a "great privilege" to take on "one of the plum jobs in world cricket". He has previously coached Sri Lanka and Bangladesh, as well as with Queensland and Brisbane Heat, and Cricket Australia's high performance programme back in his home country.