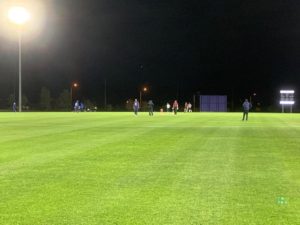 The Brampton & Etobicoke District Cricket League (BEDCL) has achieved yet another outstanding success with the support of the City's Mayor Patrick Brown. The city's first ever night cricket facility is now available for matches to be played.
Tuesday September 24th 2019 was the day when this facility at Teramoto Park in Brampton was finally launched with its hosting of an exhibition match between the Brampton Etobicoke and District Cricket League( BEDCL) and the Brampton Cricket League.
Addressing players and League officials at the official opening of the new facility, Brampton's Mayor Patrick Brown said that the City is to become the cricket capital of Canada. Under his leadership Brampton City Council firmly believes in the premise that "if you build it they will come. As such the new-lighted ground is just the first of many more cricket facilities that will be built in the City.
Mayor Brown said that not only does he now love cricket but he has also been deeply impressed by the obvious love and passion thousands of Brampton's citizens hold for the sport. That much was made evident during the City's recent hosting of this year's GT20 Canada Tournament, which attracted some of international cricket's very best players.
The official opening he said was just the first of many such celebrations for new cricket facilities within the City of Brampton that are destined to follow. In thanking the Mayor for his outstanding support, BEDCL President Praim Persuad said that the lighted ground would undoubtedly be a major boost for both his League and the sport in general. It should also serve to firmly consolidate the BEDCL's ever-growing reputation as being the most progressive, innovative and dynamic of all of Canada's existing cricket Leagues.