Oman 145 for 2 (Jatinder 68*, Ilyas 60) beat Canada 144 for 9 (Wijeyeratne 56, Maqsood 3-25, Khawar 2-18) by eight wickets
Oman moved a step closer to clinching their second straight trip to the opening round of the men's T20 World Cup with an eight-wicket October 25 drubbing of Canada at Sheikh Zayed Cricket Stadium. Jatinder Singh and Aqib Ilyas made a mockery of Canada's bowling unit with a 126-run second-wicket stand, Oman's highest in all T20 cricket.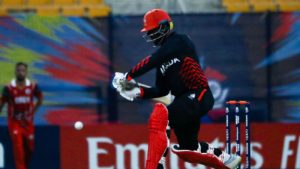 Canada were competitive early on in the night after choosing to bat first with debutant Srimantha Wijeyeratne peppering the large square boundaries in the Powerplay. He rocked Bilal Khan through cover in the second over for four of them before another three game off Fayyaz Butt in the fifth as Canada finished the six overs at 56 for no loss with Wijeyeratne on 45.
The opening stand ended when captain Navneet Dhaliwal was bowled by a googly from Khawar Ali in the seventh as spin brought Oman back into the match. Wijeyeratne ran out of steam after reaching his 50 off 33 balls, falling to a splendid catch at extra cover by Aamir Kaleem in the tenth to give captain Zeeshan Maqsood his first wicket of the night, as Canada reached the halfway stage at 76 for 2.
Canada's middle-order could not provide a solid finishing kick after the outstanding platform, though Nicholas Kirton suffered a poor decision in the 13th, given out lbw to a ball pitching well outside leg stump as Khawar got his second wicket.
But there was no excuse for the next three dismissals, caught at wide long-on and twice at cow corner taking on the much more difficult option square instead of straight. It resulted in Nitish Kumar falling to Aamir Kaleem for 22 before back-to-back catches by Sandeep Goud for another pair of wickets to Maqsood in the penultimate over. Canada managed just 11 runs across the final two overs as three run outs in the final over hurt them, and they fell well short of where they could have been.
Khawar was given out at slip in the second over, bounced out hooking off Jeremy Gordon early in the chase. But Canada's fielders were chasing leather for the next hour.
Aqib arrived at No. 3 and hit one of the shots of the tournament in the fourth over, an audacious scoop flick for six to Gordon's 140kph pace over the 80-metre boundary at square leg. Dillon Heyliger was then pulled twice behind square for fours by Jatinder in the fifth.
When five overs of pace to start the Powerplay didn't slow down Oman, Dhaliwal turned to offspinner Nikhil Dutta in the sixth. Aqib showed no mercy, lofting him three times in a row over mid-off and extra cover before sweeping him for a fourth consecutive boundary.
Aqib crossed his 50 in just 25 balls before falling leg before to Heyliger after walking too far across his stumps in the 13th. Jatinder raised his own half-century off 28 balls with a boundary and carried on with Maqsood to the finish, earning the Man of the Match award in the process. Maqsood ended the match with an uppercut over backward point for four off Gordon.
Canada, need to beat UAE to guarantee their place in the playoffs. Otherwise, they may depend on winless Nigeria to do them a favour beating Hong Kong if they want to sneak in through the back door.