The 2019 ICC World Cricket League Division Two has been scheduled to take place in Namibia from April 20-27, 2019. It forms part of the 2017–19 cycle of the World Cricket League (WCL) which will determine the qualification for the 2023 Cricket World Cup.
Following the conclusion of the tournament, the World Cricket League will be replaced by the ICC Cricket World Cup League and the ICC Cricket World Cup Challenge League. The top four teams will join Scotland, Nepal and the United Arab Emirates in the 2019–21 ICC Cricket World Cup League 2 and gain ODI status. The bottom two teams will progress to the 2019–21 ICC Cricket World Cup Challenge League, along with other teams from the World Cricket League.
 The Six teams that have Qualified to participate in the Namibia hosted April 20-27 Tournament are Canada, Hong Kong, Namibia, Oman, Papua New Guinea and the United States. The Canadians will open their campaign with an April 20 fixture against Hong Kong at the Wanders Affies Park.
Canada's remaining matches in the Tournament will be on April 21 versus Oman; April 23 against Namibia; April 24 vs Papua New Guinea and on April 26 versus their key rivals the United States. The top two teams from the Round Robin stage will contest the April 27 Final.
As part of its Namibia preparations Cricket Canada has managed to secure somewhat last minute arrangements for a Red Army practice tour to Sri Lanka. Several other training venues were considered, including those in Antigua, Trinidad and South Africa but Sri Lanka was eventually identifies as the preferred choice.
The puzzle was solved in favor of Sri Lanka, once it became clear that no other place provided much needed quality opposition and training arrangements. Institute of Sports (IOS), from Nagpur India, who have a long history of relationship with Cricket Canada were able to make all required arrangements to support Cricket Canada athletes training for the qualifier.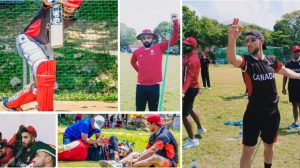 As a result the Canadian Senior Men's squad has been practicing hard in Sri Lanka ahead of the WCL 2 Qualifiers. The squad held its first practice session at Panadura Ground on 10th March 2019. This world class training tour includes, cricket, mental and physical fitness as well as strategy sessions among other things. The training management has enforced a strict diet and training regime. The training is focused around team work, developing new skills and acclimatization to foreign environments.
Following is the list of players and coaching staff, that were training in Sri Lanka. The final team for the qualifier shall be selected after the pre-tour to South Africa and on the eve of starting of the qualifier in Namibia in April 2019.
Players: Bhavindu Shakya Adhihetty, David Johan Jacobs (Captain), Dilon Alex Heyliger
Harsh Thaker, Hiral Dashrathbhai Patel, Mark Montfort, Navneet Singh Dhaliwal
Nikhil Dutta, Nitish Roenick Kumar, Ravinderpal Singh, Rodrigo Augustine Thomas
Romesh Eranga Galkandage Don, Ruvindu T Gunasekera, Saad Bin Zafar, Srimantha Adrian Wijeyeratne, Sukhdeep Singh Brar, Varun Sehdev
Coaching Staff:
Daulat Khan, Henry Osinde