Cricket Canada has announced that Internationally acclaimed and well known cricket coach Monty Desai has been appointed as the Head Coach of the Cricket Canada senior men's squad for the upcoming 2019 ICC World Cricket League Division 2 qualifiers.
Other than providing coaching assistance to the IPL Teams such as Rajasthan Royal and Gujrat Lions, Monty has an abundant coaching history with various teams in the past, including Afghanistan, Nepal, many regional squads in India and Cricket Canada as well. Monty brings with him vast experience of over twelve years at National and International level. He is currently the head coach for Andhra Cricket Association and Lyca Kowal Kings (TNPL).
Monty has a proven track record of bringing out the best of whichever team he has been part of. He was the batting coach of the Afghanistan National Team who were the Champions of 2019 ICC World cup Qualifiers. Also, he coached Rajasthan Royals, when they qualified for the IPL Semi Finals in 2013.
In reaction to Monty Desai's coaching appointment Cricket Canada's President Ranjit Saini said "Monty is a great addition to any team and Cricket Canada will benefit from the rich experience he brings to the table. Monty's expertise would be the much-needed strategic support to the senior men's team as Cricket Canada embarks on a hectic schedule this month onwards.". Mr. Saini went on to say that "I have known Monty for many years and seen him grow as a successful coach. His willingness to support Cricket Canada is much appreciated. This is the best it can get and we are all excited"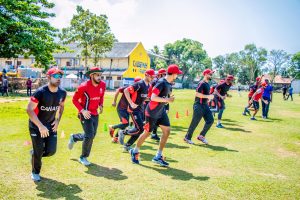 Cricket Canada's Red Army Senior Men's Squad is currently undergoing intense training in Sri Lanka as a precursor to the Division 2 qualifiers, scheduled to be held in Namibia. Monty is currently with the team in Sri Lanka and is carefully analyzing each player's performance as they undergo their vigorous preparation. Monty has previously worked with many of the Canadian players and is well known to the staff.
Mohammed Shaikh, Director in portfolio of the national teams, welcomed Monty Desai as the head coach and said "It's a great excitement that Monty Desai is our head coach. We are confident in his skills that will lead us to the top of the qualifier. In an illustrious coaching career, Desai is known for his successful and well documented contributions". 
Desai was thrilled about taking charge of the national team for a crucial tournament. "There is an excitement to begin this journey, where so much is at stake as six countries will be participating in the ICC World Cricket League, Division II Tournament, in Namibia next month," he was quoted as saying by cricketcanada.org.
"It has been thrilling to spend these last few days in Sri Lanka with a combination of seasoned players with whom I have previously engaged after having gained additional experience myself.
"At the same time, the new faces to this game, are equally good, and bring their own unique value to the team. It is evident that we are working with a wide range of skills, and along with the wealth of experience brought by our captain Davy Jacobs. It is easy to be very optimistic at the onset of this journey."
Cricket Canada looks forward to bringing vast improvement and precision in its performance ahead of WCL Div 2 Qualifiers next month where Canada is placed with strong opponents in Hong Kong, Namibia, Oman, Papua New Guinea, and the United States. The matches would be in a round-robin format with Canada facing Hong Kong in its first match on 20th April 2019.
During his days as an IPL talent scout Desai developed some particular mannerisms that quickly became famous with the league. "He sneaks in quietly. He prefers to stay invisible. But he is always on the lookout. There is a black book tucked under his right arm. A pen clipped to the book. Club cricketers come and say hello. Monty Desai acknowledges them quietly and shifts his focus immediately to the match he has come to watch at the Wankhede Stadium!"
Desai was one of the main talent scouts at Rajasthan Royals, one of the two IPL franchises suspended by the Lodha Committee for two years as a fallout of the probe into the 2013 IPL corruption scandal. Desai's contract expired on December 31, 2015 Desai's database is a black A4-size diary in which he has noted down names since 2008, when he joined Royals. Although he was on the lookout for all kind of players, Desai confessed that he has a soft corner for bowlers. What he is looking at, more than anything else, is how the player reacts to different situations. "Bowling is something which has always been taken as labour class in our game," he says. "But if somebody has the courage, after being hit for a six, to come back and bowl a beautiful yorker and get a dot ball, I don't know how many people are able to watch and store that data. The bowler's figures could read four overs for 40 but out of that there might have been only two or three bad balls. So that is what I am looking for."
A thorough Mumbaikar, Desai graduated as a mechanical engineer, and is a Level 3 certified coach who was involved for three years as an assistant coach with the World Cricket Academy. There, he met the likes of Andy Flower, a "dear friend and mentor", who was then the Essex coach.
"I enjoy the fact that my eyes have seen everything: from grassroots cricket to the pathways of somebody who has represented the country like Ajinkya Rahane, Stuart Binny, Ravindra Jadeja. Players who were with Royals before ending up with the Indian team."
Desai knew his experience as a scout with Royals would not go to waste. Two IPL franchises had expressed their interest in him. But he wanted a long-term role that would allow him to "build" teams, which remains his primary goal and desire. The franchises also wanted to know about the unknown players they had signed up and for Desai to help them identify names that can fill gaps in their squads. "Clearly I know the player's strengths and weakness and where exactly he can play a role and the new franchises are asking me that."
Desai says he is proud to have been part of the scouting team that identified unknown and little-known names such as Pravin Tambe, Dinesh Salunkhe and Sanju Samson and offered them a platform. He considers himself just another cricket fan who is interested in watching the game. The only difference is that he is always on the lookout for talent.
"It keeps you in touch," he says. "It keeps you not rusty. And it is a good way to keep on adding to my database. Never know when I can use it."