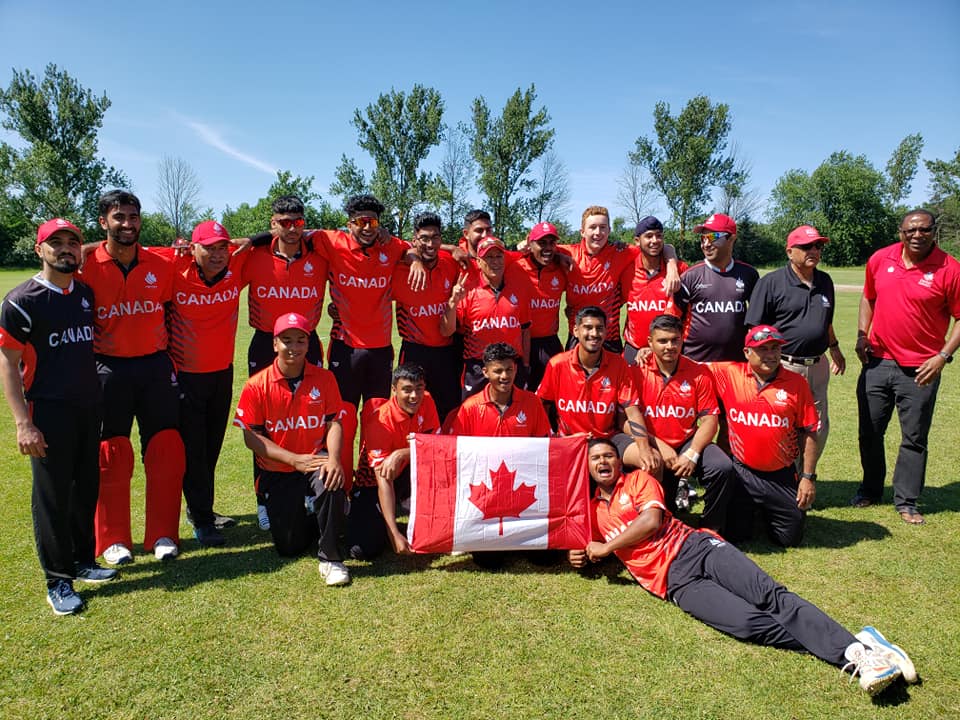 Canada's U19s Secure ICC 2020 World Cup Qualification!
Canada's Under 19 cricketers defeated their USA archrivals by 5 wickets to win the final round robin match of the ICC 2020 U19 World Cup Qualifiers Tournament, which was staged at King City from July 8-15. The Canadians' five-wicket win over the USA resulted in their qualification for next year's ICC Under 19 World Cup to be held in South Africa from 17 January to 9 February 2020.
Both teams had cruised through the tournament, each recording one-sided wins over the Tournament's other three competing countries: Argentina, Bermuda and the Cayman Islands.
Batting first the USA Under 19s scored 112 off of 32.4 overs. Skipper Kind's 45 was the only score of note; Bowling for Canada Kumar 3-26; Kamal 2-21; Shamsudeen 2-24 were the main wicket-takers. In reply Canada Under 19s scored 133/5 in 22.1 overs to win by 5 wickets. Kumar 26 was the top scrorer.
Summarized Scores of Canada's remaining matches in the ICC 2020 U19 World Cup Qualifiers Tournament were as follows:
July 8, 2019
Canada vs Bermuda
Bermuda 61/10 26.4 Overs. Muhammad Kumal 3-9; Rishiv Joshi 2-8; Gurjot Gosal 2-9
Canada 63-1 8 Overs. R Sandu 26.
Canada won by 9 wickets
July 9, 2019
Canada vs Argentina
Argentina U19 33/10 21 Overs; A Kirschbaum 16 R Shamsudeen 5-3.
Canada U19 39-3 4 Overs M Kumal 15*
Canada won by 7 wickets
July 12, 2019
Canada vs Cayman Islands
Canada U19 441/5 50 Overs. A Deosammy 155*; E Sensarma 105; R Sandu 49. G Harrington-Myers 2-76; R Johnson 2-83
Cayman Islands U19 50/10 25.5 Overs; R Shamsudeen 3-4; M Kamal 2-5.
Canada won by 391 runs.