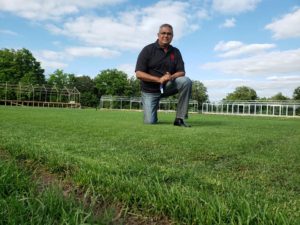 GT20 Canada's move from the Inaugural Season King City venue to its now hopefully permanent home in the Flower City of Brampton, was a direct outcome of a conversation between Cricket Canada's President Ranjit Saini and Cricket Ontario's Praim Persaud. Saini had expressed to Persaud his desire for the Tournament to be staged at a more centrally located venue.
As President of the Brampton-Etobicoke&District Cricket League (BEDCL) Persaud reflects that the timing of Saini's suggestion could not have been more perfect. The City's Mayoral Nominee, Patrick Brown was at that very said time engaged in his election campaign with cricket as one of the main platforms. Brown's opponent, the incumbent Mayor Linda Jeffries, had effectively stiffened the wonderful progress that had been made at Brampton City Council, by her predecessor Susan Fennel, towards cricket's infrastructural development in recognition of the significance of the sport to hundreds of thousands of its residents.
Persaud who doesn't usually support politicians met with Brown to outline the requirements of his League. He says he was pleasantly surprised by the mayoral candidate's presentation of an additional elongated list of cricket related promises that would be fulfilled should he be elected. On the basis of Brown's promises the support of the BEDCL's two hundred plus affiliated clubs and their respective members was galvanized towards his eventual election victory.
To date as Mayor, Patrick Brown has more than fulfilled all the promises he made in addition to honoring the requests that Persaud had put forward. Brown had in fact already begun using cricket including the possibility of GT20 Canada being hosted by Brampton as an election platform.
After Brown had been elected Persaud introduced him to Cricket Canada's President Ranjit Saini at last year's BEDCL's Annual Awards Gala with the intention of leaving up to them to work out the details. For whatever reason however, nothing much happened subsequent to that introduction. Persaud who in the interim had been appointed by Brown to be Brampton City's Special Advisor on Cricket, later found out that the GT20 Owners had been otherwise directed to approach the City of Mississauga with regards to the hosting of this year's Tournament.
Those negotiations eventually collapsed resulting in the GT20 Owners turning their attention to Brampton as an alternative. They met with Mayor Brown and presented their proposals for the Tournament to be staged at the CAA Center. As fate would have it the CAA Center's three existing pitches had all been developed solely by the BEDCL under Persuad's Presidential direction. Knowing this Mayor Brown advised the GT20 Representatives that the City would only be willing to proceed on the condition that Praim Persaud would be fully involved in all subsequent discussions and decisions as one of the the City's Official Representatives.
Persaud then met with GT20's Tournament Director Jason Harper and Advisory Board Member, Cosmos Sports President Cary Kaplan, to discuss the possibilities. Persaud had initially expressed his disagreement with the choice of the CAA Centre as the preferred venue. He felt and still does that there were other far more suitable choices available within the League's now ultra impressive inventory of top class cricket grounds!
Several rounds of three way discussions between, the City of Brampton, GT20 Canada officials and the CAA Center owners were briefly interrupted by an expression of further interest from the City of Mississauga. That however died almost as quickly as it had been revived, paving the way for plans to proceed full blast towards Brampton's hosting of this year's GT20 Tournament.
The development and implementation of those plans were pursued through multiple conference calls, involving the representatives of the aforementioned three key parties. Eventually the deal was struck and signed and on June 3, the City of Brampton's hosting of GT20 Canada 2019 was officially announced at a Media Conference that was hosted by the Mayor and held at City Hall.
Ironically Persaud who was an integral part of the group that had essentially engineered this wonderful development was not around for the grand announcement at the Mayor's Media Conference. He had traveled overseas in fulfillment of a previously made business commitment. His involvement was however glowing acknowledged by both Mayor Patrick Brown on behalf of the City and also by Jason Harper as Gt20 Tournament Director.
During his address at the Press Conference, Mayor Patrick Brown also announced his City's plans to develop additional cricket facilities within the City later this year and continuing over the next two years. Such plans would include the establishment of two additional facilities as well as the installation of lights at one of the City's grounds. Mayor Brown also indicated that his Brampton City Council had embarked upon the development of plans for the establishment of a major cricket stadium as a future-hosting venue for international matches and Tournaments.
Mayor Brown's announced plans are the direct result of the dedicated efforts that Praim Persaud and his BEDCL Board members have been making for almost twenty years. In the years prior to 2004, Brampton City Council was being approached by individual clubs with their respective requests for grounds and improved playing facilities, with little progress being made. Susan Fennel's 2004 election as Brampton City Mayor and the presence of a cricket oriented Council Member Garnet Manny, however completely changed the environment within City Hall from its previous state of almost total disinterest to that of being encouragingly supportive.
It was Garnet Manny who had summoned a meeting between the Mayor, other City Council officials and the representatives of the then twelve Brampton based clubs to discuss the City's cricketing needs and to formulate plans as to how they should be addressed. The clubs unanimously elected Praim Persaud to speak on their combined behalf.
From that point onwards and with Mayor Susan Fennel's complete approval, blessings and support, Praim worked diligently with City officials includding Don Doan to identify and secure locations for the establishment of additional cricket grounds. Under Praim's guidance the two then existing Leagues, the Etobicoke & District Cricket League and the Brampton Cricket Association were also merged into a single entity: Brampton-Etobicoke & District Cricket League.
That merger was both a reflection of Praim and his associates recognition that continuing City support would be dependent upon demonstrated growth of cricket as a participation support, as well as the actual almost geometric increases in the number of clubs that had been occurring. Within a few years prior to the merger, the Brampton Cricket Association from an initial mere handful of clubs to well in excess of one hundred.
During the years of Susan Fennel's Brampton City Mayoral tenure, the BEDCL acquired and developed cricketing facilities from an initial inventory of three grounds to the sixteen that now exist today. Working with Brampton City and Parks Officials Persaud and his BEDCL Board also embarked upon initiatives to constantly improve playing conditions of existing and newly required grounds.
Under Praim Persaud's leadership, BEDCL was also at the forefront of the eventual reunification of all the other Ontario based Leagues, which had gone their separate ways as a result of the demise of the Ontario Cricket Association. Persaud was again the main architect behind the reunification of the wandering Leagues under a newly constituted Cricket Council of Ontario, which was eventually incorporated as Cricket Ontario.
As the City of Brampton's Mayor, Patrick Brown's recognition of the significance of cricket to hundreds of thousands of his constituents has been reflected in City Council's allocation of a specific budget for the sport. Working with City officials Praim Persaud and his fellow BEDCL officials have developed an extensive listing of the City requirements for ongoing cricket development. The installation of turf wickets and proper sightscreens, along with the grass being cut to a half-inch level, which required the City's procurement of the proper cutting and rolling machines as well as the required natural turf preparation and maintenance machinery, an ongoing battle that Praim and his colleagues had been waging for almost thirty years, were among the primary requests on the list. It is that exact listing that has served as the foundation for the City's allocation of budget funding for cricket.
The list of requirements Mayor Patrick Brown and his Brampton City Council have agreed includes the previously mentioned addition of two new cricket grounds as well as the establishment of a cricket stadium. A previous blueprint for the stadium's development had been formulated in 2015 under Mayor Susan Fennel's tenure and enabled by Persaud's direct involvement with the City's architect. That blueprint had been formulated largely on the basis of extensive research Persaud had conducted on the construction of similar facilities in Antigua, St Lucia and other parts of the Caribbean.
Former Brampton Mayor Susan Fennell had initially authorized the stadium development plans in support of cricket's application to become an Olympic support and towards the City's positioning of itself as a potential future hosting venue Once cricket's Olympic application had fallen through. Mayor Fennel remained committed to the cricket stadium development initiative until she was unfortunately defeated in the subsequent election.
Praim Persaud's possession of copies of those blueprints as well as their acknowledge existence within the confines of Brampton City Hall is the backdrop to Mayor Patrick Brown's recent announcement that the initiative has now been resuscitated and will henceforth be arduously pursued. In the interim Praim is now deliriously happy that for this year's cricket season, despite all the pre-season rains all the grass on all City grounds was cut to an acceptable three quarter inch length and which has now been dropped to the desired 1.2 inch.
The City of Brampton's establishment of top class turf pitch equipped grounds with their immaculately the half inch grassed outfields has resulted in an uplifting of the standard of cricket being played by the members of the BEDCL's now one hundred & fifty plus clubs. Although that has not as yet been reflected by the selection of BEDCL players to representative Canadian teams, Praim Persaud feels that it is now only a matter of time before this becomes a reality.
Certainly with the CAA Center having been established as the venue for the City of Brampton's hosting of GT20 Canada 2019 and with all other wonderful initiatives that have taken place the future does indeed look bright for cricket's further development in the City. Who knows as Cricket Canada President Ranjit Saini had suggested at the June 3 Press Conference there's even now the distinct possibility for the City of Brampton to become the Official Home of Canadian Cricket. If and when that does happen there's every likelihood that will be as a result of Praim Persaud and his BEDCL Board's involvement!