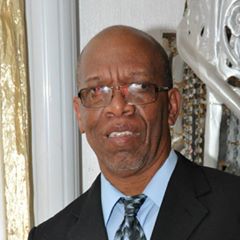 By Frederick Halley
INSPIRING words from former West Indies fast bowler and
renowned commentator Ian Bishop have had a profound
effect on former Guyana fast bowler Jeremy Gordon, who at
33, has no intention of "throwing in the towel" any time soon.
During last year's International Cricket Council (ICC) T20
World Cup Qualifiers, played in Dubai, Gordon, who now
represents Canada, was credited with bowling the fastest
delivery of the tournament, clocking 147 kilometers.
Gordon, who bowled consistently in the 140s, earned accolades from Bishop who was astonished that the then
32-year-old was able to "manufacture" that amount of pace.
The lanky Gordon is however still peeved that Canada didn't qualify for the ICC Men's T20 World Cup which
was scheduled to be staged in Australia later this year but has since been postponed because of the Coronavirus
pandemic. He pointed out that Canada started well by winning their first three games, including a decisive victory
over Ireland, but lost momentum in their remaining three matches.
By
Frederick
Halley
Gordon is still hopeful that Canada will qualify for the 2022
T20 World Cup. Towards this end, he's looking forward
to being a member of the Canadian Squad for Qualifiers
which are slated to be hosted by Canada.
Boasting that he's "fit as a fiddle," Gordon told Wickets
that the Coronavirus pandemic has had no effect on his
preparation for possible club cricket or once he's chosen
to represent his adopted country. He explained that he
has been doing his usual workouts and even trains during
his lunch breaks since he's working from home. "I have
been a vegan since 2013 and this definitely helps me in
being energized," he pointed out.
Prior to the 2019 ICC World Cup Qualifiers, Gordon also
participated in the 2015 qualifiers in Scotland where
Canada also failed to advance.
A self-imposed break between 2016 -2018, which Gordon
said was done mainly for family reasons, including
marriage, saw a refreshed fast bowler donning colours
for the Chris Gayle-led Vancouver Knights, the eventual
winners of the inaugural Global T20 Canada tournament
in 2018. He was however limited to one game.
Last year saw Gordon turning out for the Toronto
Nationals who managed to make the playoffs. His seven
wickets earned him a spot among the top seven bowlers
in the tournament.
In the meantime, he has been creating
havoc in the Toronto & District Cricket
Association (T&DCA) Super 9, representing,
grabbing 30 wickets for his title-winning team,
the most by any bowler in the 2019 tournament.
In 2014, Gordon still harboured dreams of representing
Guyana but was peeved at the way he was treated by the
Guyana Cricket Board (GCB) selectors during a visit to his
native land in December 2013.
Back then, Gordon, who also represented Guyana at the Under-19
level in 2005-2006, described his interaction with the chairman of the
GCB selectors, "as a royal round around."
Then 27-year-old, Go r d o n , wh o migrated to C a n a d a
i n 2006, pointed out that he still had a burning desire to play for
Guyana but felt that this hope faded rapidly after the GCB selectors
ignored his wishes.
Gordon is of the opinion that cricket in the North American
country is very competitive, since there is a large number of
expatriate players from cricket-playing nations featuring
on an annual basis. The New Amsterdam-born cricketer
feels the game keeps improving at a rapid pace since there
are players from different parts of the world plying their
trade and also to improve their skills, "and that has given us
the encouragement to work harder on our cricket all-round."
Gordon made his ODI debut for Canada against Scotland in July 2012
and played his first T20 game versus Ireland in Abu Dhabi in November
2013.
His maiden first class game was against Netherlands at the Maple Leaf
ground in Toronto in August, 2013. Gordon has captured 23 wickets in five
first-class matches at an average of 21.08 with six for 43 being his best. He
has also taken six scalps in five ODIs, his best being three for 26.