David Johan Jacobs (known as Davy; born 4 November 1982 in Klerksdorp, Transvaal) is a South African cricketer. Davy started playing his cricket at a really young age and had become a pro by the time he was in his late teens at age 17 or 18.
He played his domestic professional cricket in South Africa for the Warriors and Eagles cricket teams until he officially announced his retirement in 2015. He then moved to Canada that same year and assumed a position as head coach at OCA (Ontario Cricket Academy).
In 2016 he coached the Canadian National Team. He became qualified to play for Canada this year and after careful consideration decided to forsake his previously announced retirement by picking up his bat and donning his wicket-keeping gloves towards Canadian cricket's worthy cause. Shortly after he was appointed captain of the Canadian national team to lead its participation in the recent West Indies Super50 Regional Competition.
Tall and taciturn, flinty and fastidious, Davy Jacobs is the kind of cricketer any captain would welcome into his team. For the first seven seasons of his career, his captains at Eagles and then Warriors knew they could depend on his forthright batting and solid wicketkeeping. Then the Warriors took the logical step of appointing Jacobs as captain. It took him just two seasons to repay that faith, when he guided his team to triumph in the Standard Bank Pro20 and the MTN40 in the summer of 2010-11, the first trophies ever won by the Eastern Cape franchise
Jacobs is a right-handed batsman and has made over 3000 first class runs at an average above 40 and a highest score of 218. He is also an outstanding wicket-keeper, and a natural born leader. He also played for Northamptonshire County Cricket Club as a substitute overseas player while a professional with Carrickfergus CC in Ireland in 2007.
Jacobs led the Warriors to two trophies in 2010/2011. His fantastic performance during the second edition of the 2010 Champions League Twenty20, helped him to finish as runner-up to Murali Vijay in the Golden Bat table. Davy Jacobs along with Ashwell Prince also set the record for the highest ever opening stand in Champions League T20history(147)
Jacobs has also represented the South Africa A cricket team on several occasions. He captained the South African Emerging Squad to Australia, and also led the South African team to victory in the Hong Kong Sixes Tournament in 2009.
He was picked up by the Mumbai Indians, an Indian Premier League franchise, in the 2011 IPL Player Auction for $190,000. Despite his tournament being cut short due to injury, he lived up to his box office reputation, getting the Mumbai Indians off to flying starts with his no fear batting style. His wicketkeeping was rated by all as excellent. In one of the matches, he did the unthinkable, standing up to the stumps to Lasith Malinga's bowling. He also made a stumping off the opening bowler, Munaf Patel.
Following his Mumbai IPL stint Jacobs also had further global T20 exposure, representing Trinidad & Tobago Red Steel in the 2013 Caribbean Premier League.
By the time he'd announced his official retirement, in February 2015, Jacobs had played 91 first class matches and scored 5520 runs with 14 hundreds included. He'd also played 106 One Day matches with a strike rate of 81.27. His T20 stats were 83 matches scoring 1707 at an average of 25.86 with eight half-centuries.
Somewhat surprisingly named as Captain of the Canadian squad for the 2018–19 West Indies Regional Super50, the unassuming Jacobs describes himself in three words as "Here goes Falco!"
 He says that his now greatest cricketing memory occurred when he was just a young lad aged seven, He couldn't quite decide back then whether he wanted to be a right-hander or a lefty. He solved his personal dilemma by playing as a lefty in one game then switching around the next weekend to be right-handed. Incredibly his scores were pretty similar. Eventually his somewhat confused Coach called Davy's Dad in for a meeting, and said that they had to pick one or the other, and so they did!
Now fully in the throes of his "second coming" as a Canadian cricketer and captain of the national team, Jacobs has already enjoyed lots of special moments at different stages of his illustrious cricketing career. Taking the Warriors from being the worst team in South Africa, to winning two trophies in one year is something he says he will always remember. Opening the batting with Tendulkar for Mumbai in the Indian Premier League is another that is and will always be right up there. "Walking down the steps with him at Wankhede in his hometown in Mumbai was really special!"
Davy Jacobs says that the last few years have helped him to realize just how fortunate he has been to be able to play pro cricket. H also now appreciates fully that there are incredibly so many good players around the world, just under the pro level. Countries such as Canada, USA, Oman etc, he feels should be provided with opportunities and structures for proper development.
As an analogy Jacobs says that he loves how "minor" countries compete at soccer's World Cups, often producing quite a few upsets. Much to the delight and admiration of the entire world because everyone loves the underdog!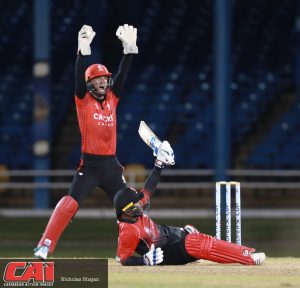 "That's what dreams are made of, and such upsets inspire millions, in so many different ways. I would love to see more associate nations featuring at cricket's World Cups and ICC Tournaments, especially in the T20 format!"
Well said Captain Canada. Now lead us on to the next (2020) ICC World Cup!