20 Questions:
1. City of Birth?
Klerksdorp (South Africa).
2. Favorite Childhood Memory?
Camping at Potch Dam with my family.
3. Childhood Ambition?
To be a professional cricketer.
4. Favorite School Subjects?
English Literature and Geography.
5. Favorite Book?
"The Dark Tower" by Stephen King.
6. Favorite Movie?
Titanic.
7. Top 5 Favorite TV Shows?
Banshee, Friday Night Lights, The Ranch, Eastbound & Down, The O.C.
8. Favorite Food?
Steak on a braai (bbq).
9. Favorite Vacation Spot?
Anywhere with my wife and daughters.
10. Greatest Young Adult Influence?
My dad, Christo Jacobs.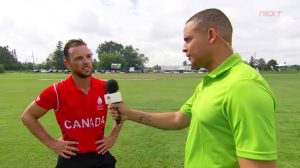 11. Most Admired International Cricketer Bowler?
Shane Warne.
12. Most Admired International Cricketer Batsman?
Mahendra Singh Dhoni.
13. Most Embarrassing Cricket Moment?
Getting run out as the non-striker without facing a ball.
14. Most Memorable Cricket Moment?
Walking out to bat at Wankhede Stadium in Mumbai, while opening the batting with Sachin Tendulkar.
15. Cricketing Ambition?
To do everything I can to help grow the game in Canada.
16. Favorite Sport outside of Cricket?
Golf.
17. Hobbies Outside of Cricket?
I have a construction business, and I'm mentored by my good friend, Shabbir Badin. It's a job, not a hobby, but I love it more than anything.
18. Favorite Toronto Restaurant?
Door 55 in Streetsville.
19. Music Most Listened To?
Tough one, so many! Green Day, Lumineers, Mumford and Sons, Xavier Rudd.
20. Top 5 Bucket List Items?
Drive Route 66 with my wife. Road-trip through Canada
with friends and family in an RV. Visit Yellow Knife. Go
fishing with my daughters in remote regions of Canada.
Get Canada into a World Cup.