CricketFest A Tremendous Success
Cricket Canada concluded its September 29-30 CricketFest on the Labour Day weekend, where four teams battled out over round robin T20 games. Cricket is on a rise in the country and tournaments like this only help further growth of the sport.
Nikhil Dutta, mystery leggie and a regular feature in the Canada's senior team said," I felt it was a great tournament for the development. It helped expose some new talent in Canadian cricket."
The four teams which competed against each in the round robin were Canada Men's senior team, Canada A, Toronto Bears and West Indies B team. Canada A had players from the Cricket Canada's HP development program.
Abraash Khan was the pick of the players from the A team. His quick-fire 94 against the Toronto bears shows the kind of bench strength we have and an exciting future Cricket has in Canada.
Ranjit Saini, president of Cricket Canada while speaking about benefit of this tournament said, "We wanted a tournament like this where Canadian players get a chance to play at the highest level and get the exposure they need. They can showcase their talent and skills on this platform. Tournaments like these are not only beneficial for players but also for selectors. They can find the budding cricketers who have got that x-factor which is required to represent the country."
Canada is a multicultural country and players from different countries are our biggest strength. They bring their unique quality with them.
The warrior of final, Navneet Dhaliwal who impressed everyone with his all-round performance said, "It was an overwhelming experience. Such tournaments should be organized more often to encourage youngsters towards sport. Such performances and show our players are ready to play against quality opponents and in bigger platforms."
This was just one of the steps Cricket Canada plans to take towards raising the profile of cricket in the country, with Global T20 earlier this year making 2018 a memorable summer of cricket for its fans.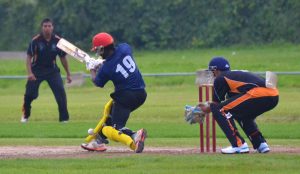 Match Summaries:
08/27/2018
Toronto Bears vs Cricket Canada A
Toronto Bears Won by 19 Runs
Toronto Bears 126/10 (24.1 Overs) R Crandon 34; T LeFleur 24; R Eranga 2-6 (3.1 Overs); K Mann 2-10( 3.3 Overs); G Thandi 2-24 (3.0 Overs)
Cricket Canada 107/10 (24.5 Overs) H Thaker 25; S Brar 21; R Nurse 3-17 (2,5 Overs)s) R Nannan 3-26 (4 Overs)
08/27/2018
Cricket Canada A vs Toronto Bears
Toronto Bears Won By 19 Runs
Toronto Bears 126/10 (24.1 Overs) R Crandon 36; T La Fleur 24; R Eranga 2-6 (3.1 Overs); K Mann 2-10 (3 Overs); G Thandi 2-24 (3 Overs)
08/28/2018
Cricket Canada A vs Toronto Bears
Toronto Bears Won By 66 Runs (D/L)
Toronto Bears 233 All Out (42 Overs) R Crandon 69; D latcha 57; K Pooran 40; R Eranga 3-25 (5 Overs); S Brar 2-21 (6 Overs); R Singh 2-46 (7 Overs)
Cricket Canada A 167/7 (45 Overs) S Brar 57; A Khan 42; R harris 2-24 (7 Overs); T LeFleur (2-25)
08/30/2018
Toronto Bears vs West Indies B
West Indies B Won by 8 Wickets
Toronto Bears 120/6 (20 Overs) K Pooran 36; R Crandon 33; J Greaves 2-17; J Warrican 2-22
West Indies B 124/7; 2 (13.4 Overs) K Carty 54; J Campbell 47 ; R Bynoe 2-25
O8/30/2018
Cricket Canada vs Cricket Canada A
Cricket Canada Won By 5 Runs
Cricket Canada 124/10 (19.4 Overs) S Zafar 32; R Eranga 2-13 (3 Overs); A Pathmanathan 2-18 (3 Overs); R Pathan 2-22 (3 Overs)
Cricket Canada A 119/6 (20 Overs) H Thaker 41; S Brar 21; C Pervez 2-19 (4 Overs)
08/30/2018
Cricket Canada A vs Toronto Bears
Match Tied
Cricket Canada A 152/2 (17 Overs) A Khan 104; K Naresh 22;
Toronto Bears 152/8 (17 Overs) T Castro 87; K Pooran 36; R Eranga 3-40 (4 Overs)
08/30/2018
Cricket Canada vs West Indies B
Match Abandoned
09/01/2018
Cricket Canada vs Toronto Bears
Toronto Bears Won By 11 Runs
Toronto Bears 167/7 (20 Overs) R Thomas 78; J Maniram 29; D Heyliger 5-16 (4 Overs);
Cricket Canada 156/6 (20 Overs) N Dhaliwal 48; D Heyliger 27; R Nannan 2-23 (4 Overs); R Nurse 2-33 (4 Overs)
09/01/30
Cricket Canada A vs West Indies B
West Indies B Won By 1 Run
Cricket Canada A 127/3 (20 Overs) R Singh 57; A Khan 31; D Green 2-22 (4 Overs)
West Indies B 128/1 (14.3 Overs) J Campbell 85*; J Greaves 31;
09/02/2018
West Indies B vs Cricket Canada
West Indies B Won By 4 Runs
Cricket Canada 125/10 (38.1 Overs); N Dhaliwal 24; J Warrican 4-20 (10 Overs); J Royal 4-42 (10 Overs)
West Indies B 129/5 (22.1 Overs); J Greaves 36; A Athanaze 34; J Hamilton 32; C Pervez 2-26 (5 Overs); M Moonesar 2-33 (6.1 Overs)
09/03/2018
Cricket Canada A vs Toronto Bears
Cricket Canada A Won By 13 Runs
Cricket Canada A 199/6 (20 Overs); A Khan 94; R Singh 29; J Padmore 3-30 (4 Overs); T LeFleur 2-40 (4 Overs)
Toronto Bears 186/6 (20 Overs) R Crandon 63; K Pooran 27; S Brar 3-19 (4 Overs)
09/03/2018
Toronto Bears vs West Indies B
West Indies B Won By 5 Runs
Toronto Bears 124/7 20 Overs) R Crandon 47;K Mayers 2-22 (4 Overs); S Berridge 2-23 (4 Overs) J Greaves 2-30 (4 Overs); J
West Indies B 129-4 10.3 Overs) J Hamilton 59; J Campbell 46; J Padmore 2-25 (3 Overs)
09/05/2018
Cricket Canada vs West Indies B
West Indies B Won By 77 Runs
West Indies B 286/10 (48.2 Overs) J Campbell 90; A Bramble 83; C Pervez 3-43 (9 Overs); S Brar 2-51 (7.2 Overs)
Cricket Canada 209/10 (43.4 Overs); N Dhaliwal 52; N Dutta 35*; N kumar 30; S Lewis 4-35 (8.4 Overs); J Greaves 3-37 (8 Overs); J Campbell 2-42 (5 Overs)