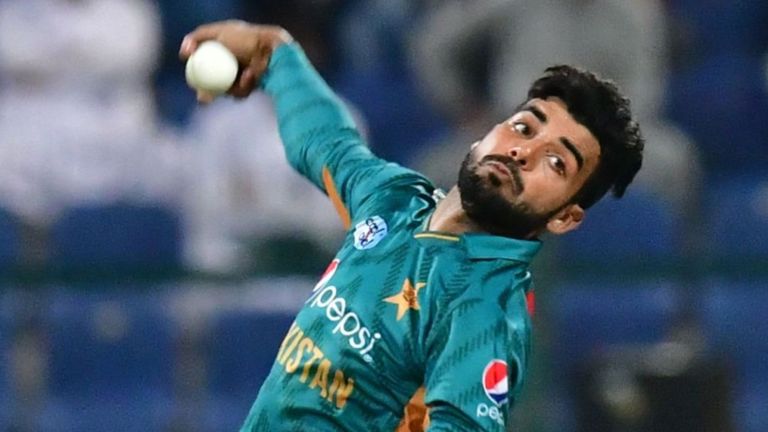 Four All-Rounders Head Edmonton Royals International Players Roster!
Four outstanding all-rounders Pakistan' Shadab Khan and Mohd Nawaz, Sherfane Rutherford of Guyana and the West Indies fame as well as New Zealand's James Neesham are the standouts in the Edmonton Rooyals reoster of remaining players for GT20 Canada 2019.
Scottish bowler Safyaan Sharif, Hong Kong captain and batsman Anshuman Rath, South-African-born Scottish batting all-rounder Richie Berrington, Pakistan-born Hong Kong bowler Ehsan Nawaz, and Trinidad born USA bowler Kyle Phillip are the 5 ICC Associates nation players in the squad.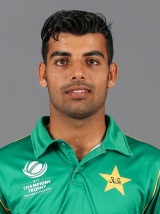 Shadab Khan
Full name Shadab Khan
Born October 4, 1998, Mianwali
Current age 20 years 284 days
Major teams Pakistan, Brisbane Heat, Islamabad United, Pakistan Under-19s, Trinbago Knight Riders
Playing role Allrounder
Batting style Right-hand bat
Bowling style Legbreak
 Batting and fielding averages
| | | | | | | | | | | | | | | |
| --- | --- | --- | --- | --- | --- | --- | --- | --- | --- | --- | --- | --- | --- | --- |
| | Mat | Inns | NO | Runs | HS | Ave | BF | SR | 100 | 50 | 4s | 6s | Ct | St |
| T20Is | 32 | 11 | 5 | 115 | 29 | 19.16 | 80 | 143.75 | 0 | 0 | 5 | 6 | 11 | 0 |
| T20s | 86 | 52 | 14 | 407 | 42 | 10.71 | 366 | 111.20 | 0 | 0 | 16 | 20 | 28 | 0 |
Bowling averages
| | | | | | | | | | | | | | |
| --- | --- | --- | --- | --- | --- | --- | --- | --- | --- | --- | --- | --- | --- |
| | Mat | Inns | Balls | Runs | Wkts | BBI | BBM | Ave | Econ | SR | 4w | 5w | 10 |
| T20Is | 32 | 32 | 717 | 818 | 44 | 4/14 | 4/14 | 18.59 | 6.84 | 16.2 | 1 | 0 | 0 |
| T20s | 86 | 85 | 1918 | 2138 | 103 | 4/14 | 4/14 | 20.75 | 6.68 | 18.6 | 2 | 0 | 0 |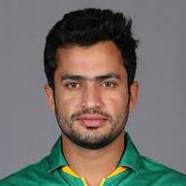 Mohammad Nawaz
Full name Mohammad Nawaz
Born March 21, 1994, Rawalpindi, Punjab
Current age 25 years 116 days
Major teams Pakistan, National Bank of Pakistan, Pakistan A, Pakistan Under-15s, Pakistan Under-19s, Pakistan Under-23s,Quetta Gladiators, Rawalpindi, Rawalpindi Rams
Playing role Allrounder
Batting style Left-hand bat
Bowling style Slow left-arm orthodox
Batting and fielding averages
| | | | | | | | | | | | | | | |
| --- | --- | --- | --- | --- | --- | --- | --- | --- | --- | --- | --- | --- | --- | --- |
| | Mat | Inns | NO | Runs | HS | Ave | BF | SR | 100 | 50 | 4s | 6s | Ct | St |
| T20Is | 16 | 2 | 0 | 13 | 7 | 6.50 | 20 | 65.00 | 0 | 0 | 1 | 0 | 6 | 0 |
| T20s | 110 | 69 | 20 | 980 | 59 | 20.00 | 875 | 112.00 | 0 | 2 | 71 | 33 | 47 | 0 |
 Bowling averages
| | | | | | | | | | | | | | |
| --- | --- | --- | --- | --- | --- | --- | --- | --- | --- | --- | --- | --- | --- |
| | Mat | Inns | Balls | Runs | Wkts | BBI | BBM | Ave | Econ | SR | 4w | 5w | 10 |
| T20Is | 16 | 16 | 300 | 340 | 12 | 2/11 | 2/11 | 28.33 | 6.80 | 25.0 | 0 | 0 | 0 |
| T20s | 110 | 101 | 1978 | 2351 | 92 | 5/24 | 5/24 | 25.55 | 7.13 | 21.5 | 2 | 1 | 0 |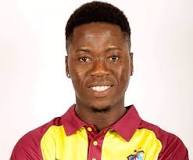 Sherfane Rutherford
Full name Sherfane Eviston Rutherford
Born August 15, 1998
Current age 20 years 334 days
Major teams West Indies, Delhi Capitals, Delhi Daredevils, Guyana Amazon Warriors, Guyana Under-19s, West Indies B
Playing role Top-order batsman
Batting style Left-hand bat
Bowling style Right-arm fast-medium
 Batting and fielding averages
| | | | | | | | | | | | | | | |
| --- | --- | --- | --- | --- | --- | --- | --- | --- | --- | --- | --- | --- | --- | --- |
| | Mat | Inns | NO | Runs | HS | Ave | BF | SR | 100 | 50 | 4s | 6s | Ct | St |
| T20Is | 1 | 1 | 0 | 2 | 2 | 2.00 | 6 | 33.33 | 0 | 0 | 0 | 0 | 1 | 0 |
| T20s | 16 | 15 | 4 | 246 | 48 | 22.36 | 180 | 136.66 | 0 | 0 | 13 | 18 | 8 | 0 |
Bowling averages
| | | | | | | | | | | | | | |
| --- | --- | --- | --- | --- | --- | --- | --- | --- | --- | --- | --- | --- | --- |
| | Mat | Inns | Balls | Runs | Wkts | BBI | BBM | Ave | Econ | SR | 4w | 5w | 10 |
| T20Is | 1 | - | - | - | - | - | - | - | - | - | - | - | - |
| T20s | 16 | 7 | 47 | 74 | 1 | 1/6 | 1/6 | 74.00 | 9.44 | 47.0 | 0 | 0 | 0 |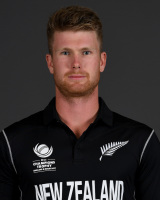 James Neesham
Full name James Douglas Sheahan Neesham
Born September 17, 1990, Auckland
Current age 28 years 301 days
Major teams New Zealand, Auckland, Delhi Daredevils, Derbyshire, Guyana Amazon Warriors, Kolkata Knight Riders,New Zealand A, New Zealand Under-19s, New Zealand XI,Otago
Also known as Jimmy Neesham
Playing role Batting allrounder
Batting style Left-hand bat
Bowling style Right-arm medium
Batting and fielding averages
| | | | | | | | | | | | | | | |
| --- | --- | --- | --- | --- | --- | --- | --- | --- | --- | --- | --- | --- | --- | --- |
| | Mat | Inns | NO | Runs | HS | Ave | BF | SR | 100 | 50 | 4s | 6s | Ct | St |
| T20Is | 15 | 12 | 3 | 122 | 28 | 13.55 | 93 | 131.18 | 0 | 0 | 15 | 3 | 5 | 0 |
| T20s | 98 | 77 | 21 | 1387 | 59* | 24.76 | 1005 | 138.00 | 0 | 4 | 100 | 62 | 28 | 0 |
Bowling averages
| | | | | | | | | | | | | | |
| --- | --- | --- | --- | --- | --- | --- | --- | --- | --- | --- | --- | --- | --- |
| | Mat | Inns | Balls | Runs | Wkts | BBI | BBM | Ave | Econ | SR | 4w | 5w | 10 |
| T20Is | 15 | 13 | 196 | 259 | 11 | 3/16 | 3/16 | 23.54 | 7.92 | 17.8 | 0 | 0 | 0 |
| T20s | 98 | 86 | 1556 | 2300 | 91 | 4/24 | 4/24 | 25.27 | 8.86 | 17.0 | 2 | 0 | 0 |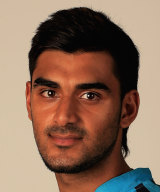 Safyaan Sharif
Full name Safyaan Mohammed Sharif
Born May 24, 1991, Huddersfield, Yorkshire
Current age 28 years 52 days
Major teams Scotland, Scotland A, Scotland Under-15s, Scotland Under-17s, Scotland Under-19s
Playing role Bowler
Batting style Right-hand bat
Bowling style Right-arm medium-fast
Batting and fielding averages
| | | | | | | | | | | | | | | |
| --- | --- | --- | --- | --- | --- | --- | --- | --- | --- | --- | --- | --- | --- | --- |
| | Mat | Inns | NO | Runs | HS | Ave | BF | SR | 100 | 50 | 4s | 6s | Ct | St |
| T20Is | 32 | 13 | 6 | 86 | 26 | 12.28 | 70 | 122.85 | 0 | 0 | 5 | 3 | 4 | 0 |
| T20s | 51 | 17 | 7 | 123 | 26 | 12.30 | 100 | 123.00 | 0 | 0 | 7 | 4 | 7 | 0 |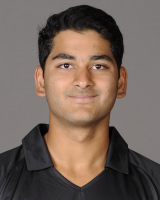 Anshuman Rath
Full name Anshuman Rath
Born November 5, 1997, Hong Kong
Current age 21 years 252 days
Major teams Hong Kong, Harrow School, Hong Kong Under-16s, Middlesex 2nd XI, Middlesex Under-17s, Middlesex Under-19s
Playing role Wicketkeeper batsman
Batting style Left-hand bat
Bowling style Slow left-arm orthodox
Batting and fielding averages
| | | | | | | | | | | | | | | |
| --- | --- | --- | --- | --- | --- | --- | --- | --- | --- | --- | --- | --- | --- | --- |
| | Mat | Inns | NO | Runs | HS | Ave | BF | SR | 100 | 50 | 4s | 6s | Ct | St |
| T20Is | 20 | 19 | 2 | 321 | 44 | 18.88 | 344 | 93.31 | 0 | 0 | 31 | 2 | 6 | 0 |
| T20s | 23 | 22 | 3 | 367 | 44 | 19.31 | 394 | 93.14 | 0 | 0 | 33 | 3 | 9 | 0 |
 Bowling averages
| | | | | | | | | | | | | | |
| --- | --- | --- | --- | --- | --- | --- | --- | --- | --- | --- | --- | --- | --- |
| | Mat | Inns | Balls | Runs | Wkts | BBI | BBM | Ave | Econ | SR | 4w | 5w | 10 |
| T20Is | 20 | 13 | 198 | 264 | 5 | 3/6 | 3/6 | 52.80 | 8.00 | 39.6 | 0 | 0 | 0 |
| T20s | 23 | 14 | 222 | 283 | 5 | 3/6 | 3/6 | 56.60 | 7.64 | 44.4 | 0 | 0 | 0 |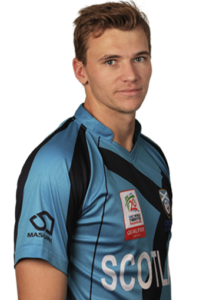 Richie Berrington
Full name Richard Douglas Berrington
Born April 3, 1987, Pretoria, South Africa
Current age 32 years 103 days
Major teams Scotland, Scotland Under-19s
Playing role Top-order batsman
Batting style Right-hand bat
Bowling style Right-arm medium-fast
Batting and fielding averages
| | | | | | | | | | | | | | | |
| --- | --- | --- | --- | --- | --- | --- | --- | --- | --- | --- | --- | --- | --- | --- |
| | Mat | Inns | NO | Runs | HS | Ave | BF | SR | 100 | 50 | 4s | 6s | Ct | St |
| T20Is | 49 | 42 | 8 | 916 | 100 | 26.94 | 738 | 124.11 | 1 | 2 | 92 | 21 | 5 | 0 |
| T20s | 71 | 63 | 11 | 1452 | 100 | 27.92 | 1177 | 123.36 | 1 | 6 | 143 | 34 | 11 | 0 |
 Bowling averages
| | | | | | | | | | | | | | |
| --- | --- | --- | --- | --- | --- | --- | --- | --- | --- | --- | --- | --- | --- |
| | Mat | Inns | Balls | Runs | Wkts | BBI | BBM | Ave | Econ | SR | 4w | 5w | 10 |
| T20Is | 49 | 27 | 356 | 427 | 18 | 3/22 | 3/22 | 23.72 | 7.19 | 19.7 | 0 | 0 | 0 |
| T20s | 71 | 41 | 573 | 708 | 26 | 3/22 | 3/22 | 27.23 | 7.41 | 22.0 | 0 | 0 | 0 |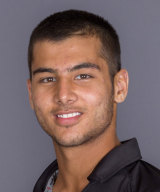 Ehsan Nawaz
Full name Ehsan Nawaz
Born March 21, 1995, Attock, Pakistan
Current age 24 years 116 days
Major teams Hong Kong
Playing role Bowler
Batting style Right-hand bat
Bowling style Right-arm fast-medium
Batting and fielding averages
| | | | | | | | | | | | | | | |
| --- | --- | --- | --- | --- | --- | --- | --- | --- | --- | --- | --- | --- | --- | --- |
| | Mat | Inns | NO | Runs | HS | Ave | BF | SR | 100 | 50 | 4s | 6s | Ct | St |
| T20Is | 5 | 1 | 0 | 0 | 0 | 0.00 | 2 | 0.00 | 0 | 0 | 0 | 0 | 0 | 0 |
| T20s | 7 | 1 | 0 | 0 | 0 | 0.00 | 2 | 0.00 | 0 | 0 | 0 | 0 | 0 | 0 |
 Bowling averages
| | | | | | | | | | | | | | |
| --- | --- | --- | --- | --- | --- | --- | --- | --- | --- | --- | --- | --- | --- |
| | Mat | Inns | Balls | Runs | Wkts | BBI | BBM | Ave | Econ | SR | 4w | 5w | 10 |
| T20Is | 5 | 5 | 46 | 79 | 2 | 1/22 | 1/22 | 39.50 | 10.30 | 23.0 | 0 | 0 | 0 |
| T20s | 7 | 7 | 82 | 103 | 4 | 2/8 | 2/8 | 25.75 | 7.53 | 20.5 | 0 | 0 | 0 |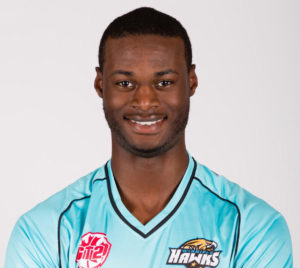 Kyle Phillip
Full name Kyle Phillip
Born January 26, 1997, Trinidad
Current age 22 years 170 days
Major teams United States of America, Winnipeg Hawks
Playing role Bowler
Batting style Right-hand bat
Bowling style Right-arm fast-medium
 Batting and fielding averages
| | | | | | | | | | | | | | | |
| --- | --- | --- | --- | --- | --- | --- | --- | --- | --- | --- | --- | --- | --- | --- |
| | Mat | Inns | NO | Runs | HS | Ave | BF | SR | 100 | 50 | 4s | 6s | Ct | St |
| List A | 5 | 2 | 1 | 1 | 1* | 1.00 | 5 | 20.00 | 0 | 0 | 0 | 0 | 1 | 0 |
Bowling averages
| | | | | | | | | | | | | | |
| --- | --- | --- | --- | --- | --- | --- | --- | --- | --- | --- | --- | --- | --- |
| | Mat | Inns | Balls | Runs | Wkts | BBI | BBM | Ave | Econ | SR | 4w | 5w | 10 |
| List A | 5 | 5 | 168 | 176 | 6 | 3/62 | 3/62 | 29.33 | 6.28 | 28.0 | 0 | 0 | 0 |