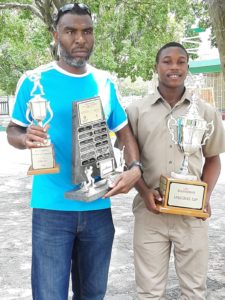 Wickets Photographer Lyn Balram along with Editor-In-Chief Tony McWatt, SHARE Newspaper's Ron Fanfair and Cricket 360's Nadine Gangapersad spent the September 13-20 week in Kingston Jamaica at the kind invitation and with the generous hospitality compliments of the Jamaica Tourism Authority. While in Jamaica the four member team of cricket journalists stayed at the Kingston Courtleigh Suites Hotel. They were hosted by Finn Partner's Lyndon Taylor who performed the duties of Tour Guide on behalf of the Jamaica Tourism Authority.
During their six-day stay the journalists were engaged in a very robust itinerary, which included their attendance at three of the Jamaica Tallawahs' 2019 Hero Caribbean Premier League home matches at Kingston's Sabina Park. They also visited some of Kingston's major tourist attractions, including the Bob Marley and Peter Tosh Museums, Devon House and Chris Gayle's Tripple Century restaurant, spent some time in Trenchtown, had discussions with Jamaica cricket officials and toured two of Kingston's newest hotels.
For Cricket Canada's Wickets photographer Lyn Balram, the visit was her very first exposure to Kingston, one which as the enclosed photos illustrate she thoroughly enjoyed.
The very first engagement for the Journalist Team was the Sunday, September 15 attendance at the Tallawahs vs Barbados fixture which the hosts thankfully won. Unfortunately it was the only Tallawah's home match win they would eventually witness, as the other two fixtures they attended both ended in disappointing defeats.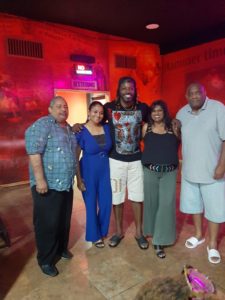 Day 2 of the official itinerary was by far the most intense, commencing as it did with a visit to the Excelsior High School which Chris Gayle as a youngster had attended. Lyn took time to pose with some of the students and also with the School Coach Kirkland Bailey and cricket Captain Raewin Senior. The school visit was followed by a stop at Devon House to sample its world famous ice cream and a brief visit to the Melbourne Cricket Club where Michael Holding's cricket career began. Later that evening the Team was hosted for dinner by none other than the Universe Boss himself, the legendary Christopher Henry Gayle at his Triple Century restaurant.