Founded in 1978 Manitoba's Cosmos Cricket Club won its 6th consecutive Premier Division Championship Title last year, almost as a celebration of its 40th anniversary as one of Canada's oldest cricket clubs. In the forty years that have now passed since its 1978 formation, Cosmos Cricket Club has in fact won the Manitoba Provincial Championship title a record 19 times.
Cosmos Cricket Club now has five teams competing in Manitoba's Summer Leagues. Cosmos Premier competes in the League's Premier Division, Cosmos Lancers and KingZ are the Club's representatives in Division 1, while Cosmos Spartans and its Academy team participate in Division 2.
Cosmos Cricket Club's 2018 results were highly notable. Its Premier Division team placed first in the League Stage and as previously indicated, also emerged as Playoff Champions. In Division 1, Cosmos KingZ was first in the League Stage and Runner's Up in the Playoffs. The Club's other Division 1 team, Cosmos Lancers, placed third in the League Stage.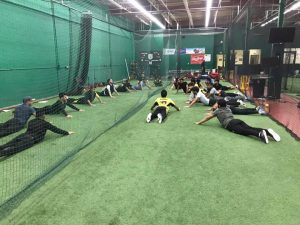 As one of Canada's oldest cricket clubs. Cosmos' growth over its forty-year existence has been impressive, particularly within the past decade. In 2008 the Club had just one team in the League, but by the following year had added a second with the formation of the Cosmos Lancers. Even more growth followed in 2013, allowing the Club to enter a third team, Cosmos KingZ, to compete in the Manitoba Summer League.
By 2017 Cosmos' membership had grown enough for a fourth team, Cosmos Spartans. The Club also launched an outreach program at the University of Manitoba, for the U of M Bisons, which provides an opportunity for interested university students to have an avenue to play cricket.
In 2018, due to the success of its School Cricket program, the Cosmos Academy team was formed.   Comprised of U19 Players its Academy team created a bit of history for the Cosmos Club. It is the very first and to date still the only club to have ever entered a team of U19 players into the MCA League.
Cosmos Cricket Club provides equal opportunities for all of its teams to train and grow with many of the Club's premier players serving as coaches to those in the lower divisions. This is just one of the Cosmos Cricket Club's many amazing features, the demonstrated willingness of its senior players to freely give of themselves for the benefit of its younger cricketers.
Through its 5 teams, Cosmos Cricket Club is now able to provide opportunity for players of all skill levels to participate in the game they love. This is very much in keeping with the Club's Motto which is "For the Love of the Game. Giving Back to Cricket."
Four years ago Cosmos Cricket Club's Executive Board took the initiative to contact two of Manitoba's Junior High Schools, with the idea to start indoor cricket programs for students at that level. They approached the schools, presented their idea and were successful in getting buy ins from the respective school Principals.
Each year since then Cosmos Cricket Club has attracted approximately 40 students to its Junior High Program, which is now being run in three schools. Competition between the three participating schools was started during the Program's second year. The participating schools have been fully supportive of the Program and have even provided uniforms (shirts) for the kids to wear while playing.
In 2018 Cosmos Cricket Club managed to advance some of the High School players into 45 over League cricket by entering a team in the MCA's Division 2. The team played 12 games, and although they were win less, the initiative allowed 18 kids to participate and gain further, highly valuable, competitive exposure as part of their ongoing development.
Cosmos Cricket programs are 100% run by volunteers from within the Club. Players from all of its teams serve as coaches throughout the School's Cricket Program, which now runs from Nov – June each year.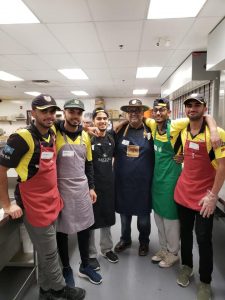 As a fulfillment of its objective to give back to the Community, six years ago Cosmos Cricket Club launched a volunteer Program. The primary intention of which was to inspire the Club's younger members to get involved in the community.
During the winter off-season, from November to April, Cosmos Cricket Club's members now serve as Siloam Mission volunteers. Siloam Mission is a non-profit organization that provides food, clothing and temporary shelter to the homeless and those in need. The Cosmos Club's members volunteer in teams of 6-12 people on various occasions.
As Siloam Mission volunteers, the Cosmos Cricket Club members' duties include: sorting and organizing clothing donations, as well as preparing and serving food for lunches and dinners to those who find themselves in the food line as clients. The program has been very successful.   The Club's members had embraced the initiative from the get go and have continued to do so. For every session they tend to get more members volunteering than are actually needed. As such it has become very much similar to a team selection process with first timers getting preference.
The parents of the young people who volunteer have openly expressed their support for this Program. They are thankful that cricket is also introducing their children to such a wonderful opportunity for giving. When volunteering the Cosmos members always wear their club shirts and hats. This allows some of the regulars at Siloam Mission to recognize the Cosmos members as belonging to a cricket club.