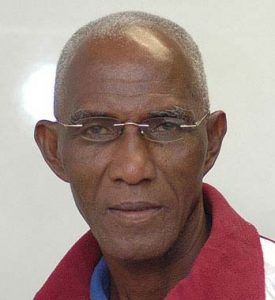 Thaddeus Michael "Mike" Findlay (born 19 October 1943 at Troumaca, Saint Vincent) represented the West Indies in ten Tests from 1969 to 1973, as a batsman and wicketkeeper. Widely regarded as one of the very best wicket keepers the Caribbean has ever produced, Mike Findlay was the first player from the Leeward and Windward Islands to represent the West Indies. (Roberts came from St Vincent but was playing in Trinidad when he was selected for the West Indies team.) Findlay toured Australia and New Zealand in 1968-69, and England in 1969 and 1976.
Findlay found the experience and support of his teammates helpful when he entered the West Indies team, and later remarked, "I never forgot when I first went on tour with the West Indies team. An experienced player was given a younger player as his mentor. Wes Hall was a mentor to me. Jackie Hendriks was the No. 1 keeper, and Jackie would sit with me and pass on his experience. "
Mike Findlay grew up in the rural Village of Troumaca on the north-western side of St Vincent and the Grenadines in the Windward Islands. Like most young boys at the time, he was attracted to cricket because it was the main sport played in most Villages then. Findlay once said of his boyhood days ""Where I came from we played cricket all the time, using everything that was around us. There was a lime tree and an orange tree. The lime tree would never flourish. We used the lime to bowl. We used grapefruit, we couldn't afford balls. When we did get a real cricket ball, we covered it in soft, white grease. We would then wrap the ball in banana leaves to preserve it. We used coconut branches as bats. We would use a cutlass to shape it into a bat. We just used what we could."
When he moved to Kingstown to attend Secondary School, the St Vincent Grammar School, he became of goalkeeper in football (soccer) and eventually also played for the school, his club Saints and St Vincent.
As was the case with many young boys of that era, very few of benefited from formal cricket coaching. At nine years old and attending the Troumaca Primary School, Findlay initially fancied himself a fast bowler, but he did not like the idea of fielding at long leg after bowling his spell. He wanted to be involved in the game throughout the match. He quickly realized that wicket-keeping was the only position that would allow him that privilege. So started Mike Findlay's wicket-keeping career.
There was an MCC Cricket Coaching Chart on the wall of the Troumaca Primary School. The students could not help seeing it as they entered school each morning and as they and their teachers assembled for prayers. It was also the last thing they saw as they assembled for afternoon prayers at the end of the school day.
Mike Findlay memorized the batting, bowling and fielding positions so much so that he could close his eyes and visualize every detail on the chart. He then applied the basics at the school's cricket practice sessions.
Mike Findlay practiced his cricket fanatically.
"It was the kind of commitment that borders on insanity," he said. "I was a fitness fanatic because that was what I wanted to do. We have a kind of commitment and a kind of discipline that is difficult now.
"Cricket was a passion, all the people in our village, even the ones who didn't play, would encourage us. I practiced a lot, I watched a lot."
As he grew up, Findlay also read every book on cricket, especially batting and wicket-keeping that he could lay his hands on as. While still in Primary School he also played for the Troumaca Village team in friendly and competitive matches against other school and village teams. He was selected to the National Primary School team and recall playing a match against the St Vincent Grammar School Team the year before he became a student at the school.
By the time he'd entered the Boys Grammar School at 11 years, Mike Findlay had become quite adept at batting and wicket-keeping, and by his second year in school was playing for his House team and shortly after that for the school. His first tour was in the 1960 Inter-Schools Sports in Grenada. It was held every two years and brought together the top athletes, cricketers and footballers from the main secondary schools in the Windward Islands then – the Boys Grammar School of St Vincent, the St Mary's School in St Lucia, the Dominica Grammar School and the Grenada Boys Secondary School.
St Vincent won the Cricket Championship with Mike Findlay having played a significant role in the victory. He was then only 16 years old and his performances (batting and wicket-keeping) had earned him a place on the St Vincent Senior Team for the Senior Windward Islands Goodwill Championship in Dominica that year. Another outstanding performer in the Inter-Schools Tournament was the batsman, Irving Shillingford of Dominica who like Findlay, would also eventually go on to represent Dominica, the Windward Islands, the Combined Islands and the West Indies.
Mike Findlay's wicket-keeping skills were acquired by dint of very hard work. He practiced long hours, every day of the week and played friendly or competitive matches at weekends. Back then St Vincent did not have any turf wickets. Findlay and his colleagues played on "jute matting" or clay pitches that were rolled hard. They also used concrete half pitches and the street in front of the Richmond Hill Primary School not far from the Grammar School.
Those practices especially sharpened Findlay's acquired wicket-keeping skills. Old oil drums or cut sheets of galvanize were used as wickets. A combination of about five bowlers (fast bowlers, medium pacers, and spinners) would bowl at a time. That meant that there was no time for the wicket-keeper to stand back to fast bowlers and come up to the wicket for the spinners. He had to stand up to the wicket for every type of bowler with only a pair of wicket-keeping gloves. The wicket-keeper for the National team then was Garnet Niles. He was an excellent keeper, who Findlay watched quite closely and learnt a great deal from.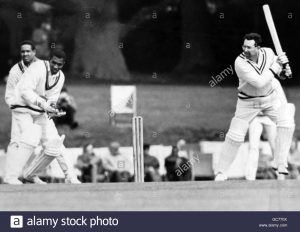 That was the basis of Mike Findlay's development as the world class, West Indies Test wicket-keeper he eventually became. He also listened to radio commentary of matches involving the West Indies team and paid particular attention to how the commentators described the performances of the wicket keepers. He also practiced keeping wicket for long hours with bowlers bowling at one stump and varying their deliveries – straight, outside off stump and down the leg side, at the same time mastering his footwork, eye and hand coordination, and quickness of hands to bring off stumpings.
As a boy, Mike Findlay's ambition was to become not just the best wicket keeper in the West Indies but in the entire world. The ten test matches he played may not have given him the time required to achieve his ambition, but at least it exposed him to international cricket, and opened the door for other cricketers from the so called "small islands" to play for the West Indies.
To achieve that, he first had to win recognition from national selectors who held an inbuilt bias against the smaller islands.
"We couldn't get as much attention in the lesser developed countries," he said. "We had a lot to prove to people."
Findlay won over the knowledgeable Barbados crowds when he stood up to the stumps to fast bowler Grayson Shillingford, while playing for the newly combined Windward and Leeward Islands' side. "People then said I was the best."
He was selected as understudy to Jackie Hendricks for the 1968-9 tours of Australia and New Zealand where he saw his captain Garfield Sobers bat for the first time against Western Australia.
"Tony Lock was bowling. Sobers hit him for four. Lock put in another cover fielder. He bisected them for another four. I sat fascinated by the great man."
Findlay played two tests in England in 1969. His remaining eight were at home and he concluded his international career as second keeper on the triumphant 1976 tour of England where he saw at first hand how much cricket mattered to the Caribbean Diaspora.
"We were tired and slumped in the seats on our bus before traveling to a match. Then a West Indian woman came up to us and said: 'If you people knew how you make us feel. You make us feel 10 feet tall. We can walk down the street in London and face anybody'."
After his career as a cricketer, Findlay became a journalist and commentated on matches. In 2002 he stepped down as Chairman of Selectors for the West Indies team. On 3 May 2007 Findlay was appointed West Indian team manager for the tour of England. Later that year he also served as the chief executive officer of the St Vincent World Cup Local Organizing Committee.
Findlay was appointed as a National Sports Ambassador by the Ralph Gonsalves led St Vincent Government on October 29, 2017. Now aged 76 and still fit as a fiddle Mike Findlay has retained an active interest in West Indies cricket.
Source: uk.reuters.com/john-mehaffey