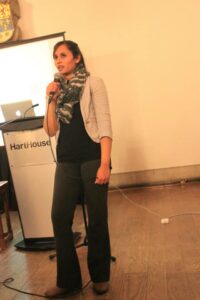 By Tony McWatt
With a list of international coaching certifications
behind her name that is as long as either of her slender arms Monali Patel is now seeking to become Canadian Women's Cricket's first-ever National High- Performance Coach. Having represented Canada as a former National Women's cricketer Patel is desirous of making a meaningful contribution to the further development of the sport and passionately believes that such a role would be the ideal forum for her to do so.
Born in Nairobi, the country's capital, Monali Patel had grown up in Kenya playing a version of backyard cricket as a young girl. It wasn't until she had reached the age of 16, however, that she first started developing her love for the sport which has since then become admirably passionate!
She happened to be reading the world news and came across an article on the
English Women's Cricket team. That was the eureka life-changing moment when
Monali realized that Women's cricket not only existed but that it was also being
played internationally. Having by then moved with her family to Canada she
was motivated to learn and represent her newly adopted home-country thereon.
Unfortunately, Monali had also just as quickly appreciated that transforming her
newly found love for cricket into a viable professional career in Canada would
be next to impossible. That realization, however, had absolutely no effect on her
desire to play for Canada. As time went on and her exposure to Canadian cricket
expanded, she became cognizant of an ever-growing desire within, to also
become involved in coaching after her playing days were over.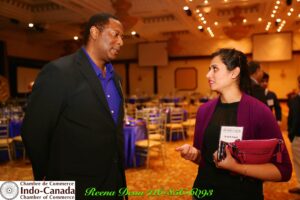 Not surprisingly Monali has done just that. Since her retirement as an active player, she has pursued coach qualifications at the highest available levels. Monali has
also attended overseas-hosted coaching facilitation courses and has recently begun actively pursuing her developing interest in cricket commentary.
Monali was one of the Commentators used for the online streaming broadcasts of matches in the recently concluded July 11-15, 2022, Canadian National T20 Championships. During five continuous days of cricket, she incredibly provided
commentary on over 25 matches.
Her sweetly melodious voice, demonstrated knowledge and insightful comments were
an absolute delight to all who heard her commentary. So much so that she
has now already since become one of Canada's favourite cricket
commentators.
Having always had representing Canada as a player as one of her major goals in
life, Monali encountered her fair share of challenges along the way in doing so.
Primarily as a result of the lack of awareness of women's involvement in cricket. In fact,
her first ever club was less than welcoming to women and it wasn't until she'd joined a
club in the GTA, that she was actually given a fair chance.
Monali had initially joined a local club in Kitchener, ON. the city she now still calls
home. Her brother had been playing with them for a year or so, and the choices were
limited with Kitchener being such a relatively smaller city. It was, unfortunately, not the
experience she was hoping for as there was a lot of hesitancy with a girl joining the club.
That led Monali's ever-supportive parents on a journey to find a club in the Greater Toronto
Area. They eventually found Tranzac Cricket Club, the overall atmosphere at which was
much more positive and welcoming. Monali was the only girl there as well for about 8
years but never felt singled out for it.
The Tranzac CC experience was a very steep learning curve for Monali, necessitating as it did her transformation from not actively playing cricket to competing in the Men's
League. The task that had been set before her was simple enough though, either learn
quick or go home injured!
Talk about motivation eh!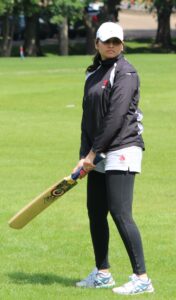 Playing in the Men's League was most undoubtedly the best thing to have
happened for Monali's cricket. She pushed herself harder and practiced more often. Most importantly she took it upon herself to give of her utmost in the attempt to try her very best to hold her own among her male teammates. During that period Monali also played friendly games with the only Women's team that was at the time available in all of Toronto.
As a quick and steep learning curve as it was, playing in a Men's League pushed Monali to improve not just her skills, but also her understanding of all of the complexities that are part and parcel of playing competitive cricket at the higher levels.
Monali was just 18 when the news of the staging of the first ever Regional Americas
Championships was announced. From the time she became aware
of the forthcoming tournament she made it a point to train at least 5
days each week. She was determined to make it onto the squad even
though she knew at the time that most of the existing players were
based in Ontario or British Columbia and were a lot older than her.
Monali's hard work was duly rewarded through her inclusion in
the Canadian National squad for the tournament. She made her
international debut for Canada playing her first game against
Argentina. She bowled just one over and didn't get a chance to bat
as Canada won easily by 10 wickets.
Monali suffered the disappointment of being dropped for Canada's
remaining matches in the tournament. Instead of demoralizing her
to any extent though, that disappointment conversely fueled her
motivation to an even higher level. She made herself the promise to
be one of the top players in the side and to never be benched again.
In fulfilment of her self-made promise Monali always trained hard.
Indeed, to this day despite not playing as often and having had 2 kids,
she's kept her fitness in check. Playing any sport at a high level requires
a lot of time. Monali remembers being in the nets 3 to 4 times a week
and in the gym at least 5 days weekly. Canada's National trainings
were quite intense with a lot of importance being given to the fitness
side of things.
Monali's provided, very sage, advice to anyone looking to take up any
sport seriously, would be for them to always fully appreciate that it's
more than going out to just play a game. There are hours and hours of
training that go into it behind the scenes.
The highlight of Monali's days actively playing for Canada has to
be having played in the Ireland-hosted ICC World Cup Qualifiers. Playing against the very best Women's cricketers from Sri Lanka, Zimbabwe and hosts Ireland was an incredible
experience.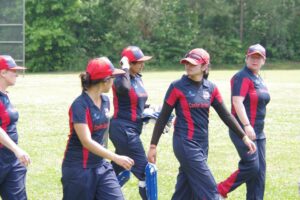 Along the way, Monali also took it upon herself to play
a season in Australia, where she joined Northern Districts. She also represented the Pheonix CC during an entire Trinidad & Tobago Women's Cricket Domestic Season. She's also changed clubs locally by joining the
Ontario Cricket Academy. Now still occasionally active
as a player Monali has long since expanded her focus
back into the world of coaching and as previously
indicated cricket commentary.
Travelling was unquestionably the most enjoyable aspect
of Monali's career as an active international Women's
cricketer. Hers was a career which allowed Monali to
travel to several incredible countries, compete at the
highest level and make some wonderful friendships
globally. Best of all cricket introduced Monali to her
wonderful husband Trevin to whom she has now been
happily married since August 2016.
Like everything else in life, cricket also presented Monali
with its fair share of challenges. Her most frustrating
moment with cricket would have to be the sad decline of
the Canadian Women's program over the years. Having
contributed to the team for over 10 years to now see it
at its lowest point has brought her grave disappointment
and frustration.
Such disappointment and frustration have now, however,
led the always action-oriented Monali to become
actively involved in doing something to help restore
Canadian Women's cricket back to its former levels.
The season she had spent in Sydney, Australia playing
Grade cricket for Northern Districts had kindled her
interest in cricket coaching. As such, she completed
her Level 1 when she was there. Monali also coached
cricket at the local Sydney, Australia YMCA and
which led to the start of her coaching journey. She
had also done some technical analysis for a couple
of home Canada tours and took an interest in it very
early on.
From such an inauspicious start to her coaching
career, Monali Patel has since gone on to complete
the Cricket West Indies Level 2 Coaching Certification
and even further to her completion of Cricket
Australia's Level 3 High-Performance Coaching
Certification. As previously indicated, she has also
completed the ICC Level 1 and Cricket Australia
Level 2 Coaching Facilitator Courses.
Monali's ultra-impressive qualifications now certainly
make her one of Canada's most highly qualified
cricket Coaches. With her outstanding qualifications,
experience and knowledge of the sport she would
arguably be the very best suited person to assume
the urgently needed role of Head Coach for the
Canadian National Women's High-Performance
Program.
In an ideal world if she was ever given full authority and
autonomy to improve and further develop Canadian
Women's cricket, Monali's thinking as to what her primary
objectives would have to be is crystal clear. Equally so to
those which may have been publicly expressed by anyone
else currently involved in the development of Canadian
Cricket within the past almost five years.
As a start, Monali would comprehensively search through the
current crop of Women's cricketers from across the entire
country to create a database of active players that she can
work with to improve their skills. That would allow her to pick
the very best squads possible for Canada's participation in
international tournaments. The ultimate objective being to
win as many of those tournaments as possible as a means of
improving Canada's ICC ranking.
Monali's second implemented strategic initiative would be
the establishment of a High-Performance Program for U19
Girls. The program would allow for the identification and
preparation of a Canadian National Women's U19 squad to
compete in matches against teams in the Caribbean and
the USA.
Unfortunately for Canada its North American neighbours
have been given a free pass to the first ever ICC U19 Women's
World Cup. Simply because Canada is now still completely
devoid of a National Program at that crucial U19 age level.
If given the Canadian High-Performance Head Coach role,
as she should be as urgently as possible, Monali would also
introduce professional coaching strategies into the national
women's training to bring the program to the required
higher performance levels. This would include setting fitness
standards, introducing analysts to both the training programs
as well as competitive matches, improving players' strength
and consistency of performance.
Finally, and most importantly Monali would create a
progression pathway for all interested women and girls from
the grassroots to the senior program levels.
"We're at a crucial point of no return for women's cricket
if our current program does not get the guidance and
leadership required at this stage. Our main competitor the
USA has gone leaps and bounds ahead of us and if we are
to stay in contention, the time to act is now!"
Words very well said from an individual who has demonstrated
her overly outstanding commitment and dedication to
Canadian Women's cricket. So much so that she should
now almost immediately be allowed to fulfil her expressed
desire to utilize her knowledge, experience and immensely
impressive coaching qualifications to the further benefit of
Canadian Women's cricket.
If not, we may all be relegated to merely hearing her
melodious voice as a cricket commentator. As pleasurable
as that would be, undoubtedly it will then also be justifiably
interpreted in these quarters as a wasted opportunity!