Born on January 31, 1996 in the Punjab State City of Sargodha, Nauman Zafar made his List A debut for Canada in last year's 2019 Cricket West Indies Colonial Medical Insurance Super50 Competition as a right-arm medium fast bowler. Zafar played in just three of Canada's eight matches emerging wicket less from the twelve overs he bowled. Despite his unflattering Super50 returns, Zafar however showed sufficient potential as to be regarded as a "One To Watch" Canadian cricketer for the immediate future.
As a boy, Zafar started playing cricket in the striving City streets of Lahore, Pakistan. By the time he reached the majority age of 18, he had however already progressed to playing Club Cricket.
The biggest influence on Nauman's early cricketing days was the 0utstanding Pakistan seamer, Wahab Riaz. Having seen Wahab bowl, Nauman wanted to be just like him. It was as simple as that.
While playing his Canadian Club Cricket for the Mississauga Ramblers, Nauman was invited to participate in the Ontario Trials. He was subsequently selected by Mukesh Naurala and Shah Zafar to represent the Province. During the 2019 Season he was a member of the Ontario U23 Squad that participated in the Provincial Central T20 Tournament.
Nauman's outstanding performances in that Tournament highlighted him as a natural and obvious pick for Cricket Canada's Development Pool. Nauman was then invited to play some practice matches with and against the Canadian National Team which was preparing for its participation in last October's Namibia hosted ICC T20 2020 World Cup Qualifiers.
Being the youngest of all of Cricket Canada's Development Pool fast bowlers, has served as a primary source of motivation for Nauman to work hard towards improving his cricketing skills. He routinely seeks to improve each and every day towards establishing himself as a viable contender for future national team selection.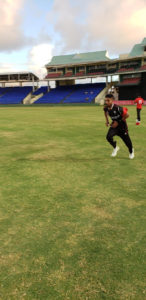 Nauman's participation in last year's CWI Regional Super50 was part of his continuing evolution and development as a Canadian cricketer. As challenging as it proved to be, his Super50 participation experience served as a realistic introduction to the required standards of professional cricket. It also provided him with a realistic view of the existing gap between his current, basic, skill sets and those required for success at the professional level.
Armed with his experience and new found knowledge, Nauman has since set ambitious performance goals for himself for the upcoming Toronto domestic cricket Season. His aim will be to perform outstandingly in the Super 9 T20 matches he plays. So much so as to bring his name to the undivided attention of Canada's National Team Selectors.
Towards that end, Nauman has already begun to work hard on improving both his skills and fitness during the off season. Always willing to seek mentorship advice from more seasoned players, he has also had a few chats with Canadian national all-rounder Nitish Kumar who had served as the Team Mentor for the St Kitts Super50 Tour.
Kumar's sagely provided advice was exactly what Nauman has since been doing: "Take your game and fitness to the next level. Work as hard as possible on both during the off season!"
Nauman's future cricket goal is become a regular member of the Canadian National Team. By means of his performances, he also aims to help Canada regain its previously lost status as an Official ICC ODI playing country.
Lofty ambitions both. Nauman's future progress towards the achievement of which will definitely be "One To Watch!"
.
.