Navneet Singh Dhaliwal was born on October 10, 1988 in Chandigarh, India. Not unlike so many of the other kids in the city, he started playing cricket when he was just 15 years old. Navneet played all his junior cricket, at the progressive Under-15, Under-17 and Under -19 levels in Punjab, under the watchful guidance of his Coach Sukhwinder Singh.
Navneet moved to Canada in 2010 and almost immediately started playing for Yorkshire Cricket Club in the T&D Premier League. His outstanding batting performances as one of the League's top three highest scorers for 3 years continuously, eventually caught the eyes of the Canadian National Selectors.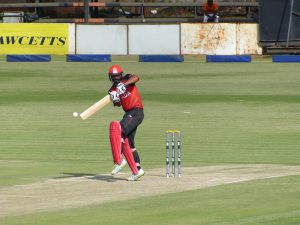 Navneet made his debut for Canada in Zimbabwe against that country's A Team and scored 84 not out in his very first appearance in Canadian colors. He then had scores of 60+ in each of his next four appearances, as a result of which he was selected for his first List A game in January 15, 2015 against Kenya. He marked the occasion by scoring a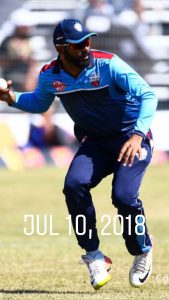 brilliant 92 for which he was also named Man of the Match .
Among Navneet's ever increasing list of outstanding performances, as a Canadian player, was the Man of The Match 72 he scored and the 2 wickets he took against Namibia during that country's recent hosting of the ICC Division 2 Tournament.
Largely as result of those outstanding performances, Navneet was drafted as a Toronto Nationals selectee for the Canada hosted GT20 Tournament
Navneet now harbors fond memories of his most recent outstanding performances for Canada. In the T20 Qualifier held in the US this past summer, he scored 18 runs in the Super Over against the USA, with the Pakistan born Mr Ali Khan as the bowler, to help Canada win that match.
His performances in Trinidad during the recent Cricket West Indies hosted Caribbean Regional Super50 Competition were also outstanding. Navneet scored 271 runs in the 6 he matches played during the Tournament. His scores included an 88 against Guyana and an 80 against the Windwards. He was unquestionably Canada's best batsman during the Competition.
Navneet's next assignment under Canadian colors will be next year's forthcoming ICC 50 Over Qualifiers in Namibia. We are sure he will be just as outstanding there as he has been to date as Canada's Rising Star!