For his outstanding achievements primarily as a batsman, but also at times a backup off spinner Cricket Canada Wickets has declared Nitish Kumar to be Canada's 2019 Cricketer of the Year. With an outstanding record of 337 runs from 10 innings including three fifties Kumar was Canada's most consistent T20 batsman throughout 2019.
Born May 21, 1994 in Scarborough Ontario, Nitish Kumar's interest in cricket actually began at the tender age of four. He still has very fond memories of himself at that age, trudging along to the Toronto Cricket Skating & Curling Club (TCSCC) to watch his Dad Vikal play alongside other TCSCC members including Joe Harris, John Davison, Ashish Bagai and Zubin Surkari. The late Brian Hale was the Club's Coach back then and it was he who first took an interest in Nitish by encouraging him to develop his early obviously evident talents.
Nitish's initial interest in cricket was driven primarily from the simple joys he derived from going to net practices and playing matches alongside his best buddies. He hadn't really harbored any dreams of becoming a professional cricketer initially and was simply just enjoying the process.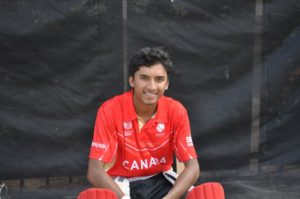 Nitish's enjoyment of cricket however very soon became reflected in his performances as he quickly established himself as a first pick for Club, Province and Country at every Junior level from U12 through to U19. His natural talent led to him being selected for the Canadian U15 Team when he was just eleven years old, possibly the youngest player ever to represent Canada at that level.
Despite his obvious talents and ever increasing popularity among Selectors at all levels, it wasn't until he was picked to represent Canada at the 2009 Qualifier Tournament for the 2010 U19 World Cup, that he started thinking that he might have an actual future as a professional cricketer. Until then he's just been happily involved in completing the trainings that were required for his cricket to constantly improve.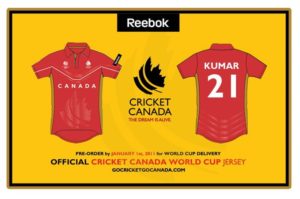 His fundamental enjoyment of the process, the trainings and practices required for improvement, has therefore been one of the core foundations of Nitish Kumar's meteoric rise to success as a Canadian cricketer. As a youth cricketer Kumar represented Canada at two U19 World Cups, playing his first when he was just fifteen years of age and four years later becoming Captain for his second.
Kumar actually became the youngest player ever to debut for Canada when he played in the 2009 ICC Intercontinental Cup against Kenya. He also boasts the record of having been one of the youngest cricketers to ever represent their country at an ICC World Cup. He was only sixteen when he made his international debut for Canada during the 2011 ICC World Cup.Kumar celebrated just his second appearance in Canadian senior team colors with his maiden fifty, seventy odd not out against Afghanistan in the 2009 ICC Intercontinental Cup. Although he hadn't contributed with either bat or ball in his debut appearance against Kenya, he did feature in the run out which won Canada the match.
Now a firmly established member of the Canadian national team as one of its most senior and reliable batters and a more than useful off spinner, Nitish Kumar plays his Club cricket for TCC in the Toronto & District Cricket League's Premier Division. He only returned to Toronto last year having spent the previous six years playing School and League cricket in England, where he had attended Repton Boarding School.
Kumar says that it was his English experience and the professionalism that was demanded of him that really served to further strengthen not only his game but his discipline as a cricketer. He considers himself very fortunate to have had the experience and is ever grateful to his TCC and national team mate Zubin Sukari, who he says was the person who had encouraged him to explore the possibilities for going to England to further both his education and cricket.
After two years of Boarding School at Repton, Kumar went on to University to pursue his Undergraduate Degree. Both schools had very vibrant cricket programs as part of their curriculum so Kumar quickly became a regular member of their respective teams. Loughborough was actually one of six Universities affiliated to England's most famous cricket establishment, the Marlybourne Cricket Club.
The University's establish cricket routine required five days a week of intense trainings in the September – March off season. This was followed by his having to play 2-3 matches each and every week, during the April – June months. In other words Kumar was engaged exstenvively in cricket for almost four years. A process which he says has been of tremendous benefit to his overall development as a cricketer.
Nitish Kumar's cricket has also benefited significantly from the international exposure he's received from participating in various T20 Leagues around the world, including the Caribbean Premier League and Canada's own Global T20. He says that the experience of playing alongside some of the world's greatest T20 cricketers such as Shane Watson, and Mike Hussey has been an incredible opportunity, which he's always tried to make the most of in terms of his own learnings.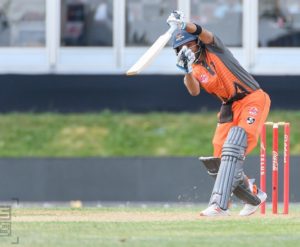 Looking back at 2019 Kumar considers it to have been somewhat of a disappointing year both for Team Canada and himself. The biggest disappointments were obviously the national teams twin failures to secure official ICC ODI status and to qualify for the 2020 T20 World Cup. Personally, despite having featured within the top three on the batting averages for all of the Tournaments he played in, Kumar still thinks that he was somewhat short of achieving his own goals. Certainly in terms of his performances not having been as consistent as he would have liked.
Looking forward to 2020, Kumar hopes that Team Canada can become far more consistent at winning matches. The national team he says needs to develop winning habits. Far too often in the past they have been guilty of eventually losing matches after having been placed in winning positions.
Towards that end he feels that improving their individual fitness should be the goal for all national players during the off season months of January to March and before Canada's next international encounters in Malaysia next April. Kumar now longs for the day when Team Canada, as it used to years ago, could have a fitness professional within its ranks.
Kumar also wishes that Team Canada can be allowed to train together as a unit, throughout the year, even when its not involved in playing in actual Tournaments. Fielding is one area which he says needs to be drastically improved, but again the more the national squad can train together in all departments the better he feels will be their chances of success at international competitions.
Wise words indeed from a now seasoned veteran who has deservedly earned the acclamation as Canada's 2019 Cricketer Of The Year.