The Halifax Cricket League (HCL) has undergone significant change in the previous 12 months as the sport booms in the Province of Nova Scotia.
Prior to 2018, the league ran as one division of 3-4 teams managed by the Nova Scotia Cricket Association (NSCA). The 2018 season witnessed the introduction of a two-division structure, with each of the 4 squads (Halifax Blue, Gold, Green and Red) each expanding to 30 players and fielding teams in two divisions.
The addition of Division 2 was a resounding success, with many players new and old receiving significantly increased opportunities in the absence of provincial standard players. The resulting impact on Division 1 was a noticeable increase in the competitiveness and skill level as teams were able to place greater emphasis on performance, as all players were receiving adequate opportunities. Numerous new players started the season in Division 2 and pushed their way into Division 1 as the season progressed, benefiting from opportunities to impress early in the season that they may not have previously received.
Over the 2018-19 offseason, the NSCA has continued the evolution of the HCL by dissolving the 4 league managed squads and creating an independent club structure in its place. Emerging from the shadows of the previous squads are four brand new clubs. East Coast Cricket Club, Halifax Cricket Club, Nova Scotia Avengers Cricket Club and Titans Cricket Club have formed over recent months and are showing great progress in readiness for the 2019 season. The league will continue to be played in 2 divisions, with each club having a Division 1 and Division 2 team.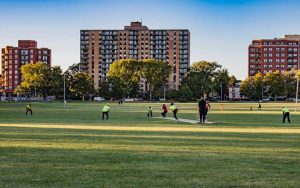 This restructuring is intended to have many benefits. Firstly, it gives clubs autonomy to run their own affairs and allow competitive forces to increase the standards of each. From a NSCA perspective, this new structure allows the HCL to be managed by a sub-committee with delegates appointed from each of the 4 clubs, removing the provincial body from day-to-day league management and allowing focus to pivot to broader growth of the sport within Nova Scotia.
The Club will continue to investment into the high performance and provincial team programs to ensure Nova Scotia's proud record of top 2 finishes at every Eastern T20 championship held to date is maintained, on top of producing players who can contribute at the national level. Increasing the volume and qualifications of coaches and umpires will receive greater focus. And most importantly, the NSCA now has the capacity to grow participation in the junior and women's categories, as well as in regional areas throughout the province.
The NSCA has a long and proud history, and the future is looking very exciting for cricket in Nova Scotia.