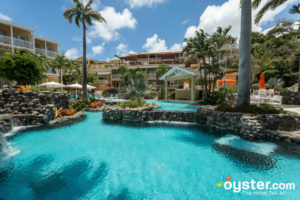 Now in its 50th year as St. Kitts oldest locally owned hotel, Ocean Terrace Inn (OTI) has long since established its reputation as a piece of paradise. A 34-room boutique hotel, its size belies how unique an attraction it actually is.
Steve Tyson's individual journey to the position he now holds as OTI's General Manager started almost thirty-years ago. Tyson's path has simply been a reflection of the passion he has always held for the hospitality industry and for boutique hotels in particular.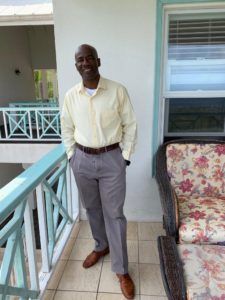 His hotel career started in Nevis in 1991 at Four Seasons, followed by a stint at the company's Dallas and Chicago properties. After almost nine years with the Four Seasons, he moved on to a much smaller hotel, Nisbett Plantation Beach club.
As a direct result of the move, Tyson discovered his love for boutique hotels, which in his view offer greater opportunities to provide higher levels of personalized services to guests. That affinity eventually led him to a position opening a boutique hotel on his home island Nevis, the Paradise Beach Resort.
After three years at Paradise Beach, Tyson was recruited to the team that was to open the Park Hyatt St. Kitts, the brand's very first Caribbean based five-star luxury resort. Having helped Park Hyatt become fully operational, Tyson took some personal time off before accepting the Ocean Terrace Inn's General Manager's position as the replacement for the departed Chris Ghita.
OTI's boutique size and the fact that it was locally owned were the qualities that initially attracted Tyson to the opportunity. He was also attracted by the property's many unique attributes, including its location with its incomparable views of Basseterre's harbor and surrounding mountain ranges, as well as its proximity the city, the airport, Heritage Bay and the majority of St. Kitts' attractions. According to Tyson, "OTI is like an oasis, ideally located away from all the hustle and bustle, yet within reach of the island's myriad amenities, shopping areas and beaches."
While OTI's location is one key to its uniqueness, the warmth and friendliness of its staff and the breathtaking beauty of the property itself completes the package. With its palm tree accentuated landscaping, OTI's pool area has to be one of the most serenely picturesque, paradise-approximating escapes the entire Caribbean region has to offer.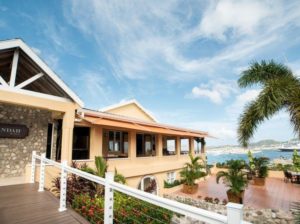 OTI also boasts two outstanding restaurants. The Verandah which is located on site, offers spectacular views of the Basseterre harbor from its expansive terrace. It also has one of the very best and most sumptuous Caribbean Sunday Buffets available anywhere in St. Kitts.
OTI's other restaurant, the Fisherman's Wharf, is as distinct as its name suggests. Located a short walk down the hill and right on the water, Fisherman's Wharf quickly reestablished itself as one of St. Kitts' most popular restaurants following a post-renovation reopening in 2017. The Friday evening buffet, which offers an irrefutably delicious conch chowder as its opening appetizer, has become the Fisherman's Wharf's calling card. However, lunch and dinner menus are similarly replete with numerous culinary delights, with the lunch menu's curry goat definitively a "top shelf" offering.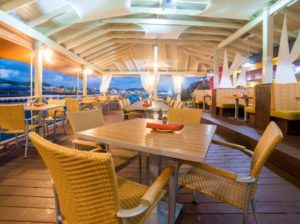 Tyson's primary objective for the property is to continue to build on OTI's reputation for personalized service, while enhancing the guest experience to an even higher degree. He feels when that is achieved, it will, in combination with OTI's other attractions, make stays a truly unique experience and one that is as good as, if not better than, any in the region.
The highly competitive nature of the Caribbean's hospitality industry behooves smaller boutique properties like OTI to always be at the very top of their game, constantly making the necessary improvements that will allow them to stand out from the crowd. Tyson views such challenges as opportunities which should always be readily and enthusiastically embraced. He is therefore always on the lookout for areas where improvements can be made.
Towards that end, continuous staff training and responsiveness to guests' feedback are two critical areas of focus. Training sessions for staff members and analysis of completed guest surveys are now firmly established elements of OTI's operations.
Tyson has also embarked on initiatives to attract more locals to OTI's facilities, especially its restaurants. Over the years Kittitians and Nevisian have been loyal to OTI and it is Tysons intention to reward such loyalty by offering even more appealing packages that will encourage, and further increase, their patronage.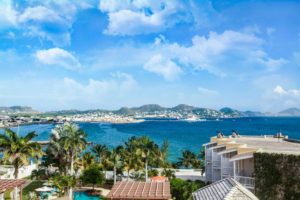 Tyson has also set his business development-oriented eyes towards the North American market, which he views as having significant, albeit yet untapped, potential. As a cricket lover himself he also sees St. Kitts' annual match hostings, including the Patriots Caribbean Premier League home fixtures, as opportunities to entice Canadian and US based fans of the sport to visit the island and, of course, stay at OTI.
For Canadian cricket fans, Tyson's invitation is one that should readily be considered. As yours truly can and will readily attest, to stay at Ocean Terrace Inn, St. Kitts and enjoy its unique attractions, is to indeed experience "a piece of paradise!"