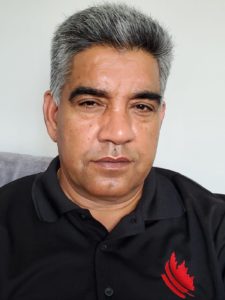 Now serving the final months of his initial two-year term of office, following his
2018 Director at Large election to Cricket Canada's Board of Directors, Ranjit
Chaudhri has been previously aptly described as a "Team player with leadership
traits!" Having been involved in Cricket in the now forty years since he started
as a player in 1979 and further with a twenty-seven year history as an active
volunteer," Ranjit's active volunteer involvement with Canadian cricket has been
realized through his service to the Mississauga Ramblers Social Community
Cricket Club as a Member, Club Captain and Executive since 1992. His actual
playing days also included representing Ontario in Inter provincial competitions
but it was an administrator for the Hamilton & District Cricket League (HDCL)
that he first made his mark.
Chaudhri served as HDCL's Vice President from 2004 – 2007 then went on
to become the League's President for an initial, 2007 – 2012, five year period.
He returned to the League's Presidency in 2016 and has not relinquished that
position since then. In between his HDCL Presidential shifts, Chaudhri has also,
since 2013, served in an advisory capacity as a Vice President for the Toronto & District Cricket Association. He was
also an Ontario Cricket Association (OCA) Vice-President in 2007 and 2008 and a Canadian National Men's Senior
Team Selector from 2008 – 2009. He has also been an active Member of the Cricket Council of Ontario (CCO) since
2012.
As one of the two Directors at Large on the current Cricket Canada Board of Directors, Harjinder Dhillon being
the other, Chaudhri was recently assigned portfolio responsibilities for " Winning Teams with a keen focus on the
performance and fitness of all teams to meet the organizational objectives!"
Wickets Publisher Tony McWatt caught up Ranjit Chaudhri for a One On One discussion about his new responsibilities
and the objectives he has set for himself towards their successful fulfillment
TM: What are the exact responsibilities that you have assumed under your recently assigned Cricket Canada
Portfolio?
RC: In the first year of my term as Director at Cricket Canada, I was assigned the Governance portfolio. I was able to
contribute to the fulfillment of that responsibility by suggesting membership reforms to minimize disputes among
Cricket Canada (CC) members. In addition to which I gave my 100% on all matters that the CC Board had faced,
including supporting my fellow Board members as and when required.
With the change of leadership at the June 27, 2020, CC AGM and the ensuing formation of a new CC Board, I have now
been entrusted with the biggest responsibility that any CC Board member can undertake –
that is the Winning Teams portfolio. This portfolio entails improving the National
teams' performances to produce expected results at the international level.
Towards that end, I am openly willing to work with each and every one
who shares my passion for cricket so that together we can a) first assess
the current teams' standards and b) identify the areas of needed
improvements so that teams can deliver desired and expected
results.
TM: Between now and next year's Cricket Canada AGM
when your initial two-year term will expire, what
specific objectives are you aiming to fulfill in
regards to your assigned portfolio?RC: I am not sure if next year AGM will be on my mind at all but from now until such time that I have this responsibility
the following will be my prioritized objectives:
(a) Stressing personal fitness requirements and the importance of these to the current national players, as well as
those who aspire to represent Canada in the very near future.
(b) The formation of a strong support team for National and Development players that will include a long term
National Coach, Assistant Coaches and fitness trainers to build a sustainable fitness program.
(c) The identification and establishment of a pool of 30+ National players who shall be fully ready to represent Canada
if and as when required
(d) Fast tracking some of the outstanding junior players, including those who have represented Canada in previous
ICC U19 World Cups, into the National setup
(e) Building a winning attitude among all National teams by creating a team culture
(f) Assigning roles and responsibilities to senior players in the areas of their expertise to help upcoming players
(g) Providing valuable assistance towards the development of a model for Women's Cricket at provincial levels by
working with the provinces who already have solid Women's Cricket Programs. Providing support to the Women's
Coordinator and the Women's Cricket Committee in developing plans to support and grow Women's cricket further
to expected levels.
TM: What are your thoughts on how High Performance Camps for Canada's Men's and Women's players
should ideally be structured?
RC: I will leave this to the High Performance (HP) Portfolio Directors. I will however be working diligently and fully
supporting the HP Program Development Team, as I do strongly believe that a better HP program will
be a healthy artery for National teams'further improvement!
TM: What will be the roles of ideally structured National & Provincial
Championships towards the fulfillment of your Portfolio's responsibilities?
RC: I think the ideal structuring of National and Provincial
Championships should start at the League level. Leagues should
foster and adopt different formats to allow the development
of players for all levels of competition. Cricket Canada's
Member Provinces should establish their respective
Provincial Championships in different formats
for youth, women and adult players. Provincial
Championships must then also be the first step
towards selection for Provincial teams. These events
must be planned over the winter so that the respective
Leagues can structure their local schedules around the Provincial
Championships and as a means of maximizing the participation of
the best available players.
National Championships must also take place every year without
fail! This along with other minimum standards and appropriate
weightage to local League performances should form the basis for
player selection to National teams and/or the HP Program.
MC: In your view how important/essential is the acquisition of a
National cricket stadium and all year
RC: Absolutely important! A permanent stadium
would not only help our National teams as a facility for
training but it would also open doors for more games
against invited teams. Limited funding and financial
resources have been the stumbling block in allowing
CC in sending National and Development teams on
much needed tours to gain that most important
continuous exposure to competitive match playing
experiences against quality opposition.
However, this dream will not be feasible without the
assistance and support from Federal, Provincial, and
Municipal levels of government, as well as the financial
support and involvement of Corporate Canada. Given
the financial strength of Cricket Canada, it's almost
impossible to dream of a stadium but a permanent
dedicated international standard cricket ground
would help in the short term and the same facility
can eventually be developed into a cricket stadium.
TM: Canada has participated in each of the past six
ICC U19 World Cups which equates to approximately
50-75 Canadian youth players having being exposed
to world class competition at that level! Yet very few
of those players have since transitioned to become
members of Canada's National Men's teams. What
plans do you and the CC Board have for increasing
the number of U19 World Cup players who successfully
transition to the Men's Senior Team.
RC: This has always surprised me and after years of
thoughts and analysis – I have the following reasons
that I believe contribute to the lack of progression from
junior levels to National senior team level.
1. Changes in players' priorities – U19 players focusing
on career paths with far more emphasis being placed on
their pursuit of higher education rather than on cricket.
2. The lack of opportunities and openings at the Senior
National level.
3. The lack of a natural progression path for these youths
to keep them within the cricket system. This can be
achieved by creating more opportunities at a level just
below the National Senior Level. I think a fully functional
HP program and a Development team structure will
definitely help CC in retaining more of these players
after they have represented the country at the U19 level.
MC: How do you personally balance your Cricket Canada,
HDCL Presidential, professional career and family
responsibilities?
RC: As a sport cricket has given me so much. My wife is
very supportive and she has made it possible for me to
play cricket. After playing for so long – the only way, I
could think of paying back to the sport is by volunteering
my time to make it possible for others to play cricket." If
there is a will, there is a way" and on top
of that if people appreciate you
for what you do for others, it
fuels you to continue.
For me managing my personal, professional and family life has always
been with a simple mind set "BE HERE NOW." When I am at my
profession, I give 110% devotion to my work and when I am
volunteering for cricket, it's the very same mind set along
with the passion, support and appreciation that ignites my
involvement even more.
I have been lucky and fortunate to have received very strong support from the
rest of Cricket Canada's Executives who have the same passion
as I do. My family is also aware and fully appreciative of my
love for the sport, the passion I have to give back and make
a difference and leave a legacy. They are a major source of
strength and support for all that I am able to assist with.
Highly intelligent and well articulated responses from the "team
player with leadership traits!" On behalf of all Wickets' Readers
and other members of the ever expanding Canadian cricket
community we wish Ranjit Chaudhri all the very best towards the
successful fulfillment of his assigned portfolio responsibilities!