The cricket circle in Georgetown attracted a number of personalities, there were the well-known hailers Jack Waterloo and a gentleman referred to as Bowtie, who kept the crowds enraptured with their smart and witty comments. Sydney Gonsalves was known as the memory-man, and this 6'2" character would reel off the dates of players' birthdays and dates in their family background along with a lot of historical data of colonial British Guiana. His popularity grew as he turned out also to be a radio personality on many of the shows. Vendors also were personalities in their own right. The vocal Barney Johnson kept up a flow of verbals as he sold his ice blocks. His voice was strong and overwhelming for a man of about 6'4". The Channa man was known as Base, and sold his Channa in neat brown paper bags. His personality was in total contrast with Barney Johnson, as he was quiet and gentle and said very little. A similar description could be given to Persaud, whose fare was dhal pourie, potato balls and some Channa. Barney was not too happy with the competition from the other ice block vendor, Ferddie. Barbadian Joe sold black cake and pinetarts in his big brown basket which was always full.
As inter-colonial cricket was played more often at Bourda, a personality named Saul would entertain especially the South Stand's packed audience, with a one-man display of bowling, batting, taking catches and giving decisions as the Umpire, in a well-demonstrated and funny pantomime.
On my way home to Charlestown, if I managed to save a little of my pocket money, there was Sue mauby shop on the eastern side of Camp Street between Robb and Regent. Mauby at Sue was a specialty along with a butter flap and black pudding; with the bit of change left, I could pick up a pinetart and a patty at Ms. Daniels bakery at Camp and Durban adjacent to Lot 12.
A number of events further strengthened cricket in Guiana. The appointment of Clyde Walcott as the Bookers Sports organizer changed the face of cricket in British Guiana. The game was really a Demerara-centered game and the Walcott cricket program for sugar estates supported by Robert Christiani, ensured conditions for cricket in those areas became much better. Improved facilities augmented by a coaching program and inter-estate competitions lifted the standard of cricket especially in the Berbice area and the East Coast of Demerara. It was not too long after that the East Bank estates entered a team in the Division 1 competition with Walcott being part of their line-up before playing for the BGCC. The other important event in the development of cricket in British Guiana was the decision by the West Indies Board to play an inter-colonial series in British Guiana in 1956 during the month of October, because of the good weather that prevailed in Guiana in that month.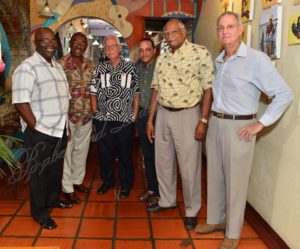 This allowed the best of the West Indian players to display their skills which impacted on crowd support for the games. There were also a number of positive developments as the E.W. Swanton team toured British Guiana with a number of international stars. Tours also came from Pakistan with the Pakistan International Airlines team and the Hyderbad Blues being among the first. Another plus for the game was the Indian Cricket Association of Trinidad that sent strong delegations to British Guiana and elevated the standard of club cricket.