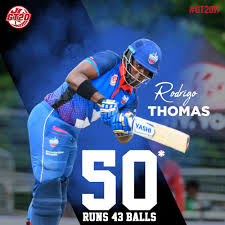 With 291 runs from 7 innings at an average of 41.57 and a strike rate of 149.23, Rodrigo Thomas was undoubtedly the Canadian batting star of the 2019 GT20 Tournament. Playing for the Toronto Nationals, not only did Thomas outscore all of his Canadian counterparts who played in the Tournament, but he also out batted most of the other superstars as well. Only JP Duminy (332), Shaiman Anwar (296) and Chris Lynn (295) who all played for the eventual champions the Winnipeg Hawks, as well as Toronto Nationals' Heinrich Klassen (326) had higher aggregates than Thomas during the twenty-two match Tournament.
As the Toronto Nationals opening batsman, Thomas' belligerent hitting often proved to be the anchor of his team's innings, along with that of his fellow teammate Heinrich Klassen. Thomas' highest score was his 40 ball 73, made during the Toronto Nationals playoff match against the Winnipeg Hawks, in what proved to be his eight and final innings of the Tournament.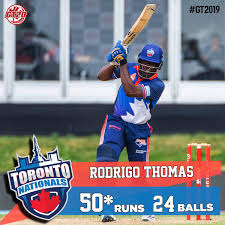 That innings included 5 sixes and 7 fours. Along with Klaasen, who scored a 49 ball 106, Thomas added a massive 136 for the second wicket to help the National post 238 off its 20 overs at 11.9 runs an over. Incredibly it proved to be insufficient as the surging Winnipeg Hawks posted 201/5 off the 11 overs that were possible in the rain and bad light affected fixture to secure the win and progress to the next round.
Prior to his eight match 72, Thomas had also recorded fifties in two previous matches. He scored a 47 ball 65 for the Nationals in their July 29 match against the Winnipeg Hawks. That innings included 5 sixes and 3 fours.
Thomas' second fifty of the Tournament was posted during the Toronto Nationals August 7 match against the Montreal Tigers. His 56 ball 70 in that innings included 5 sixes and as many fours.
Thomas also posted a 31 ball 41 in the very first match of the Tournament, the Toronto Nationals July 25 encounter against the defending champions Vancouver Knights. His other sores in the Tournament were 28, 8, 7 and 6.
Born in the Caribbean island of St Vincent, Rodrigo Thomas made his List A debut for Canada, as a left handed opening batsman, during the 2018 Caribbean Regional Super 50 Competition. He scored an attractive 55 ball 63 on debut in an innings that included 10 fours and 1 six and which brought immediate attention to his power hitting abilities. Thomas has so far appeared in 8 List A matches for Canada, amassing 169 runs at an average of 24.14 runs.
Following his outstanding 2019 GT20 exploits Thomas was expected to be a mainstay of Canada's batting during the August 18-25, Bermuda hosted ICC Men's T20 World Cup Americas Region Final. He however fell cheaply for just 5 in his debut T20 International match against the Cayman Islands, a disastrous start from which he never quite recovered. In his five T20 innings during the Bermuda Tournament, Thomas scored just 30 runs at a paltry average of 7.50
Despite the disappointments of his Bermuda returns, at just 28 years old Rodrigo Thomas is still young enough and obviously sufficiently talented to be around Canadian cricket for many more years to come. With Canada now scheduled to play quite a few more tournaments during the remaining months of this year, Thomas will certainly have more than enough opportunities to continue to prove his mettle and solidify his position at the top of the Canadian batting order.