Softball cricket has always been a part of the Guyanese-Caribbean culture in so much that immigrants to North America and especially here in Toronto, Canada, were determined to keep the sport alive despite the usual short summer. After a few pick and play games, softball cricket took off in Toronto in the 90's. As the games became more competitive, some of Guyanese-Canadian expats had the vision to form a League that that caters mainly to the matured players, aged 40 years and up, and in 1999, the Ontario Masters Softball Cricket Clubs (OMSCC) was founded.
The Masters League started off with four teams, Guyana Sports Club, All- Stars, Silver Knights and Kitty Campbellville Sports Club. As the years have gone by, the OMSCC has expanded as more cricketers have chosen to join an organization that strives to promote the game with integrity and true sportsmanship.
Today, the OMSCC has a whooping twenty-eight (28) teams and counting in competition. Currently there are 20 Over-40 teams another 8 teams in an Over-50 Division that was founded in 2010 to ensure this age group is afforded the opportunity to continue playing their boyhood games.
Another significant OMSCC milestone which started in 2012 was the introduction of annual inter-county games comprising of players from their Guyanese birth Counties: Berbice, Demerara and Essequibo.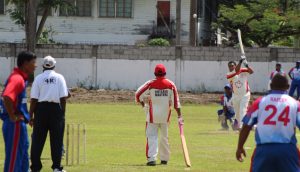 During the same year, the OMSCC participated in international softball cricket tournaments that were held in the US and Guyana and for the first time in 2015, the OMSCC proudly hosted a similar and quite successful tournament in Toronto.
Last but not least, the OMSCC is now actively attempting to become far more than being only just aboutSoftball Cricket. It aims to give back to the community. Towards that end two years ago, in 2016, the OMSCC set up a Care Fund for the purpose of making appropriate charitable contributions to those in distress. Although it is not at full capacity as yet, the OMSCC is hoping to raise more for this cause through fund raisers and donations.