The Vancouver Knights emergence as eventual Tournament Champions of the GT20's Inaugural Season wouldn't have come as any big surprise to anyone, given the team's dominance of the competition's Preliminary and Playoff Rounds. The Knights lost only two of their nine matches played.
The Vancouver Knights demonstrated superiority over its GT20 rivals was based on the team's outstanding batting throughout the competition. As many as six Knights batsmen: South African Rassie Van Der Dussen (255), the Jamaican trio of Andre Russell (185), Chadwick Walton (183) and Skipper Chris Gayle, Pakistan's Babar Hayat (146), and Trinidad's Evin Lewis (143) amassed tournament aggregates of over 100. Canadian Saad Bin Zafar whose unbeaten 79 earned him deserved Man of the Match in the Vancouver Knights Championship Final win over the West Indies B Team fell just short of the 100 aggregate benchmark, amassing 92 runs in the three innings he batted.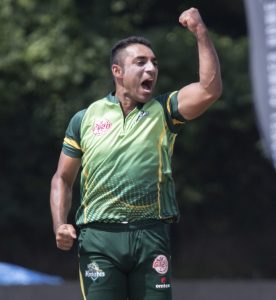 The Knights bowling was equally impressive, with no less than four of the team's bowlers capturing 10 or more wickets and a fifth, the ever present Saad Bin Zafar again falling just short with 8 wickets from the 7 innings in which he bowled. Jamaica's Shledon Cottrell was the Knights leading wicket-taker capturing 16 wickets in 8 innings bowled. Pakistan's Fawad Ahmed was a close second with 14 wickets from 8 Innings bowled while Cottrell's fellow Jamaican followed up his outstanding batting with a highly commendable 10 wicket tally in 8 innings bowled. New Zealand's Tim Southee also captured 10 scalps from his 8 innings bowled.
Saad Bin Zafar's Canadian team mate Jeremy Gordon was the only other local player to be given playing time in the Knights nine matches. Gordon's performance wasn't quite as impressive as Bin Zafar's. He went wicket less in the one match he played, only bowled 1.2 overs and was struck for 25 runs.