Vancouver Knights' victory in the July 15 Global T20 Canada (www.gt20.ca) Championship match capped off a successful Inaugural edition of the six-team League. It also provided insightful glimpses of the potential of the first Twenty20 professional League to be fully staged in North America.
Played before a sellout, festive, crowd at King City's Maple Leaf Cricket Club, the Vancouver Knights-Cricket West Indies B team Final showcased the exciting Twenty20 form of cricket. Fittingly on this stage a local, Saad Bin Zafar, made Canadian sporting history in producing the performance of his career, scoring 79 runs to lead the Knights to the title, and the champion's prize of C$500,000.
"Global T20 Canada brought the excitement of pro T20 cricket to Canada, along with many of the world's top stars," said Gurmeet Singh, Chairman, Global T20 Canada. "The Final in front of a packed stadium plus millions of worldwide fans watching via live TV and streaming shows the sport's potential not only in Canada, but also in North America, and we plan to achieve many more great milestones in future editions."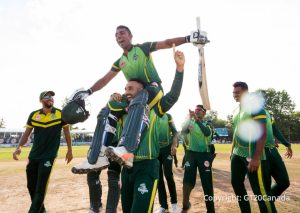 Bin Zafar's Man of the Match performance highlighted a strong showing by Canadians in the tournament, achieving one of the league's key mandates of developing Canadian talent. Canada's Men Senior Captain Nitish Kumar and teammate Nikhil Dutta, the first Canadian selected in the Players Draft, also had strong performances earning acclaim from some of the sport's biggest stars, including former Australian Captain Steve Smith.  Overall 31 Canadians participated in the League, including many players on Canada's current national team. In so doing they were provided with unique fortuitous opportunities to rubshoulders with and learn from some of international cricket's very best playing and coaching talents.
Aside from the players, many stakeholders in the Cricket Canada community also contributed to making the League's Inaugural edition a success, despite its incredibly short launch runway.
"Global T20 Canada is a Cinderella story," said Cricket Canada President Ranjit Saini. "Operations staff, volunteers and suppliers went out of their way to deliver an outstanding event to viewers. The management, staff and volunteers of Maple Leaf Cricket Club also delivered world-class pitches with very limited resources."
The strong Canadian performances came amid a star-studded field of talent – a major achievement for a new T20 League in an associate member country.  Cricket's globally famous stars who participated included the West Indians Chris Gayle, Andre Russell, Sunil Narine, Dwayne Bravo and Darren Sammy, Australia's Steve Smith and David Warner, Pakistan's Sahid Afridi, New Zealand's Tim Southee and Sri Lanka's Lasith Malinga among many others. Over 1,500 players from more than 40 countries expressed an interest in participating in the Inaugural edition by registering for the Players Draft.
Global T20 Canada also was a preview for the future of cricket. Cricket West Indies B, comprised entirely of youth players from the Caribbean, impressed all in winning its first four matches on the way to a berth in the Final. Justin Greaves, who twice won Man of the Match honours, Nicholas Pooran and Sherfane Rutherford had standout performances, with the latter recording the tournament's only century.
In total, 19 associate member nations were represented in the rosters of the five Franchise teams – Vancouver Knights, Toronto Nationals, Montreal Tigers, Winnipeg Hawks and Edmonton Royals.
Looking ahead, League organizer, Mercuri Canada Ltd. has already indicated its intentions to build on these achievements for future editions. Planning is already underway with decisions to come over the coming months on League dates, markets, venues and other logistics.