West Indies v Australia at The Oval was the most anticipated match of the group stages, pitting the Australia pace attack that had destroyed England the previous winter against some of the game's great strokemakers. And while the match itself was disappointing – West Indies romped to a seven-wicket win with 14 overs to spare – the clash between Dennis Lillee and Alvin Kallicharran was riveting.
The Oval was overcast and sticky, and the packed terraces and impromptu steel bands made it seem more Kensington Oval than Kennington. There were also far more inside than the official 25,000 capacity, as walls were scaled and turnstiles stormed. Australia batted first and were bowled out for 192, which they got thanks largely to a sixth-wicket stand of 99 between Ross Edwards and Rod Marsh.
In reply, Gordon Greenidge fell early and that brought Kallicharran to the middle. The pitch was hardly conducive to fast bowling but Lillee, steaming in from the Vauxhall End, was fired up. Kallicharran, only 5'4″, bareheaded, and with his shirt unbuttoned halfway down, decided to meet fire with fire. He had a score to settle. When the two sides had met in the Caribbean in 1972-73, he had been singled out for attention by the Australians and been given a verbal going-over.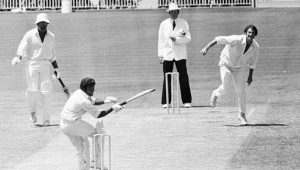 He went after the bowlers from the off, but it was when Lillee, glowering and hostile, came back for his second spell that the fireworks started. Anything short was savagely hooked, and the faster and shorter Lillee bowled, the further the ball traveled. If he opted for an off-stump line, he was crashed through the covers off the back foot, and even when he found the edge, the ball fizzed to the boundary.
In ten balls from one to the other, the sequence went 4, 4, 4, 4, 4, 1, 4, 6, 0, 4 – 35 runs. The crowd went delirious, and Lillee's scowling only egged them on. He finally had Kallicharran for 78, skying an attempted pull to mid-wicket, but by that time the proverbial horse had bolted. Seven days later, the two sides met again in the final.