West Indies and Pakistan, the unpredictables of cricket, produced the first thriller of the inaugural World Cup.
Majid Khan took over as Pakistan captain from Asif Iqbal, who was ill, and chose to bat. Most of the Pakistan batsmen were plying their trade on the county circuit, and that came handy when they faced Andy Roberts, Keith Boyce, Bernard Julien and Vanburn Holder.
Mushtaq Mohammad made a watchful half-century, Wasim Raja made a fifty too, and Majid top-scored with 60. But was 260 enough against the versatility of Clive Lloyd's men? Mushtaq was not sure. "Anything in the region of 260 was a very good winning target. But against West Indies, we were apprehensive as they had a mighty batting order."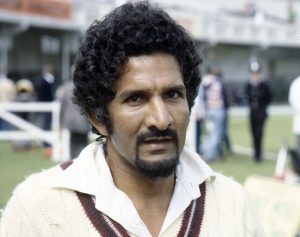 His fears were allayed when the livewire Sarfraz Nawaz snapped up three quick wickets – Gordon Greenidge, Roy Fredericks and Alvin Kallicharran. Soon, 36 for 3 became 99 for 5. Lloyd was still there when Deryck Murray joined him. But once again, Pakistan struck. Javed Miandad was known as an upcoming young bat, but little did West Indies know that he could also give the ball a tweak. Lloyd departed in dubious circumstances, given out to a googly.
There were plenty of overs left, but Murray was running out of partners. At 203 for 9, Mushtaq bet his last dime: "No way were they going to win." But two pesky batsmen were at the crease: Murray was known to keep his cool in tight situations and Roberts was no rabbit. There were still 16 overs left and Murray needed to make sure Roberts batted till the end.
Majid bowled Sarfraz out in the hope that he could get him that one wicket. It backfired. Ultimately, five runs were required off the last over. Majid had to pick from the remaining options and he chose Raja.
Roberts tried to pull the first one and missed, but the ball hit his pads and they ran two. They then stole another two to midwicket, taking advantage of the fielders not having been brought in, to tie the scores. Was there a further twist in store? It wasn't to be, as the batsmen had decided to run no matter where the ball went.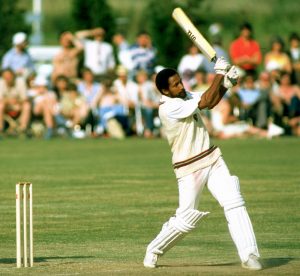 West Indies won, but the Man-of-the-Match award went to Sarfraz, after Tom Graveney, the adjudicator, missed the last bit of West Indies' innings.