Quebec Cricket Federation Inc. is affiliated with Cricket Canada, a body incorporated under the Law Of Canada, on April 1, 1968, as well as the International Cricket Conference. Quebec Cricket Federation Inc. is the sole body responsible to organize cricket in Quebec
The 2017 season of the Quebec Cricket Federation (QCF) started on the weekend of May 27-28 and concluded on the weekend of September 16, with the League Divisional Championships and Knock-Out Finals in both 35 overs and T20 formats. The Premier Division was structured in one pool for 35 over format and 2 pools for 20 over format. The A Division was structured into 1 Conference for 20 over format and 2 Conferences each in 35 over format.
During 2017 the QCF also hosted High Performance & Selection Camps – for Seniors and Juniors that were held during the off-season to select and prepare the selected players for Provincial representation. Quebec participated in the Eastern T20 and ended up as Runners up to Nova Scotia.
The Confederation Cup, formerly one of the most anticipated events of Quebec's cricket season but which had not been staged for over the past several years was again re-established with great anticipation, 3 teams – Seniors, Juniors and Masters (over 50) traveled to Ottawa for a great day of cricket and renewing of acquaintances.
Quebec's Junior cricket also continues to grow albeit with some difficulty in keeping many of our youngsters after they have reached the legal working age. During the regular season, the Province's more experienced junior players were allowed the freedom to play with any senior club of their choice in order to gain more experience. QCF also introduced cricket to Barclay Elementary School, which hosted four two hour sessions and an actual game at Parc Jarry where the parents attended and participated.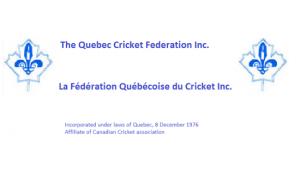 Board of Directors:
 Jazzinder Singh – President
Samir Mastan – Vive President
Pratik Joshi – Secretary
Subrata Mandal Babu – Tresurer
Charles Pais – Member At Large
Arvind J Patel- Member At Large
Aman Singh – Member At Large